Microsoft Corporation (NASDAQ:MSFT) has fallen out of favor with analysts after missing earnings estimates last quarter, announcing that longtime CEO Steve Ballmer was retiring, and then entering into a $7.2 billion deal with Nokia (NYSE:NOK). The tech giant has fallen to a Zacks Rank No. 5 (Strong Sell). Microsoft makes computer software, provides technology services, and also makes devices such as the Microsoft Surface and the Xbox game console.
Big Miss in the Fiscal Fourth Quarter
Microsoft's recent troubles began over the summer. On July 18, Microsoft reported its fiscal fourth quarter and missed the Zacks Consensus by $0.15, or 20%. Earnings were just $0.59 compared to the Zacks Consensus of $0.74. The company said that its results were impacted by the decline in the PC market. It continued to see strong demand for the enterprise and cloud offerings.
Fiscal 2014 Earnings Estimates Cut
With the disappointing earnings report, analysts cut fiscal 2014 estimates. Seventeen of 21 estimates moved lower in the last 60 days. The Zacks Consensus plunged to $2.76 from $3.08 just 90 days before. That's just earnings growth of 5%.
Ballmer to Retire
Then, on Aug. 23, Microsoft announced that Ballmer would retire within the next 12 months. The search is on for his successor. CEO searches always create a level of uncertainty with any company, especially one where there hasn't been new leadership for quite some time.
Microsoft to Acquire Mobile Phone Business
On Sept. 3, Microsoft announced it was acquiring Nokia's mobile phone business for $7.2 billion in cash. Relative to the company's cash hoard, this was a "small" acquisition as it had $77 billion available at the end of fiscal 2013. The deal is expected to close in the first quarter of 2014. Some analysts weren't enamored with the deal, as three estimates were cut again following the announcement. The analysts appear to be in agreement on one thing: Earnings are going to fall in fiscal 2014 and fiscal 2015.
New York "Event" on Sept. 23
The next source of news is expected on Sept. 23 in New York City. Microsoft has invited journalists to an "event." Usually these events are announcements of new products. Some in the media have theorized that it may be new Surface tablets, even though the Surface hasn't lived up to expectations. Stay tuned for that.
Shares Are Volatile
Shares sold off on the earnings miss and have been on a seesaw ever since with every new press release.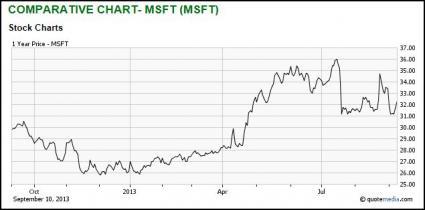 But they're holding up surprisingly well given the recent news. Microsoft trades with a forward P/E of just 11.5, so it's not very expensive. But with just single-digit earnings growth and falling earnings estimates, its short-term prospects look bleak. If you're looking to invest in Big Tech, you might want to consider Apple (AAPL) instead. It's also cheap, with a forward P/E of just 12.9, but it is a Zacks Rank No. 3 (Hold).
Apple: Free Stock Analysis Report (email registration required)
Microsoft: Free Stock Analysis Report (email registration required)