Intel (NASDAQ:INTC) did not stop making itself felt at the International Developers' Forum (IDF) in San Francisco when it announced that it was shipping 22nm Silvermont processors already, would be shipping 14nm processors by year-end and had a clear path to 10 nm and 7nm processes targeted for 2015 and 2017, respectively. These are dramatic advances compared to the 90 nm process of 2003, for example. With each iteration, chip costs go down, power goes up and device reliability improves. Couple that with Intel's revolutionary voltage control on the chip, and power consumption goes down (read: battery life increases).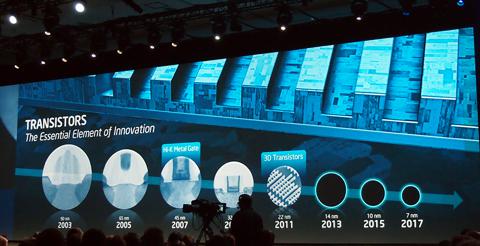 Intel is targeting smart devices with Silvermont, a market where it has had little representation until now. That seems certain to change, with over 100 tablets and a handful of smart phones today sporting the "Intel Inside" logo. Sales of these units will be important to Intel's lagging "Other Intel Architecture" segment, which in 2012 had revenues of only $4.4 billion and showed an operating loss of $1.3 billion. I believe Intel has a shot at substantial improvement in 2014 with revenues as high as $7 or $8 billion (based on the addition of 80 to 100 million devices with Intel Inside at $40 content per device), which should be enough to bring the segment to a profit rather than a loss.
The decline in the personal computer business has been challenging for Intel, which in 2012 had revenues of $34.3 billion in this segment, a 3% decline from 2011.
In 2013, this decline is continuing. Intel is combating the decline with its Haswell and Silvermont processors aimed at PCs from desktop to ultra book to 2 in 1 devices and has augmented the processor advances with its innovative vPro Technology specifications for business computers than include solid state hard drives; wireless display; no password log on to virtual private networks (VPNs) and indoor location based services. Intel announced at IDF 70 devices meeting this specification that should hit the market in early 2014.
Intel also announced that it has penetrated the fast growing Chromebook segment with its processors in devices by Hewlett-Packard (NYSE:HPQ), Acer, and Toshiba (OTCPK:TOSBF).
In addition, Haswell based processors are already appearing in numerous ultra books and laptops from Lenovo (OTCPK:LNVGY), Acer, Sony (NYSE:SNE), Dell (NASDAQ:DELL), HP and Toshiba including a wide range of two in one devices that can serve as a laptop or a tablet.
I expect these moves to reverse the decline in PC unit sales while increasing Intel margin rates, and for 2014, Intel to see revenues of $35 billion with margins of 63% contributing $21 billion to margin.
Intel has also moved quickly to protect its 95% odd market share in low power servers with the announcement that it will begin shipping 14nm process chips called Broadwell in the very near future. Broadwell will be followed by an even lower powered chip based on the Atom architecture named Denverton in 2014.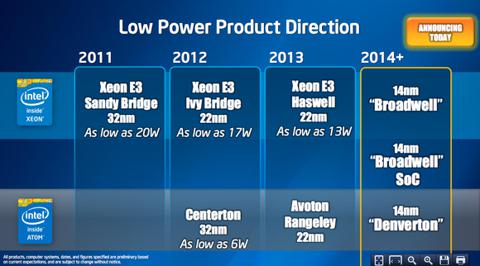 Intel's Data Centre group is a $10.7 billion business growing in the high single digits. The process advances should sustain that growth and allow Intel to earn margins in the low 60% range, making it a $12 billion segment in 2014 with about $7 billion of margin. This is an area that is Intel's to lose and its efforts to advance its capabilities ahead of competition are important strategically. As I see it, it has and will continue to enjoy a competitive edge for the foreseeable future over competitors like ARM Holdings (ARMH), which is striving to carve out a meaningful position in this area.
Putting these guesses all together, I can see Intel having a 2014 with revenues of $56 billion and earnings per share in the $2.30 range.
| | | |
| --- | --- | --- |
| Segment | Revenues | Margin |
| PC Group | $35.0 | $22.0 |
| Data Centre | $12.0 | 7.0 |
| Other Intel Architecture | $7.0 | $3.0 |
| Software and other | $4.0 | $2.5 |
| TOTAL | $56.0 | $34.5 |
| Research and Development | | $11.0 |
| G&A and other | | $8.5 |
| Pre-tax income | | $15.0 |
| Income Taxes | | $3.5 |
| Net Income | | $11.5 |
| Earnings Per Share | | $2.30 |
Such results would not blow the doors off, but they might persuade investors that the declining Intel performance has been reversed and there is a good possibility they will continue to advance in mobile. If that is the case, the company is likely to be rewarded with an earnings multiple of 13 to 14 times, suggesting it could trade in the $30 to $32 per share range, a nice move from today's price in the low $20s.
I am long INTC calls on 250,000 shares.
Disclosure: I am long INTC. I wrote this article myself, and it expresses my own opinions. I am not receiving compensation for it (other than from Seeking Alpha). I have no business relationship with any company whose stock is mentioned in this article.