As someone who covers a lot of short ideas on this site, one of the most important items I follow is short interest data. One must always be aware of the short interest in a stock. A large short base could spark a short squeeze on good news, while low short interest could spark a huge drop on bad news. Every couple of weeks, we get an update from Nasdaq on short interest data, and I report on what I am seeing. Today, I'm here to discuss the end of August numbers. Today, I'll discuss five names that short sellers are running away from, whether just recently or over the longer term.
Apple (NASDAQ:AAPL):
More than 2.85 million shares short were covered in the last few weeks of August. That's more than 14% of the total, meaning nearly 1 in 7 shares short were covered. As you can see from the chart below, Apple's short interest is at its lowest point since the middle of January. Since the April peak, nearly 58% of shorts have covered.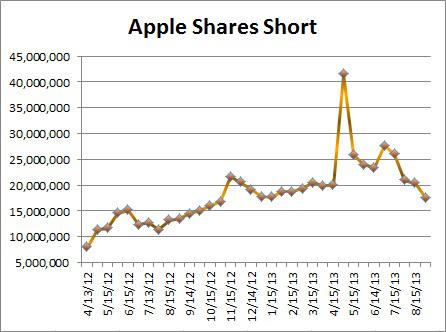 Apple shorts were covering as the stock made its run to $500 and above, as we got closer to Apple's big iPhone launch. Short sellers were obviously concerned about new product offerings, but in the past two days, Apple is down about $40. The lack of a China Mobile (NYSE:CHL) deal has hurt, and the 5C pricing seems to be a bit too high. Analysts seem to be rather down on the new launch, but I'm not sure that is wise. It is funny that some of these analysts have neutral ratings on the stock, yet the average price target represents nearly 15% upside from where Apple is currently.
I'll have more on Apple's new phones in my next Apple article, but here's something to think about. Apple is down about $40 in the past two days after these launches. These phones will increase revenues by a decent amount, and Apple did get a new carrier on board. So did the stock drop because more short positions have been started? Apple had rallied from $385 to $514, so some sort of pullback was inevitable. I can't wait to see the next round of short data, which will include some of the post-iPhone launch reaction.
Facebook (NASDAQ:FB):
There was a huge move in Facebook short interest during late August. Almost 13 million shares were covered, representing about 35% of the prior update's total. As you can see from the chart below, this is the lowest point for Facebook short interest since the earlier part of 2013. Since the recent high a month and a half ago, almost 41% of shorts have covered their positions.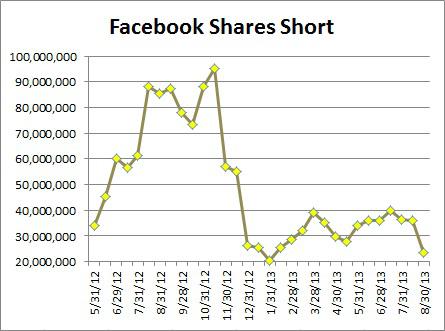 Shorts are covering at this point because Facebook has rallied to new highs and the losses for shorts are piling up. Facebook hit another new high on Wednesday, and this stock is extremely expensive. While I do believe in this growth story, I'm a bit against paying this much for it. For Facebook to garner a reasonable valuation for a large cap tech name in the next couple of years, they are going to have to more than double revenues and then some. If you believe that is possible, then get aboard this train. However, we are getting to a point where if shares rally any further, the number of short sellers will start to increase again. There will be those who want to bet against Facebook, especially as we get closer to the next earnings report.
Groupon (NASDAQ:GRPN):
Facebook is not the only social media name to see a sharp decline in short interest. Groupon's decline is a bit different though. In the last few weeks of August, short interest in Groupon declined by about 3.2%. That does not seem significant, and it isn't really. So why is Groupon on this list? Well, as you can see from the chart below, it is more about the longer-term trend. Since the April peak, Groupon short interest is down more than 44%. Short sellers are running away from this name, just over a longer time period. Short interest is at its lowest point in more than a year.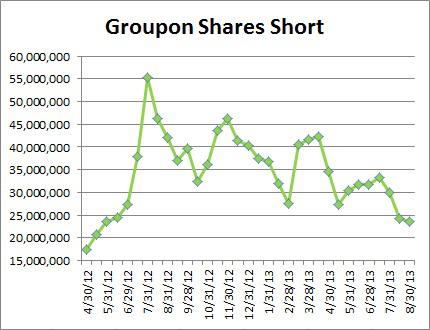 Groupon also hit a 52-week high on Wednesday. The stock closed at $11.53, something that seemed impossible late last year when it traded for less than $3. While results have not been spectacular, the CEO change and buyback are two items that have certainly helped. Part of the reason why this stock has jumped is short covering, and we might see some more if this stock continues higher. But be careful, this is a name that has disappointed with a number of earnings reports in the past. Groupon has rallied tremendously this year, and results will have to justify the rally.
Zillow (NASDAQ:Z):
Another 700 thousand shares short in Zillow were covered during the last few weeks of August. That in itself is a 14% move, and is significant on its own. But like Groupon, the trend has been much lower over time as well. Almost 54% of short sellers have covered their positions in Zillow since the high reached last December. You can see the downward trend in the chart below.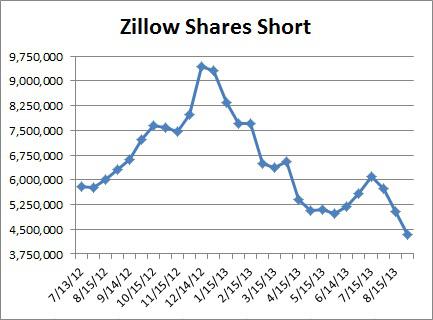 While shares did sell off initially after the latest quarterly report, the company beat on revenues and guidance was decent. Shares have continued higher since, now trading for more than $100 a share. This was a stock that was in the mid $20s late last year, which I said at the time presented an opportunity for investors. I regret not listening to my own advice, as Zillow has been one of the best performing stocks this year. Like Facebook, you are paying a premium, but this company has continued to deliver, and the stock reflects that.
Zynga (NASDAQ:ZNGA):
Almost 7 million shares short in Zynga were covered during the final few weeks of August. August was a very large short covering month for Zynga, with nearly 43% of short positions covered. As you can see from the chart below, the August short covering reversed a recent spike. This is the first time in three months that short interest in Zynga is under 24 million shares.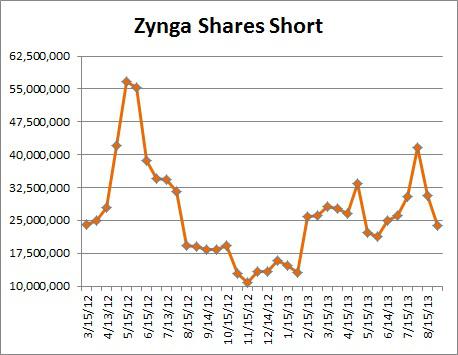 Zynga shares really have been stuck in the $2.75 to $3.00 range for a while, and they haven't done much after the company's decision to not pursue real money gambling in the US. That decision at the latest earnings report sent shares from $3.50 to $3.00, and shares have not recovered since. Zynga continues to overhaul the business, shuttering part of the OMGPOP acquisition it made last year. That acquisition when Zynga was in the mid-teens seems to have been the top for Zynga. Since then, it's been all downhill for the stock, as results have been poor, many games have been closed down, and a lot of executives have come and gone.
Final thoughts:
All five of these names have seen significant declines in short interest, whether just recently or over a longer period of time. Apple shorts covered as we approached the launch of the new iPhone. Facebook, Groupon, and Zillow shorts have covered as the social media group has continued to rally to new highs, despite bubble like valuations. Zynga short interest has also declined. Will any of these names make the list next time around? I'll be back in a couple of weeks with the answer to that question.
Disclosure: I have no positions in any stocks mentioned, but may initiate a long position in AAPL over the next 72 hours. I wrote this article myself, and it expresses my own opinions. I am not receiving compensation for it (other than from Seeking Alpha). I have no business relationship with any company whose stock is mentioned in this article.
Additional disclosure: Investors are always reminded that before making any investment, you should do your own proper due diligence on any name directly or indirectly mentioned in this article. Investors should also consider seeking advice from a broker or financial adviser before making any investment decisions. Any material in this article should be considered general information, and not relied on as a formal investment recommendation.