Sometimes, certain stocks just need a good kick in the backside. They have underperformed for a time and need to get going again. One great example of this recently has been Philip Morris (NYSE:PM), the cigarette giant. Over the past few months, shares have lagged their peer group as well as the market. It was time to get this stock going again, but what would do the trick? You should know by now what I'm talking about, but in case you don't, that's why I am here today.
Dividend raise / recent dividend history:
Wednesday morning, as expected, Philip Morris announced that it was raising its dividend. I use the word expected because they had paid $0.85 a quarter for the past four payouts, and September 11th was the next dividend declaration date according to the company. Philip Morris announced a raise to $0.94 cents per quarter, which on an annual basis is $3.76. This raise represents an increase of 10.59%, and is the second largest raise in the past five years. A chart showing Philip Morris' quarterly dividend history since its spinoff is below. The year represents the majority of payments, so the new $0.94 payment is the "2014" one below because 3 of the 4 payments will be in 2014.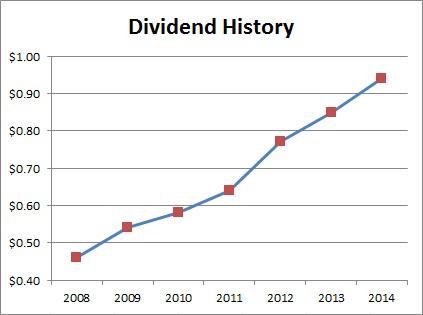 Since the spinoff in 2008, the dividend has more than doubled from the first quarterly payout of $0.46. This new dividend was actually a larger raise than last year's, which was an increase of 10.39%. Additionally, my expected range for the new dividend was $0.90 to $0.93 per quarter, so this was a penny ahead of my top end. I'll explain the importance of that later in this article. As of Wednesday's close, the dividend yield was 4.34% on an annual basis. It would have been a bit higher, but the stock rallied almost 2.8% for the day.
Comparing the peer group:
Those that follow my extensive coverage of Philip Morris know that I also discuss three other cigarette names. They are Altria (NYSE:MO), Lorillard (NYSE:LO), and Reynolds American (NYSE:RAI). The chart below shows each stock's annual yield as of Wednesday's close.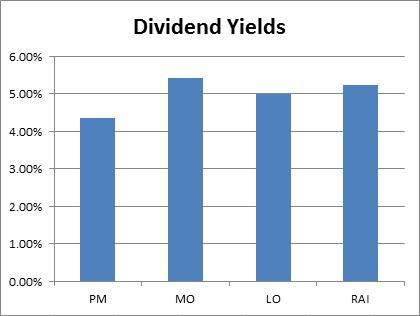 Philip Morris has always had a lower yield, so this should not be a surprise. However, due to the dividend increase plus recent stock underperformance, Philip Morris is getting closer to the other names in this space. Currently, the 4.34% annual yield for Philip Morris trails Altria by 108 basis points, Lorillard by 65 basis points, and Reynolds by 88 basis points. Additionally, Philip Morris had the largest dividend raise this year. Lorillard came in with a 6.5% raise, Altria had a 9.1% increase, and Reynolds saw a 6.8% increase.
Why this increases confidence:
As I said above, this is a stock that has not done very well in recent months. The following chart shows the past year for Philip Morris stock, before Wednesday's jump. I intentionally left that out to make my point. Over the last couple of weeks, this was a stock that nearly made a new 52-week low.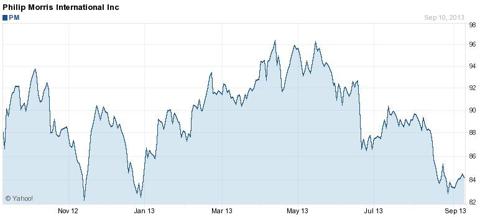 (Source: Yahoo! Finance)
Why was the stock doing so poorly? Well, the company's revenues have been hurt by weak shipment volumes and currency issues. The company had a very shaky Q2 period, which caused some concern. Philip Morris took down its earnings per share guidance on currency issues, and this wasn't the first cut we've seen. We also saw multiple cuts like this last year. At this point, the company says that the rest of the business is fine, and that the guidance cut was only due to currency, and not operational, issues. The question many have asked is when will these currency issues become a tailwind and not a headwind? Once these currency issues turn, it could be a tremendous catalyst for this stock.
So back to the discussion of confidence. I had been a little down on this name at times because of a rising debt pile and poor cash flow numbers. That's why my dividend raise prediction came out to be a little low. I was worried that reduced cash flow, which I've discussed in many past articles, could hurt the amount of the dividend increase. Remember, Philip Morris is in the process of a 3 year, $18 billion stock buyback, so those funds are basically set for that purpose. If results were coming in less than expected, the dividend raise would be one area where they could scale back. With over 1.6 billion shares outstanding, every penny paid per quarter is about $65 million paid per year. So the difference between a raise to say $0.90 per quarter and $0.94 per quarter is more than $250 million dollars per year.
The dividend raise also makes this stock more attractive, because it does trade at a premium. The chart below shows the P/E values for the four names discussed today, based on Wednesday's closing prices and currently expected earnings for each year.

I've always discussed the premium that Philip Morris trades at, and the premium becomes more reasonable with a much higher dividend. Philip Morris does offer more growth than Reynolds and Altria, but not as much as Lorillard. Investors have been willing to pay a premium for a decent amount of growth plus the above mentioned large buyback.
Final thoughts:
Philip Morris raised its dividend nicely on Wednesday, leading to a nice rally in shares of the name. Obviously, management feels very confident in the business, as the dividend raise was a bit more than I was looking for based on balance sheet and cash flow data. Hopefully, Philip Morris is starting to overcome some of its currency issues, and investors hope that a 10.6% dividend raise is a sign of that. This dividend raise woke up a sleepy stock, making the name an even larger dividend favorite.
Disclosure: I have no positions in any stocks mentioned, and no plans to initiate any positions within the next 72 hours. I wrote this article myself, and it expresses my own opinions. I am not receiving compensation for it (other than from Seeking Alpha). I have no business relationship with any company whose stock is mentioned in this article.
Additional disclosure: Investors are always reminded that before making any investment, you should do your own proper due diligence on any name directly or indirectly mentioned in this article. Investors should also consider seeking advice from a broker or financial adviser before making any investment decisions. Any material in this article should be considered general information, and not relied on as a formal investment recommendation.