As everyone knows, BlackBerry (NASDAQ:BBRY) is currently in deep trouble. The company is currently exploring strategic alternatives in order to reinforce itself and to maximize value for shareholders. Now that Microsoft (NASDAQ:MSFT) has bought Nokia's (NYSE:NOK) hardware division, BlackBerry competes with three titans; Apple (NASDAQ:AAPL), Samsung (OTC:SSNLF) and Microsoft. In such a competitive market, deep pockets are one of the keys to being successful, but I'm not going to talk about that in this paper. In fact, BlackBerry still has a little chance to succeed in the smartphone market with its "phablet" Z30. Here is why.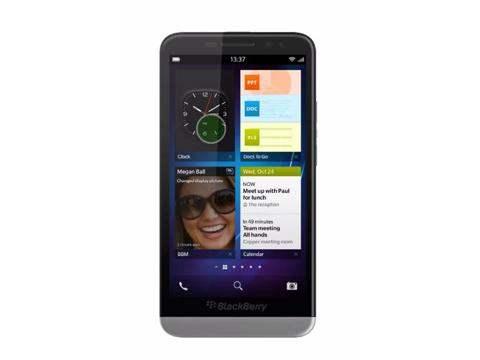 First, what is a phablet phone? A phablet is a smartphone with a screen bigger than 5 inches, which has the same features as a traditional smartphone.
Right now, there are only two big competitors for BlackBerry in this market area, namely Samsung with its Galaxy Note and Sony (NYSE:SNE) with its Xperia Z. Both have premium prices and features. BlackBerry's Z30 has been designed to compete with them and will be released in the coming months.
Phablet Market
While traditional smartphone sales are growing at a slower rate, supersize phones continue to grow at an impressive rate. According to Transparency Market Research, 825 million units will be sold in 2018. It represents a growth of 25.8% each year, from 2012 to 2018. A large part of this growth will come from North America and Asia. According to ABI Research, 385 million units will be sold in 2017 and Asia will represent the biggest market share for phablet phones. Even if there is a gap of nearly 400 million units between both studies, one thing appears very clear: supersize phones will represent a big opportunity for smartphone companies in the near future. ABI Research predicts more than 200 million units sold in Asia Pacific in 2017 and 87 million units sold in North America in 2017. That's big news for BlackBerry because it is still very popular in countries such as Indonesia or Malaysia.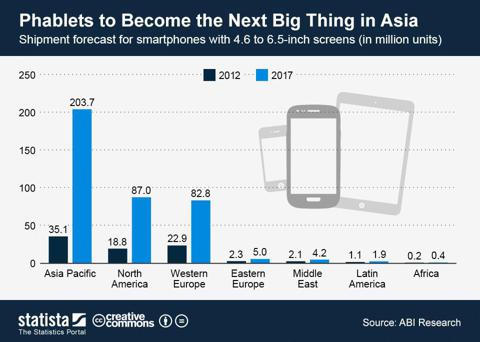 Where is Apple?
Apple, which released its new iPhones 5S/5C two days ago, didn't do anything to come in this new market area. In my opinion, it represents another strategic mistake made by the company. But that's good news for BlackBerry, which will benefit from this absence of initiatives from Apple.
Quick Calculation
If BlackBerry can own as little as 1% of this market in the following years, the company will be able to generate comfortable new revenues. If the ASP for the Z30 is near $600 multiplied by 3.85 million units (1% of total devices sold in 2017), it will generate $2.31 billion. If BlackBerry can reach 10%, the potential revenues will go to $23.1 billion...
Conclusion
A lot of people are saying BlackBerry will go bankrupt soon. Even if the company is in trouble with bad news regarding current BB10 sales, I would like to remind these guys that the company still has nearly $3 billion in cash and can boost its marketing efforts to gain traction and boost its sales. In my opinion, here is one reason why Prem Watsa is still a strong supporter of the company.
Disclosure: I have no positions in any stocks mentioned, but may initiate a long position in BBRY over the next 72 hours. I wrote this article myself, and it expresses my own opinions. I am not receiving compensation for it (other than from Seeking Alpha). I have no business relationship with any company whose stock is mentioned in this article.