"Our second quarter results were below our guidance as a sluggish consumer environment along with higher levels of precipitation and cooler temperatures contributed to a decrease in traffic, resulting in lower than expected same store sales." -CEO Edward Stack
Blaming poor sales results on the weather and sluggish consumers are some of the best excuses in the retail business. While I believe there is some validity to Mr. Stack's rationale for a weak fiscal second quarter and reduced full year outlook, the simple fact is that Dick's Sporting Goods (NYSE:DKS) just had a terrible quarter. Running a business poses various challenges, and unfortunately Wall Street punishes companies for making quarterly mistakes. However, if you understand the core operations of the business, then acquiring shares on these pullbacks can provide great long term entry points.
I have been bullish on Dick's Sporting Goods for some time now, and although the stock price has been range bound for the past year and a half, I still believe the company has considerable growth potential. With expansion plans already underway for the flagship Dick's brand, promising outlooks for new venture stores like Field & Stream and True Runner, and a rapidly expanding eCommerce business, shares of DKS offer an attractive risk/reward scenario at current price levels.
Growth Strategy Remains Intact
Rather than focus on what went wrong during the fiscal second quarter (you can review that here if you would like), I will focus on what opportunities lie ahead for the company. After all, stocks are forward looking and typically valued based upon future profits. Dick's Sporting Goods has four main components to their capital allocation strategy, all exhibiting attractive features to current and prospective shareholders.
Investing in the growth of the core business
Quarterly dividend
Share repurchase plan
Consideration of opportunistic acquisitions
Investing in the core business is mainly being executed upon by opening new Dick's Sporting Goods Locations. During the current fiscal year management expects to open 40 new locations in the United States. Given that only 9 stores have been opened during the first half of the year, we are likely to see tremendous effort in this area during the back half of fiscal year '13.
In the table below you can see that new store expansion has picked up over the past few years and is expected to be a major driver of revenue moving forward. The Dick's management team estimates capacity for 1,100 stores in the United States, and with just 527 open as of the recent quarter end, the growth opportunity for this company is still in the middle innings.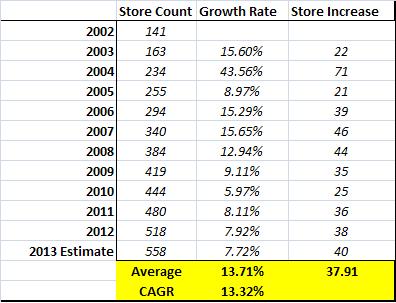 Source: Dick's Sporting Goods SEC Filings
Keep in mind that new stores are not the only way to grow operations. Inside of each store are "specialty shops" which highlight some of the top brands like Nike (NYSE:NKE), Under Armour (NYSE:UA), and The North Face (NYSE:VFC). These specialty shops offer unique products found only at Dick's and have higher margins than most other categories. Dick's plans on expanding and remodeling existing stores to include these shops, which will hopefully grow the sluggish same store sales numbers. Although not a significant driver of sales quite yet, the new Field & Stream store held its grand opening during August. COO Joseph Schmidt described the event like this, "The grand opening exceeded our expectations and was the best grand opening in the history of the company. Our Field & Stream stores will be destinations for hunting, fishing and outdoor enthusiasts and offer premium assortments with superior service levels. We expect to open a second store in the fourth quarter of this year." Keep these new stores on your radar as they may blossom into larger components of revenue in years to come.
Dick's currently pays a quarterly dividend of $0.125, equating to a 1% dividend yield. This is a very conservative use of cash, retaining roughly 80% of earnings and paying out the other 20% as a dividend (excluding Q4 of 2012 when a special dividend was paid). Although not classified as a "high dividend payer" given the current payout ratio, I estimate management will be growing this dividend payment moving forward and a new class of investors may be attracted to the stock.
The current share repurchase program in place as of March 7, 2013 authorized the Board of Directors to purchase up to $1 billion of common stock over the next five years. During the 26 weeks ended August 2, 2013 1.7 million shares were repurchased for $80.6 million. Given future growth prospects and current valuation of the stock, this is an attractive tool Dick's can use to add value moving forward.
The last component, opportunistic acquisitions, is challenging to forecast. It is safe to say that if any of the smaller private (or public) competitors made sense to acquire, Dick's has the financial strength to make a large scale purchase. With virtually no debt on the balance sheet and access to an existing $500 million revolving credit facility (with another $250 million increase available upon request) which matures December 2016, the company is well positioned to take on leverage and grow the business. With competitors like Amazon (NASDAQ:AMZN) and Wal-Mart (NYSE:WMT) moving into the sporting goods eCommerce business, many smaller competitors may not have the infrastructure to compete and become attractive acquisition targets for Dick's to add on.
My Thoughts on the Future
Management and Wall Street reduced full year estimates given a much weaker than anticipated consumer spending environment. As a result of significantly lower same store sales, I have reduced my estimates for the remaining fiscal year and upcoming fiscal year. Note that management tends to cite non-GAAP measures while my estimates are based upon GAAP. Also keep in mind that FY12 was 53 weeks compared to 52 weeks in FY13. Below are some relevant points I factor into my estimates:
Given management's estimate of same store sales coming in at 0%-1% growth compared to prior estimates of 2%-3% growth, I am reducing my revenue growth estimate to 6.9% during FY13. This compares to 12% revenue growth in FY12.
Gross margins are expected to decrease year-over-year with merchandise margin expansion anticipated to be more than offset by occupancy de-leverage.
SG&A expenses are estimated to be slightly lower than the prior year.
Management is estimating non-GAAP diluted EPS to be in the range of $2.60-$2.64. My estimates are done using GAAP (currently the only difference is the accounting for an aircraft sale equating to $0.04 per share) and fall towards the high end of managements guidance at $2.61 per diluted share.
Management is estimating a diluted share count of 126,000,000.
Please note that the estimates below are not guaranteeing any of the results will be met. These estimates are strictly based upon management's guidance, the company's SEC filings, press releases, historical data, and my estimates.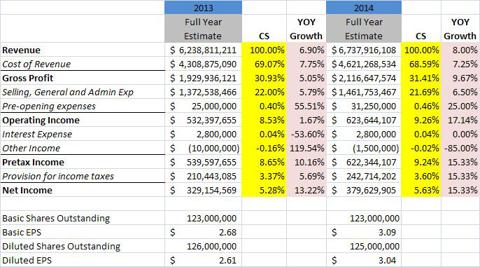 Source: Dick's Sporting Goods SEC Filings, Dick's Sporting Goods Management Guidance, and my estimates based upon historical data and future expectations. Estimates given above are no guarantee of future results, please evaluate the company in greater detail before making investment decisions.
Concluding Remarks
Given that FY13 is likely to be troublesome for the company but expansion plans are still underway, FY14 could be a major turnaround for Dick's Sporting Goods. With shares now trading at historically low valuation levels, long term shareholders have an attractive entry point to begin building a position. Short term traders or trend followers may want to be patient and play the existing channel. Regardless of your investment time horizon, we are likely to see the market exhibit a "show me" attitude before returning to shares of DKS, thus keeping the stock price depressed or flat for the next few quarters while management regains credibility amongst analysts.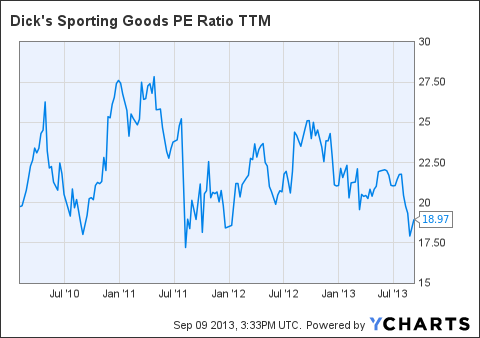 DKS PE Ratio TTM data by YCharts
Given my belief in a growing trend of healthy lifestyles and active living, sporting goods retailers have a promising future ahead of them. However given the growth of internet shopping, many smaller sporting goods retailers may struggle to keep ahead in this industry. Dick's Sporting Goods is not only building physical retail locations, but also rapidly growing its eCommerce infrastructure to handle the future of shopping. This will give Dick's significant potential to gain market share in this industry. We are likely to receive new information regarding the company when it hosts its first every Analyst Day meeting on September 18th.
Consider your investment goals and objectives before initiating a position in Dick's Sporting Goods and please remember that the value of investments in equity securities, like DKS, will fluctuate in response to general economic conditions and to changes in the prospects of particular companies and/or sectors in the economy. Given current valuations and growth opportunities, in my opinion shares offer an attractive entry point.
Note: All data reported and graphed is pulled directly from Dick's Sporting Goods SEC Filings, Press Releases and Investor Presentations.
Disclosure: I have no positions in any stocks mentioned, and no plans to initiate any positions within the next 72 hours. I wrote this article myself, and it expresses my own opinions. I am not receiving compensation for it (other than from Seeking Alpha). I have no business relationship with any company whose stock is mentioned in this article.