You cannot read this article without googling potash. Potash is destined to appear on Discovery Channel TV sandwiched between episodes on casino and drug rings. Even for audiences without the faintest interest in investing, the story is spellbinding: Russian cartels, Warren Buffett's railroad, puppet attorney scandals, Canadian mafia bosses, the McDonaldization of southeast Asia, and royal dynasties who buy products in hundred year increments. If potash ever made it onto TV, the topical whirlwind could progress to currency manipulation or this month's billion-dollar tax haven arrest, among hundreds of other tangents.
Sophisticated commodity investors scoff. Invest in precious metals for long-term safety, they say. To them, I flip on Jungle Gold or Blood Diamond and additionally remind them that all precious metal investors from the 1970s or 1980s have negative inflation-adjusted returns, thanking them for their decades of hard work.
All commodities are dirty businesses, through and through. If you are new to potash, here is the wild plot line overarching the past decade.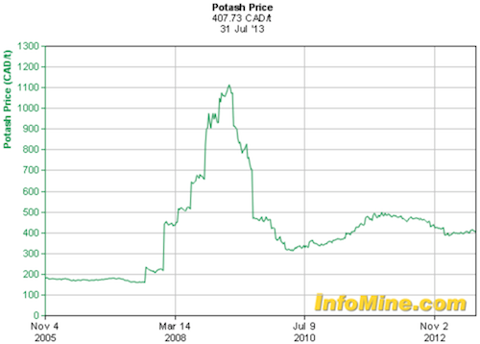 With thousands millions of press articles about oil every day, I almost never hear about potash. It is a fertilizer - a commodity traded on global futures markets - mined from ancient seafloor basins now buried underground. It provides phosphate to plants so that they grow harder, better, faster, stronger (even us old men keep up on the lingo).
The price of potash is blatantly controlled by two cartels in Russia and Canada that control 80% of the world's supply. A few days ago, one of the companies in the Russian cartel defected and sold more potash in a few days than it was previously allowed to sell in months, causing instant panic across potash stocks. Forex traders traded quick drops in the loonie and ruble. Its CEO was promptly arrested in a tax haven.
Fascinated yet? True, potash is only 0.1% of the Canadian economy, a "tiny" $450 million Canadian every month controlled mostly by Potash Corp (NYSE:POT). Yet Canadian potash sales to China, India and Malaysia have increased 40% in 2013 versus the same period in 2012.
You skimmed over that last sentence: entire countries have increased their consumption of one commodity by 40% this year. Commodity investors in oil would sacrifice an arm and a leg for one extra percentage point, yet Canadian potash producers are enjoying 40 extra points.
McDonald's. You were wondering why those southeast Asian countries are buying so much potash this year? McDonaldization is the answer. Despite centuries of vegetable-based diets based on organic produce and sustainable agriculture, well, southeast Asians eat fast food now. The only way to supply unprecedented amounts of meat and rich foods is to fertilize with potash to increase crop yields, lowering animal feed prices.
I have already written two potash articles on Seeking Alpha, and I find myself talking about potash with friends and family who have no interest in finance whatsoever. It is a mesmerizing story. There are so many juicy details, like how Indian dynasties are trying to lock in potash prices for hundreds of years or why Arizona has $1 trillion of potash that is not being mined right now.
But So What
We are here to make money at Seeking Alpha. Despite how entrancing the story is, we have to figure out where to invest. In both of my previous articles, I explained why my favorite potash company is Canadian-listed Passport Potash. I explained that there are three companies fighting for control of the government-endorsed Holbrook Basin potash project, and only one will likely survive the battle. I think it will be Passport Potash.
Corey Dias thinks Passport Potash will triple.
Jeb Handwerger thinks Passport Potash is a 10-bagger.
A former Under-Secretary of the Interior for two U.S. Presidents sits on the board.
Its CEO is the third son in a mining family lineage dating to the 1800s.
Insider ownership and buying is the strongest of any potash company in the world.
The top investor is Dr. Phillip Frost, who has added over $1 billion to his personal net worth this year, because his investments are almost without exception near 52 week highs.
Passport Potash's PEA demonstrated stellar project operating costs of $115 per ton at half the depth of most Canadian mines. Most peer juniors have proposed projects with operating costs of $125-$225 per ton with deeper, more costly designs.
Passport Potash is friends with Warren Buffett. Well not precisely, but it will be a friendly customer of his Burlington Northern Santa Fe railroad, which intersects four miles of its property. I like to invest in Berkshire Hathaway's customers sharing the same real estate.
Analysts like Bob Moriarty, Gordon Holmes, Sean Brodrick, Dan Pisenti and Marshal Berol provide on-site coverage of Passport Potash.
A director works with Rahimtula Group in India and so will probably secure a 10-year potash contract with a dynasty securing a food empire. A 100 year contract would not surprise me (google potash already).
Zero geopolitical risks. Water supply is on-site. Route 66 traverses the property. A 995MW power plant is already operational. Local press, labor and government relations are absurdly positive.
Dr. Frost, again. Look at the stock charts of OPK, MSLP, SFES, PGLC, IDI, NIMU, ROX, BZNE or VGR.
I am looking at debt options alongside Canadian equity. I think Passport Potash is priced attractively right now, and I have a five year investment timeframe. I expect continued cartel maneuverings, mafia tactics, widespread corruption - just like all commodity markets - and a 1,000% ROI. There will be dilution along the way.
This article differed from my normal writing style of tabulated financial details with exhaustive citations, but I wanted to communicate a different message. Namely, commodity investments are never safe. Potash is a transfixing sector best understood through intrigue, suspense, family, betrayal and other characteristics of great sagas. I want to communicate that investing in potash for broad economic reasons is as foolish as investing in gold as an inflation hedge (reference any inflation-adjusted chart of gold over the last century). Commodities are not safe.
I am investing in a specific mine containing a trillion dollars of fertilizer. It is not safe, but it has astronomical potential and real risks. Passport Potash's CapEx is estimated to be $1.95 billion. It will either succeed or lose to one of two competitors, but one of them is going to build their mine (so help them Canadian cartel and local government bosses), so I have a 33% chance of a 1,000% ROI. My downside is a total loss. In the meantime, I have an endless pinwheel of diversions, economic debates, political banter, agricultural scandals and population trends to enthrall my attention.
Because there are no fundamentals, really. Gold's utility value (rust-proof durability, whatever) is a dwarfed fraction of its price. The same is true for oil, coffee, corn, silver and all commodities.
Wait, you still have not left to google potash? I lose.
Disclosure: I have no positions in any stocks mentioned, and no plans to initiate any positions within the next 72 hours. I wrote this article myself, and it expresses my own opinions. I am not receiving compensation for it. I have no business relationship with any company whose stock is mentioned in this article.