BioMed Realty Trust Inc (NYSE:BMR) operates as a real estate investment trust which owns, acquires, develops, redevelops, leases and manages laboratory and office space for the life sciences industry. On August 7, 2013, the company reported second-quarter funds from operations of $0.37 beating the consensus of analysts' estimates by $0.03. The stock is down 0.47% in the last year and is losing to the S&P 500 which has gained 17.46% in the same time frame, and with that in mind I'd like to take a moment to evaluate the stock on a fundamental, financial, ownership, and technical basis to explain why I bought the stock right now for the financial sector of my dividend portfolio. I like to purchase a company that is expected to grow earnings, has a positive yield, more equity than debt, insider buying and bouncing off of its 52-week low; now without further ado here is the data.
Fundamentals
When I'm looking to add a company to my dividend portfolio I like to have positive earnings growth on the short term (1-year) and long term horizon (5-year) and BMR is estimated to grow earnings at a 3.47% and 6%, respectively which are decent for a high yielding dividend stock. Because I like to try finding something trading near its 52-week low I want to see that the stock has reported positive quarter over quarter earnings growth and BMR did just that with a 233.3% earnings increase over Q2 of 2012.
Financials
On a financial basis, the things I look for when initiating a position in my dividend portfolio are the dividend payouts, long term debt to equity, and debt to equity. BMR boasts a dividend of 4.97% and because it is a real estate investment trust it must distribute 90% of its earnings to shareholders through dividends. The long-term and short-term debt ratios of the company have values of 0.84 and 0.84, respectively. Because I believe the market may get a bit choppy here and would like a safety play, I believe the 4.97% yield of this company is good enough for me to take shelter in for the time being. The company has been increasing its dividends for the past 4 years since cutting it at the back end of the financial crisis as all financials companies did.
Ownership
If I'm going to be bargain hunting for stocks I'd like it if the company's executives were buying alongside me. One way to measure this is looking for positive insider transactions that have taken place in the last six months and insider ownership of outstanding shares in BMR has increased by 3.75%. I believe if insiders are buying the stock at around the bottom then they believe the company has value and they are just buying it on the cheap, like I am.
Technicals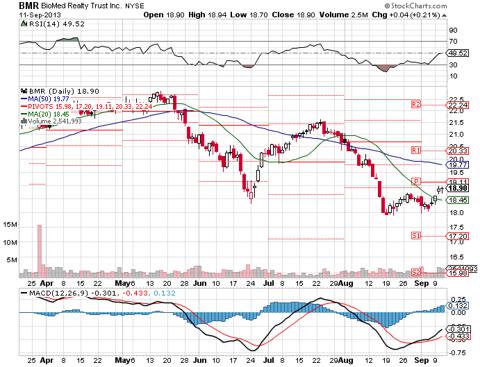 Click to enlarge
Looking first at the relative strength index chart [RSI] at the top, I see the stock muddling around in middle ground territory with a value of 49.52 but with upward trajectory, which is a bullish pattern. To confirm that, I will look at the moving average convergence-divergence [MACD] chart next and see that the black line is above the red line with the divergence bars increasing in height to the upside, indicating the stock has upward momentum. As for the stock price itself ($18.90), I'm looking at $19.11 to act as resistance and the 20-day moving average to act as support for a risk/reward ratio, which plays out to be -2.38% to 1.11%. The stock is up 7.65% from its 52-week low.
Conclusion
I hope I have identified an excellent high yielding dividend stock with more equity than debt, bouncing up from its 52-week low, has year over year earnings growth, and bullish technicals. The stock was a part of the mid-July high yield play sell-off which included utility stocks and REITS as bond yields spiked, but I don't think this company should have any issues as all of its clients are in the always hot sector of life sciences. Its properties are located in markets with well-established reputations as centers for scientific research including Genetown (Boston), Biotech Bay (San Francisco), Biotech Beach (San Diego), BioCapital (Maryland), Pharm Country (NY, NJ, Pennsylvania), and BioForest (Seattle). I say, "Let the dividends accrue!"
Disclaimer: These are only my personal opinions and you should do your own homework. All Samsung data is from Yahoo Finance and all other company metrics are from finviz.com. Only you are responsible for what you trade and happy investing!
Disclosure: I am long BMR. I wrote this article myself, and it expresses my own opinions. I am not receiving compensation for it (other than from Seeking Alpha). I have no business relationship with any company whose stock is mentioned in this article.