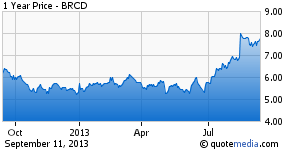 As demand for data is rising, so is the demand for storage. In this era of virtualization and the cloud, Brocade Communications (NASDAQ:BRCD) is steadily stepping up its offerings and catering to the need of various customers with its high end solutions for Storage Area Networks (SAN) But the going has been tough of late and recovery might take some time.
The company recently posted its third-quarter results and its results came in better than analysts' estimates. It posted revenue of $536.6 million while the expectation was for $519 million. Brocade also generated $102 million in operating cash flow, while net income of $118.7 million was 177% higher as compared to the year-ago quarter. More importantly, its EPS of $0.26 beat the analyst estimate of $0.12 handsomely and was almost three times the EPS of $0.09 posted in the year-ago quarter. Brocade repurchased around 18 million shares which were worth approximately $100 million in the third quarter.
Major stress on cost cutting
To further improve the bottom line and margins, Brocade is aggressively cutting down expenditures. In the third quarter, it recorded a saving of around $15 million in operating expenditures and added $2 million in savings from non-strategic expenses. It has achieved an annual saving of $60 million for the current fiscal year and targets total saving of $100 million by February 2014.
Looking ahead
The future of the storage market is bright. In 2013, it's anticipated that the storage market will be worth $23 billion with a forecast of $37 billion by 2017. Brocade seems to be confident about its growth in the future and expects fourth-quarter revenue in the range of $545 million - $565 million. It anticipates revenue from SAN to increase 1% to 4% in the ongoing quarter. Also, SAN contributed almost 61% to total revenue which means that Brocade should benefit from the storage industry's growth as majority of its revenue comes from this segment.
Global scenario
Brocade experienced a setback in its European business mainly due to the economic recession. But as Europe recovers, Brocade should see better times in the future and be able to report revenue growth.
Brocade's business alliance with Net One Systems, the largest system integrator company in Japan, gives it access to new growth opportunities in data centers & service providers in Japan. As per market research firm IDC, the IT market in Japan is estimated to be around $110 billion every year which comprises of hardware, software and services. In the future, Brocade and Net One's alliance should result in impressive growth for Brocade.
Competitors
Cisco Systems (NASDAQ:CSCO) is the leading provider of unified data center solutions comprising of storage, networking, security and computing. The company recently released its fourth-quarter results and posted revenue of $12.4 billion, signifying a 6% growth over the year ago period. Cisco has been growing through acquisition of privately-held companies as it looks to stamp its dominance in cloud computing.
Cisco had acquired a U.K.-based company Ubiquisys earlier this year. This deal was closed at approximately $310 million. This acquisition will strengthen the product and services portfolio of Cisco, as Ubiquisys pioneers in providing seamless solutions for connectivity across heterogeneous mobile networks.
Cisco also acquired an Austrian company SolveDirect Service Management GmbH. This acquisition will further enhance Cisco's capabilities in the services space with automation of process sharing, data and real time work flows.
Apart from acquiring companies, Cisco is also known for returning capital to shareholders. It declared a dividend of $0.17 per share, which amounts to a total of $918 million and also repurchased 47 million shares amounting to $1.2 billion.
QLogic (NASDAQ:QLGC) also has an in-depth portfolio of products for storage solutions and data center equipment. In the first quarter, it posted revenue of $113.1 million which was an year over year decline of 13.2%. Its outlook for the second quarter is in the range of $108 million - $116 million.
The decline in QLogic's revenue was mainly due to weaker demand for advance connectivity platforms (server and storage connectivity) and legacy connectivity platforms (Fiber Channel Switches). These services are recent inclusions in the product portfolio of QLogic.
Also, the company's operating expense of $67.5 million increased (year over year) slightly. With various restructuring exercises at Qlogic, the company expects to save $20 million in operating expenses in fiscal 2014.
As an OEM supplier for companies like IBM and HP, it estimates better growth but can face stringent competition from companies like Cisco.
Conclusion
Brocade might have witnessed a decline in revenue but the company's cost-cutting moves and the opportunity in the storage industry could lead it to better days. But at a trailing P/E of 18x, it is quite expensive as compared to Cisco and the fact that revenue declined in the previous quarter is also a red flag. Moreover, insiders have been selling shares and this is yet another reason why investors should stay on the sidelines for now until and unless concrete signs of a recovery are seen.
Disclosure: I have no positions in any stocks mentioned, and no plans to initiate any positions within the next 72 hours. I wrote this article myself, and it expresses my own opinions. I am not receiving compensation for it (other than from Seeking Alpha). I have no business relationship with any company whose stock is mentioned in this article.