NetSol Technologies, Inc. (NASDAQ:NTWK) reported very strong fourth quarter fiscal 2013 results this morning. Revenue came in at $15.1 million (versus guidance of between $11.8-$13.3 million), while earnings came in at $0.35 per share, well ahead of the $0.22 estimate (Source: Yahoo Finance).
The initial reaction to the earnings report looks to be positive, and the company will hold a conference call at 11:00 a.m. Eastern Time to discuss the results and financial outlook. Interestingly, investors got a preview of this earnings report when the company's 65.7%-owned subsidiary, NetSol PK,reported earnings on Monday, September 9 on the Karachi Stock Exchange, where its shares trade. I estimate NetSol PK generated roughly $11.4 million in fourth quarter revenue and net income of nearly $5.1 million. NTWK consolidates the revenue in its statements and deducts the minority interest share when making a net income calculation.
According to NTWK's SEC Filings, "the Company designs, develops, markets, and exports proprietary software products to customers in the automobile finance and leasing, banking, healthcare, and financial services industries worldwide. The Company also provides system integration, consulting, IT products and services." NTWK's core product is called NetSol Financial Suite (NFS) which is a leading product in asset finance software. NFS provides the company with a global footprint among the captive automotive manufacturers, and the firm is especially strong in Asia Pacific and China in particular. One of NTWK's competitive advantages is that a large percentage of its IT professionals work in Lahore, Pakistan. Pakistan continues to provide NTWK with a strong flow of well-educated IT professionals at affordable, relative prices versus places like India.
NFS is well positioned to grow with the Chinese market, where only about 10% of auto purchases involve leasing/financing vs. over 80% in the U.S. (Source: NTWK 2013Q3-10Q). With high expectations for continued growth in Asia Pacific, as well as the more mature U.S. and European markets, NTWK is aiming to grow revenue by 15-25% annually for the next five years (Source: Investor Presentation). The company has a further goal of seeing gross margins expand to the 63-65% range during the next three years. During the past two years, NTWK has also introduced a new division, Vroozi, which is aimed at helping companies transform their supply chain purchases. NTWK is targeting the 15,000+ SAP customers for this product and will be a key driver if the company is successful in meeting its goal of generating 30% of revenue from N. America by the end of fiscal 2015 (Source: Investor Presentation). This would suggest the company believes it can grow N. America revenue to as much as $25-35 million two years from now.
Risks
Admittedly, the NTWK story has been high on hope and short on execution for several years. Economic downturns, corporate investments and associated startup losses, serial capital raises, and generous stock option payments have all contributed to underwhelming stock price performance. NTWK completed a 1:10 reverse stock split last year, but the shares outstanding have gone from 7.6 million at the end of August, 2012 to 9.0 million at the end of June, 2013. Interestingly, only 66.4% of shareholders voted in favor of the firm's 2013 Equity Incentive Plan, which authorizes the issuance of up to 1.25 million additional shares (Source: SEC Filings). I fully expect the share count will continue to rise in coming quarters, but it does look like NTWK can begin to produce free cash flow exclusive of stock compensation benefits.
New CFO hired this week
The company announced two days ago that it has hired Roger Almond, CPA to be the new CFO. This comes following the firm's admission over the past six months that "internal control over financial reporting was not effective." "Notwithstanding the existence of such material weakness in our internal controls over financial reporting, our management, including our Chief Executive Officer, believes that the financial statements included in this report fairly present in all material respects our financial condition, results of operations and cash flows for the periods presented." (Source: March 2013 10-Q)
NTWK has a long list of subsidiaries across the world, with different ownership structures. It's challenging enough for me to convert the Pakistani-issued financial statements, and even more difficult to reconcile all the line items on the consolidated cash flow statements. The complicated financial structure is almost enough to keep me from investing in the company, but I think it is also discounted in the stock price.
Investment Summary
On the surface, today's earnings report looks very strong, and NYWK continues to have some strong business momentum. The company has announced several significant business wins in recent months, which should support management's goal of growing revenue by 15-25% in the next twelve months. With earnings power approaching $1.50 per share in 2-3 years if management executes on its business plan and can control the growth in shares outstanding, I suspect today's stock price will look like a great entry.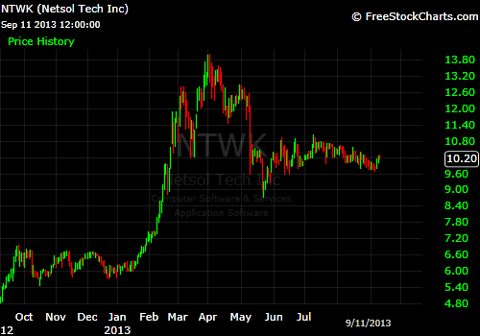 Click to enlarge
Disclosure: I am long NTWK. I wrote this article myself, and it expresses my own opinions. I am not receiving compensation for it (other than from Seeking Alpha). I have no business relationship with any company whose stock is mentioned in this article.