The 10th largest pharmaceutical company in the world, offices in 19 countries, sales in 125 markets, ranked 130 on the Fortune500 2013 list and going strong after 137 years, Eli Lilly and Company LLY is undoubtedly the embodiment of the American Dream. The company was formed in 1876 out of the frustrations of a middle-aged U.S. Civil War veteran, Colonel Eli Lilly. Lilly felt that the medicines of his day were not prepared properly and were largely ineffective against disease.
His vision to build a company that would use the latest technology to create high-quality pharmaceutical products that genuine doctors could recommend is still alive in the company's philosophy today.
Quick Facts
Headquarters in Indianapolis, Indiana, USA
38,000 staff, globally
7,700 personnel in R&D
55-country base for clinical research
R&D facilities in 8 countries
Drugs manufactured in 13 countries
Average cost of developing one drug = up to $1.2 billion
Average time for drug to hit market after discovery = up to 15 years
Key Accomplishments
Eli Lilly and Company gets the credit for several innovative and revolutionary products in the domain of pharmaceuticals:
As early as 1886, Eli Lilly became one of the first such companies to have a full-time scientist working on research, development, testing and quality evaluation.
In 1923, they introduced Iletin, the world's first purified insulin product that was made available commercially.
That same decade, two Harvard University scientists collaborated with the company to develop a liver-extract product that would subsequently be a standard for pernicious anemia treatment for many decades; the same scientists were later awarded the prestigious Nobel Prize for Medicine for the work they had carried out on anemia treatment through liver therapy.
In the 1940s, Eli Lilly was one of the first companies that developed a mass-production method for penicillin, the world's first antibiotic.
In the 1950s, they introduced erythromycin and vancomycin, two antibiotics that would change the landscape for treating infectious diseases.
The 1960s saw the introduction of the cephalosporin family of antibiotics; during that time, they also introduced two key cancer drugs - vinblastine and vincristine.
Ceclor, also a cephalosporin, was launched in the 1970s and soon became the top-seller among oral antibiotics. Around that time, they also launched Dobutrex, a life-saving cardiovascular product.
The 1980s witnessed a re-birth of their insulin era of the 1920s, this time with the launch of Humulin, a compound identical to human insulin but developed using recombinant DNA technology for the first time; the 80s also saw the introduction of Prozac, an anti-depressant that soon captured the imagination of Hollywood producers, famous authors and other creative minds.
In the 1990s Eli Lilly was on fire, introducing several innovative and life-changing drugs such as Gemzar (lung cancer), Zyprexa (schizophrenia), Evista (menopausal osteoporosis), Actos (diabetes, developed in collaboration with Takeda Chemical Industries), Humalog (diabetes) and ReoPro (cardiovascular anticoagulant)
Right through the first decade of the new millennium, Eli Lilly kept on introducing revolutionary drugs such as Forteo (osteoporosis), Cialis (erectile dysfunction), Symbyax (bipolar depression), Alimta (malignant pleural mesothelioma), Cymbalta (depressive disorder and neuropathic pain in diabetics), Byetta (type 2 diabetes) and Effient (to reduce thrombotic events when managing patients with acute coronary conditions.)
Lilly in the News
Partnerships
Late in August 2013, Zealand Pharma, a Denmark-based pharmaceutical group, agreed to collaborate with Eli Lilly to develop unique peptides for treating obesity and type 2 diabetes. Although the agreement is initially for these two conditions, the research and development areas may include other areas in future.
Kentucky-based Humana Inc. (NYSE:HUM) is a healthcare firm that provides insurance and other wellness products and solutions to the U.S. market. They have recently partnered with Eli Lilly to address the issue of the rising cost of managing type 2 diabetes. This will be the first in a series of studies that will use the expertise of both companies in their respective fields to enhance the quality of healthcare that patients in the United States currently get for various diseases.
Controversy
The fourth in a long list of pharmaceutical companies embroiled in a bribery scandal in China, Eli Lilly has been accused of paying nearly $5 million to medical practitioners in the nation to get them to prescribe their drugs over their competitors'. Though Lilly has not responded in detail to the allegations, company representatives have stated that they will "take them seriously." GlaxoSmithKline (NYSE:GSK), Novartis (NYSE:NVS) and Sanofi (NYSE:SNY) are the three other majors who were accused of similar crimes prior to the accusation against Lilly.
The Future of Lilly
With an illustrious and rich history like theirs, one would naturally assume that the future would be rosy for a solid and dependable company like Eli Lilly. However, this is far from the actual scenario today.
Lilly's main challenge as of now is its shrinking patent drug base. With Zyprexa now open to generic competition, the company will need to scramble to find revenue replacements for the highly popular drug. In addition, Cymbalta will drop off the patent cliff by the end of 2013, and Evista will follow suit next year.
These three major patent losses are expected to directly affect investor sentiment as well as sales, but the company is already eyeing minor acquisitions to offset the revenue loss. They are also pursuing in-licensing agreements to ensure that their pipeline is adequately bolstered.
And now: A look at their most important aspects … their financials and pipeline.
Ten Year Financials
Barring the drop in earnings in 2008, Eli Lilly has steadily moved its revenue at 6.72% CAGR(Compounded Annual Growth Rate) during 2003-2012. The numbers at the moment aren't as impressive, but the company expects to return to growth after 2014-2015.
Revenue VS EPS 2003 - 2012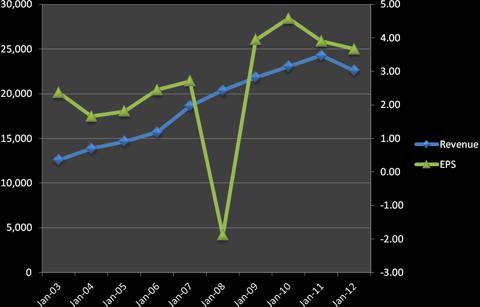 (Click to enlarge)
Lilly's financial management in the past ten years was conservative, and they have always preferred to err on the side of caution. Eli Lilly's total assets grew at 5.26% CAGR during that time, while total liabilities grew by 5.71% CAGR. Their balance sheet is as healthy as it was ten years ago. They could have easily taken more debt to fuel some big ticket buyouts, but they have shied away from any such maneuvers, as they don't believe big mergers bring big value.
Dr. John Lechleiter, CEO of Eli Lilly, has been quoted as saying that mergers in this industry are doomed to fail because they take productivity and innovation away from the equation. As a case in point, Lechleiter - a 31-year veteran who began his career with Lilly as a chemist - shows Pfizer Inc. (NYSE:PFE) as an example; Pfizer, he says, has not come up with anything noteworthy in the past decade - and this despite having successfully closed several major acquisitions.
Lechleiter has already made it clear that acquisitions and mergers is not the way forward for his company. Instead, he is putting his bottom dollar on the internal pipeline of human and pre-human trial molecules to eventually save the day - something that seems to be baffling analysts. The "YZ years" - the name that Lilly has given to the patent lapse period - will apparently be countered with their own crop of drugs that are expected to subsequently hit the market. According to the Reuters report published in 2010, Lechleiter cited the 70 compounds in various stages of research and development as the saviors of the company. In his words: "Many will be valuable products." Obviously, this still remains to be seen.
Assets vs. Liabilities 2003 - 2012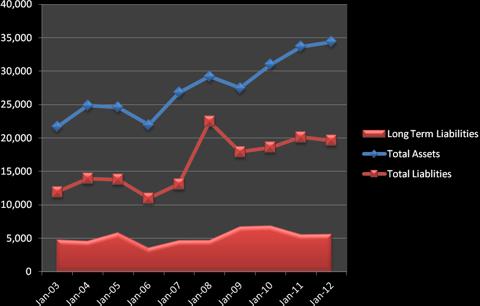 (Click to enlarge)
Lilly has maintained its gross margin consistently at around the 75- 80% mark, with operating margin at around 20-25%. It is clear that Lilly was fully aware of the problems presented by its patent cliff, and it has resorted to several cost saving measures in the past few years, which have given them better control over their margins.
Margins 2003- 2012
Pipeline
The 7-billion-dollar question right now is this: Will Lilly be able to make its way out of this mess using the strength of its pipeline?
Current Products Vs Patent Expiry
Product

Worldwide Revenues (2012)

Percentage of Total 2012

Revenues Loss of Relevant U.S. Exclusivity

Cymbalta

$4.99 billion

22%

December 2013 (compound patent plus pediatric exclusivity)

Alimta

$2.59 billion

11%

2017 (compound patent plus pediatric exclusivity); 2022

(vitamin dosage regimen patent plus pediatric exclusivity)

Humalog

$2.40 billion

11%

2013 May

Cialis

$1.93 billion

9%

2017

Zyprexa

$1.70 billion

8%

2011

Evista

$1.01 billion

4%

2014 March

Strattera

$621.4 million

3%

2017
Source: Eli Lilly Annual Report 2012
More than $7 billion worth of drugs is facing competition from generics in the immediate future. The drugs in the pipeline are clearly not going to come out in time to compensate for those losses. The lag between the drug launches and patent expiry (specifically for Zyprexa, Humalog, Cymbalta and Evista) is taking its toll on the share price, pushing Lilly to become one of the cheapest buys among the top ten pharma companies. But the cheap price comes along with a risk, as the pipeline seems to not be in a position to turn things around within the next two years.
Important Drugs in the Pipeline
Empagliflozin
A lot rides for Eli Lilly on Empagliflozin, an SGLT2 inhibitor. Eli Lilly has already submitted an application for FDA approval, and is expecting a decision during the first half of 2014. With estimated peak sales of around 1 billion, this drug could be a shot in the arm for Eli Lilly. But on the downside, J&J has already beaten Lilly to the market with canagliflozin, while Astellas Pharma Inc. is preparing ipragliflozin.
LY2963016
This new insulin glargine product has been accepted for review by the FDA. The basal insulin is being studied for the treatment of type 1 and type 2 diabetes. Biopharm Insight projects the drug to make $428 million by 2020. Though not a billion-dollar drug, the success of LY2963016 can strengthen Lilly's diabetes portfolio.
Dulaglutide
The once weekly drug for type 2 diabetes is another highly anticipated drug developed by Eli Lilly. Bloomberg analysts estimate Dulaglutide, a GLP-1 receptor agonist, to earn $835 million in 2018. If approved, Dulaglutide will be in direct competition with Novo Nordisk's best seller Victoza, which earned $1.64 billion in 2012, and Bydureon, sold by Bristol-Myers Squibb and AstraZeneca Plc.
The Verdict - Valuation
With current P/E around 12 and forward P/E around 16 (Morningstar), Eli Lilly appears a bit cheap when compared to its pharma peers. However, the company is extremely dependent on its pipeline to save its neck in the coming years - any setback to any of the 'potentially major' pipeline molecules will affect the stock adversely, and any portfolio that is heavily LLY is bound to be shaky for the next two years. Though it has sensible financial managers handling its business, it will need a lot more gumption from its decision-makers to turn new product launches into successful revenue streams in a crowded market.
If you already own the stock, keep a close eye on their pipeline updates and hold on to the stock, as their downside is clearly limited. New buyers can wait for some more positive news from the pipeline before jumping in. The final call: Eli Lilly is certainly in for a bumpy ride during the next eight quarters, but the right move at the right time can translate into a small fortune down the road.
Disclosure: I have no positions in any stocks mentioned, and no plans to initiate any positions within the next 72 hours. I wrote this article myself, and it expresses my own opinions. I am not receiving compensation for it (other than from Seeking Alpha). I have no business relationship with any company whose stock is mentioned in this article.