Today we want to highlight some tech names, which we have gotten away from in recent articles as our attention was elsewhere. With the new technologies coming out these days there are a lot of potential winners out there, the key is just finding them before they take off or finding good entry points on pullbacks - which is something we have had some success in.
Biotechnology has also had some winners for us, and as we have pointed out numerous times during the year the biotechs are one of the drivers behind the Nasdaq's performance. The bulls have pushed both big and small names higher, but lately they have let the bears have their way with some of the obesity drug makers.
Chart of the Day:
Business Insider had an interesting article yesterday (located here), which had a map produced by the US Census Bureau which showed the areas of the US where second languages play a predominate role in households. Although one would expect large percentages to speak a second language in the Southwest, we were quite surprised at how much of the East Coast was shaded. This is why so many businesses now have various language options on their phone systems and also why a second language is becoming so important in job searches. America is still a melting pot and maybe not as 'American' (based solely on speaking English as an only language) as many in this country believe.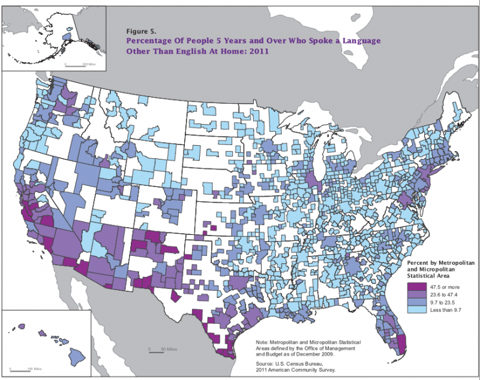 Source: US Census Bureau
We have economic news today and it is as follows:
Initial Claims (8:30 a.m. ET): Est: 327k Actual: 292k
Continuing Claims (8:00 a.m. ET): Est: 2975k Actual: 2871k
Export Prices - Ex Ag (8:30 a.m. ET): Est: N/A Actual: -0.1%
Import Prices - Ex Oil (8:30 a.m. ET): Est: N/A Actual: -0.2%
Natural Gas Inventories (10:30 a.m. ET): Est: N/A
Treasury Budget (2:00 p.m. ET): Est: -$146.0 Billion
Asian markets finished higher today:
All Ordinaries -- up 0.15%
Shanghai Composite -- up 0.64%
Nikkei 225 -- down 0.26%
NZSE 50 -- up 0.14%
Seoul Composite -- up 0.01%
In Europe, markets are lower this morning:
CAC 40 -- down 0.23%
DAX -- down 0.10%
FTSE 100 -- down 0.05%
OSE -- down 0.09%
Technology
Apple (NASDAQ:AAPL) shares got crushed yesterday after analysts and investors alike had a night to reflect upon the newly released products and decided that they were unimpressed. There were some key downgrades yesterday but as we wrote in the morning the dip is to be bought. After yesterday's market close Carl Icahn was on CNBC's Closing Bell with Maria Bartiromo and Scott Wapner discussing the market, his various holdings and Apple. Mr. Icahn let it be known that he had been purchasing shares during the session as the shares were down, and that should make almost anyone bullish right now. Icahn has had the Midas touch with everything he has bought recently, even across different industries, so we assign tremendous credibility to his entrance points in stocks. Shares are quoted a bit under 1% higher in the pre-market.
One of Apple's competitor's key suppliers saw shares move higher yesterday after receiving another upgrade. We are talking about Himax Technologies (NASDAQ:HIMX) which hit a new 52-week high during the session after Northland Capital initiated coverage with an 'Outperform' rating. The shares closed at $9.18/share after having risen $0.71 (8.38%) on volume of 26.9 million shares during the session. Google Glass has not yet been released to the public, however with yesterday's announcement from Apple it certainly appears that this will be one of the hot tech gadgets out there, which has no initial competition and will be one of the very few novel products released.
We thought for sure that Himax had hit a new all-time high, but no. The shares are very close to doing so according to our data providers, so that is something we shall be watching for in the near future.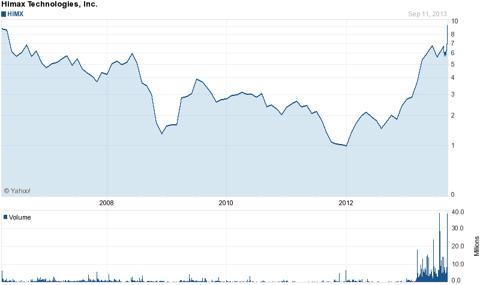 Source: Yahoo Finance
Investors in Sirius XM (NASDAQ:SIRI) have to be feeling a bit of deja vu as yet another lawsuit over royalties has been filed against the company. The latest suit has been brought by ABKO, Sony, Universal and Warner Music and is seeking what they claim are millions in unpaid royalties for recordings from before 1972 (there is a great The New York Times article on the issue located here). The changing landscape in the music world has created a lot of gray areas and because of the falling royalty revenues to artists, songwriters, etc., we are seeing more and more instances where litigation has become necessary to settle disagreements. We have long been bullish of Sirius shares, but we do think that when one looks at the falling royalty payments for these new ways to deliver content that it does appear absurd at how low these payments are. Sirius is not the worst offender, we think the internet radio providers fit that bill, but it could be a problem for everyone moving forward if an equitable system is not created.
It is hard to come by 50% gains in the time period that Baidu has provided them, but we hope readers took our advice and bought into the momentum back in July.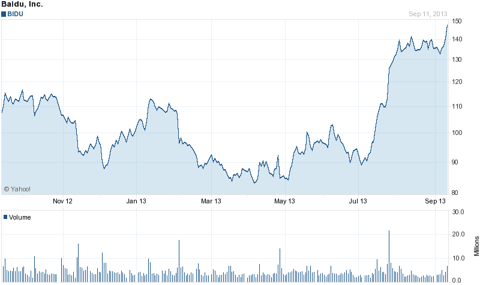 Source: Yahoo Finance
This past quarter was quite kind to Baidu (NASDAQ:BIDU) and the shares are up very strongly from where we went bullish on them. With yesterday's 4.77% increase it is a nearly 50% move and something which we believe one should continue to ride higher. The momentum from mobile monetization and the turnaround in Chinese economic data is helping to drive investor enthusiasm, but we think that the company could just be seeing the initial results of them actually living up to their billing as the 'Google of China.' Whoever can monetize mobile first in China will have a huge head start and all indications at this point indicate that Baidu has cracked the code. The new 52-week high was hit because Citi seems to agree with our assessment and reiterated their 'Buy' rating on the shares yesterday.
Biotechnology
Lately the chart for Arena has gotten ugly, and without some good news from the company soon it could get uglier.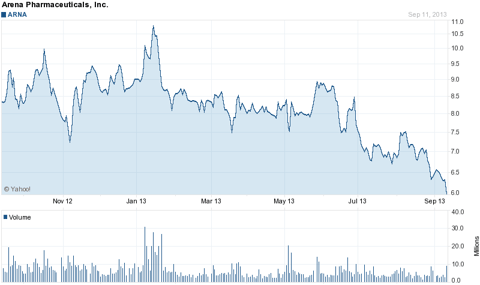 Source: Yahoo Finance
Today we wanted to quickly highlight the price action in Arena Pharmaceuticals' (NASDAQ:ARNA) shares recently as the movement has not been favorable to anyone but the shorts. Yesterday saw the shares hit a new 52-week low of $5.99/share with the shares closing at $6.03/share after falling another $0.31 (4.89%) on volume of 9 million shares. Investors are waiting for sales from their weight loss drug to crank up and thus far the results have been lagging.
Disclosure: I have no positions in any stocks mentioned, and no plans to initiate any positions within the next 72 hours. I wrote this article myself, and it expresses my own opinions. I am not receiving compensation for it (other than from Seeking Alpha). I have no business relationship with any company whose stock is mentioned in this article.