Recommendation: Long Target: $6.96+
DESCRIPTION
NUHC distributes high technology active and passive components (memory chips, microprocessors, consumer electronics, etc).
THE STORY

NUHC represents a solid reward/risk opportunity on both a fundamental and a technical level. From a fundamental standpoint the core reasoning for this trade is the closing of the spread between the book value and the market valuation. The current market price of $4.07 per share represents an approximate 47% discount to Book Value ($7.79). Digging further, if we take the Current Assets and subtract the Total Liabilities we end up with a net valuation of $129.2mm ($6.96 per share) which is a 70%+ premium to the current market capitalization of $75mm ($4.07 per share).
Quarterly cash burn is of minimal concern at the current time due to the fact that the company has enjoyed positive free cash flow for each of the previous five quarters, albeit on a nominal level. EBITDA over the trailing twelve month period totaled $(1.86)mm.
In terms of liquidity, NUHC has access to a total of approximately $150mm through various lines of credit, the bulk of which expires in 2011. To date, they have drawn approximately $22.5mm of this total. If they decide to draw a significant portion of this I would have cause to rethink my recommendation. However at the moment I remain confident that they will not require a substantial capital infusion.
EXPECTATION
I expect the market to bring NUHC's valuation into harmony with Book Value. If the economic recovery is real and this company is able to regain profitability then we could easily see a price-to-Book multiple in excess of 1. However the primary reasoning for this play is to see it 'back to book'. With institutional investors representing approximately 44% of the ownership and a fairly illiquid trading pattern, I have determined my profit target to be in the $6.80 - $7.00 range to account for possible selling pressure as it approaches Book value.
RECENT HEADLINES (June 2009 to October 2009)
Net sales for the quarter ended August 31, 2009 were $156.6mm compared to $211.8mm last year. Net income was $0.03 per diluted share as opposed to $0.01 the year prior. However this figure includes $0.07 per share of income tax benefit so the actual results showed a loss of $0.04 per share. On a sequential basis, sales rose 6.0% QOQ with North America ($9.9mm increase; 11.9%) and Asia ($2mm increase; 4.4%) overpowering the decline in Europe ($3.1mm; -16.3%). The primary takeaways here are the QOQ growth in revenue in North America and Asia.
NUHC signs on to become Master Distributor for Alcatel-Lucent (ALU)


Conexant names NUHC as exclusive distributor in North America

NUHC announces departure of President/CEO
TECHNICAL ANALYSIS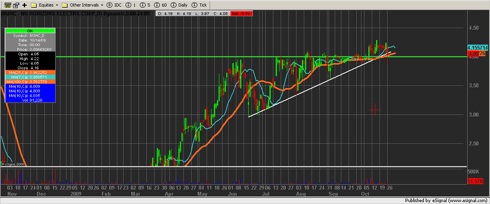 Click to enlarge
NUHC was in a strong downtrend from mid-2007 to December 2008 where it bottomed. Since then it has steadily risen until hitting up against ~$4.00. This level has shown itself to be significant resistance to further advancement. While $4.00 has provided steady resistance since June of this year, the support line has been trending upward from $3.00 to its current level of $4.00+, forming an ascending triangle. On the recent earnings announcement the ~$4.00 resistance was broken in a significant way ($4.10+ on a close). I suspect this NUHC gravitate toward $7.00 rather quickly, which is the most recent significant historical level of resistance and support. The great thing about this particular situation is that the fundamentals support the projected move the technicals are showing. This isn't always the case.
Disclosure: I am long shares of NUHC.