Ventrus Biosciences (VTUS) saw a nice rise Wednesday after the company reported that the Phase III clinical trials for its diltiazem cream (VEN 307) were successful and that the company is planning on submitting a NDA (New Drug Application) to the FDA. The new drug application is expected to be submitted in Q2 2014 and because diltiazem is approved for other treatments it should shorten the approval time period. According to the company PR:
"Because diltiazem is approved in oral formulations for the treatment of angina and high blood pressure, VEN 307 is eligible for the FDA's 505(b)2 registration pathway"
The cream, which is used for the treatment of anal fissures (AF) is up against no competition and is a shoe-in for FDA approval. The demand for a treatment is apparent with over 1.2 million new patients a year who suffer from AF and no FDA approved drug for treatment, leaving surgery as the best option. The stock has drastically reduced its quarterly loss per share over the last two years and although the share price has also drastically gone down (hitting their all time lows of $2 in late July) the chance to become profitable in the near future is very likely. Shares of VTUS traded at $12 after Q4 2011 despite losing -1.72 per share that quarter and traded at its all time lows of $2 after posting a drastically better loss per share of -.22 in Q1 2013.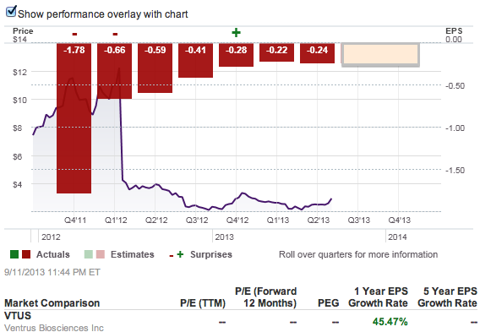 (The chart shows earnings with chart overlay. I boxed over the projected earnings for Q3 and Q4 because they are not adjusted)
VTUS has drastically decreased its loss per share but the price of the stock has gone down with it. The price per share has the real potential to reach the $12 dollar level in the very near future with the approval of VEN 307 and entrance into profitable quarters. I am going to discuss the multiple reasons beyond these two why shares of VTUS are gaining momentum coming off their recent all time lows of $2 per share.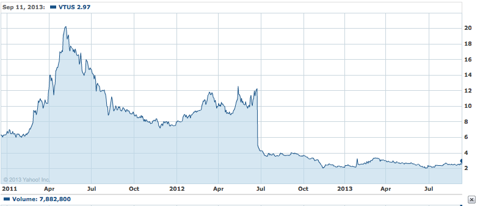 Shares of VTUS are in a unique position. The recent news, along with the extremely small share float, tiny market cap, 20 million in cash, and huge institutional ownership could easily push the share price back to $12 in the next year and $8 short term. I will go through all these factors in depth.
Small float/Market Cap
There are only 19.72 million shares total outstanding and 18.62 million is the share float. This gives the stock a microscopic market cap of around 58 million. Keep in mind there are over 1.2 million patients a year who suffer from AF and no competitor on the market. If its earnings were $19 million, or $1 per share at a P/E of 12, it would be trading at $12 per share. With such a small share count, an EPS of $2-$3 would not be unreasonable.
Cash On Hand
VTUS has plenty of cash and share holders should expect no secondary offering. Ventrus has 19 million in equity. 1/3 of its market cap is what they have in cash. This is very good for a small biotech.
According to management in the PR:
"Based on our anticipated timeline, we believe we remain sufficiently capitalized to support operations through a potential launch of VEN 307."
Institutional Ownership
This really caught my eye... Over 55% of the float is held by institutions and another 5% is held by mutual funds and insiders. Over 50 institutional investors have a stake in VTUS stock. So basically only 40% of the 18.62 million outstanding shares (approx. 7 million shares) are "trading". This is phenomenal and very rare. Not only does this mean over 60% of the float is off the market and but institutions have a great deal of faith in the company and its positioning for big growth.
Recent Volume
After they released the news that the results were positive, we finished the day with just around 8 million shares traded. That is 8x normal volume and shows that investors are interested in this stock. This is a very bullish action, in my opinion.
Conclusion:
With such a small float, plenty of cash, huge institutional ownership, the approval of its drug and a chance at profitability, shares of VTUS are ready to takeoff. The new drug application is expected to be submitted in Q2 2014 and because diltiazem is approved for other treatments it should shorten the approval time period. Everything has aligned for this stock and we could see a PPS of $8 in the near future (analysts price target) and $12 per share long term.
Disclosure: I have no positions in any stocks mentioned, but may initiate a long position in VTUS over the next 72 hours. I wrote this article myself, and it expresses my own opinions. I am not receiving compensation for it (other than from Seeking Alpha). I have no business relationship with any company whose stock is mentioned in this article.
Additional disclosure: I will most likely initiate a long position in pre market trading