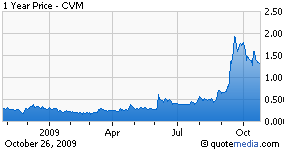 Last week I had the opportunity to visit Cel Sci's (NYSEMKT:CVM) new, state of the art Multikine production facility near Baltimore, MD. During the visit, I was given a tour of the interior by Dr. Eyal Talor and Mr. W. Brooke Jones of Cel Sci Corp. Upon the completion of my visit, I came to the conclusion that the company's previously announced time frame for validation of the facility (of fourth quarter, 2009) was on target.

The tour was arranged on the efforts of BioMedReports and Cel Sci and a complete report from my tour inside the facility can be read on the BioMedReports web site.

During the tour I saw nothing that would incline me to alter my stance of playing CVM as a 'buy the dips' stock; and I continue to have confidence in the fact that news regarding the commencement of the long-awaiting Multikine Phase III trial is not too far away.

Aside from the pending Multikine trial, any news regarding the L.E.A.P.S. swine flu treatment could also serve as a price mover for CVM.

I'll continue to accumulate CVM for the long term.

Disclosure: VFC is long CVM.