This article is about Rubicon Minerals (RBY). Rubicon Minerals has a market capitalization of $407 million. The company is currently in the process of developing its Phoenix Gold Project on its Red Lake property in Ontario, Canada. This project will be in production starting in 2014, and it will provide $52 million in cash flow annually at the current gold price.
When analyzed on a price to resource basis, or a price to cash flow basis Rubicon Minerals is overvalued, especially considering that much of its resource base is classified as "inferred," which is the lowest level of certainty in mining jargon. This means that some of the project's resources may not be economical to mine, and the company's estimated 13 year mine life may be optimistic--in a worst case scenario this figure could be as low as 7 years. While $52 million in annual cash flow may be worth $500 million or so over 13 years, it is probably only worth half of that over 7 years, and it is worth less considering that the company needs to raise nearly $100 million in order to complete the project.
Thus investors seem to be pricing in a lot of exploration success at the company's 100 square mile property in the Red Lake Gold Mining District in Ontario. While this implies that Rubicon Minerals is speculative at the current valuation, this is a gamble worth taking for more aggressive gold bulls. There are several reasons for this. First, the Red Lake Gold District has a 90 year history of gold mining. During this time period over 23 million ounces of gold has been produced or classified as reserves, which means they will likely be mined in the near future. There are several ongoing operations here aside from the soon to be producing Phoenix Project--the most notable of these is Goldcorp's (NYSE:GG) Red Lake mine, which produces a half a million ounces of gold annually and contains over 3.2 million ounces of proven and probable reserves. Given this there is a heightened probability that Rubicon Minerals will find a sizable gold deposit on its property, as gold is often found near where it has been found in the past.
Second, once production commences at the Phoenix Gold Project Rubicon Minerals will have enough cash-flow to implement an internally funded exploration program. Furthermore, assuming that the company's exploration yields positive results, the company will have the cash-flow necessary to develop additional mines.
Third, management is uniquely qualified to operate in the Red Lake Gold District. Before coming to Rubicon Minerals earlier this year, CEO Michael Lalonde worked as the Mine General Manager for Goldcorp's Red Lake mine. Vice President of Operations Daniel Labine also worked at Goldcorp as a senior project manager, where he oversaw the construction of that company's Cochenour mine in the Red Lake district.
Finally, in a scenario in which the company fails to find more gold, the shares have limited downside given that the company will have cash-flow from its Phoenix Gold Project.
How much gold will the company ultimately find? Maybe none, or very little. Maybe a lot. This is why the company is speculative. But given the reasons cited above the risk/reward scenario for Rubicon Minerals is extremely favorable.
With these points in mind investors who are bullish on the price of gold and who want to potentially enhance their returns by assuming the added risks that come with exploration should purchase shares in Rubicon Minerals. However such investors might want to wait until the vision I have of the company has been realized. Two things must happen.
The company first must achieve production at its Phoenix Gold Project. This is slated to happen next year. If there is a delay the stock could be dead money for some time, or it could decline. If not I think production beginning in the middle of next year is priced in. Thus there doesn't seem to be any downside to waiting.
The company must then announce and commence an aggressive exploration program. While I am almost certain that this will happen, if it doesn't then I cannot justify owning the stock.
The Phoenix Gold Project
As already mentioned, the Phoenix Gold Project is a development stage gold project in Ontario.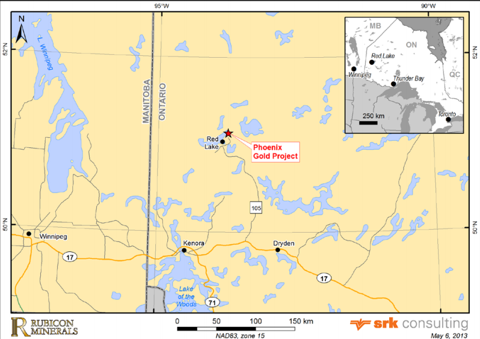 Click to enlarge
(Click to enlarge)
It is an underground mine with relatively high grade gold that should be inexpensive to extract. The company expects that the mine will be in production some time during the middle of next year, and so it should reach its full cash flow potential by 2015.
A: Resources
The Phoenix Gold Project has an estimated 3.35 million ounces of gold:
1.13 million ounces of indicated resources at 8.52 grams per tonne
2.23 million ounces of inferred resources at 9.26 grams per tonne
The gold is located in three areas: most of it is in the "main" area, with small amounts in what are called the HW and External zones. This information is detailed in the following table.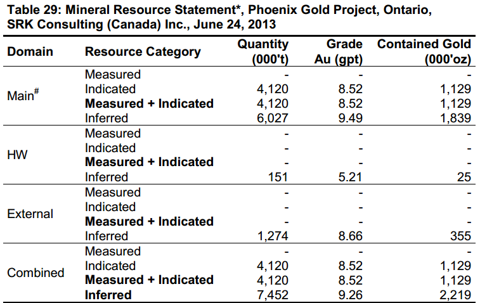 Click to enlarge
(Click to enlarge)
B: Production and Cash-Flow
Production is expected to be 165,000 ounces per year for 13 years beginning in the middle of 2014. The company has received all of its major permits and is in the middle of constructing the mine. In order to complete construction it should need an additional $215 million. Given its $120 million in current assets (with virtually no debt) it only needs to raise about $95 million, which is minimal given its current valuation as well as its future annualized cash flow at the current gold price ($52 million).
The company estimates that it will have cash costs of roughly $600/ounce. If we include other expenses such as taxes, mine repairs, and administration, this figure should reach about $1,000/ounce.
With these estimates in mind, the following table estimates Rubicon Minerals' cash flow at various gold prices. I am taking into consideration 2% net smelter royalty owed to Franco-Nevada (NYSE:FNV), which leaves the company with 162,000 ounces of production (I am using 160,000) and I am using a production cost figure of $1,050 to be conservative in my estimates.
| | |
| --- | --- |
| Gold Price | Cash Flow |
| $1,000 | ($8 million) |
| $1,250 | $32 million ($52 million at $1,370/ounce gold) |
| $1,500 | $72 million |
| $1,750 | $112 million |
| $2,000 | $152 million |
| $2,500 | $232 million |
Even if we assume that the company dilutes shareholders in order to raise the $95 million it needs, which would put the company's valuation at $500 million, the company trades at just under 10-times its 2015 cash flow. Furthermore, the company's shares should offer substantial leverage to the gold price: e.g. if the price of gold rises to $1,750, or 28%, then if Rubicon Minerals continues to trade at 10-times cash flow then it will rise 107%.
Exploration At Red Lake
As previously stated, the current valuation of Rubicon Minerals is assuming exploration success at the company's Red Lake property, pictured below.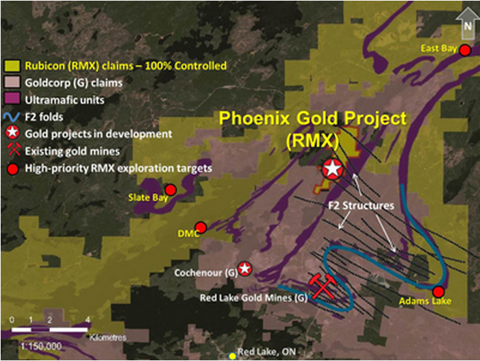 Click to enlarge
(Click to enlarge)
There is no guarantee of success in future exploration here. The only indication that there might be future success is that the company's property is located near several past and present gold mines, and gold tends to be found around where gold has been found in the past. There are no resource estimates, and there are just a handful of areas that the company is referring to as "high priority exploration targets."
Right now the company is not doing any exploring because it is devoting its resources towards developing its Phoenix Gold Project. However management is well aware of the exploration potential at its Red Lake property, as is evidenced by the following statement in the company's MD&A section of its most recent financial statement.
Rubicon holds approximately 100 square miles of additional mineral claims in the Red Lake Camp which were acquired for their high geological potential to host gold mineralization. Due to the Company's focus on developing the Phoenix Gold Project, exploration of these additional properties has been temporarily put on hold, however the Company considers these projects to be of strategic importance for future exploration. The Company is continuing the geological compilation studies on several of its Red Lake projects to identify targets for future exploration programs.
(P. 6)
Thus investors should expect a rather aggressive exploration program to be announced once production commences at Phoenix: if it does not then there is no compelling reason to own the stock.
Risks to Rubicon Minerals Longs
A: The Price of Gold
The price of gold has fallen precipitously recently. So long as this downtrend remains intact, there is a reasonable possibility that the gold price will continue to fall in the short term.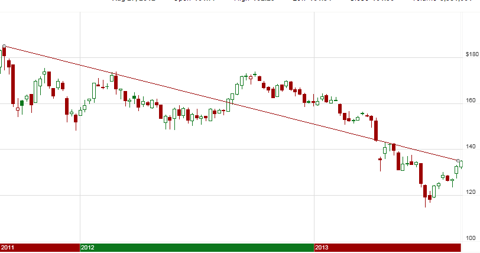 Click to enlarge
(Click to enlarge)
This would adversely impact Rubicon Minerals' cash flow, which is highly correlated to the price of gold. A lower cash flow figure implies that the company will have less capital with which to explore.
Fortunately for the company the gold price seems to have found a bottom around $1,200, which suggests that the downtrend in gold may come to an end.
Ultimately I do not believe that the downtrend will continue, as many gold mining companies cannot make a profit in the current gold price environment. A lower gold price will force companies with unprofitable or marginally profitable projects to shut them down, and this will put significant pressure on future supply. But while gold is barely economical to mine at $1,370/ounce, there is no reason that the price cannot remain at this level for some time.
B: The Phoenix Gold Project's Life
As previously mentioned the Phoenix Gold Project has an estimated mine life of 13 years. However the project has mostly inferred resources, and the rest are indicated resources. These are the two lowest-certainty categories in the geological classification of minerals, and as a result investors need to prepare for the possibility that these resources cannot be mind economically, and that ultimately the mine's life will be shorter than 13 years.
If the mine can operate for 13 years then the company trades at a fair price relative to its future cash flow. The unusually large potential at its Red Lake exploration targets would be more or less free. But if we just look at the project's indicated resources it has a mine life of just under seven years, and the company's future cash flow is worth substantially less given that its resources will be depleted far more quickly.
As a potential investor I would err on the side of caution and assume that a long position can only be justified as a speculation on exploration success.
C: Rubicon Minerals' Size
Rubicon Minerals essentially has one property. If for whatever reason it cannot mine its Phoenix Gold Project, or if it cannot explore its Red Lake Gold District Property, it is worth roughly the $120 million in current assets it has on its books.
Conclusion
Rubicon Minerals offers a lot of potential upside as an exploration company. Exploration companies offer no guarantee of success. However in the case of Rubicon Minerals the risk/reward proposition is especially favorable.
The company's exploration property is in the Red Lake Gold District, which means that it has a heightened chance of finding more gold.
Management is well aware of this potential, and it intends on implementing an exploration program once the company has cash-flow from its Phoenix Gold Project. Furthermore, two of the company's newest team members -- Michael Lalonde, and Daniel Labine -- were brought in specifically because of their expertise in operating in the Red Lake Gold District. Their unique knowledge of the region will be extremely beneficial to the company as it moves forward in developing the Phoenix Gold Project, and when it begins its aggressive exploration program. Investors should also consider that both of these men left good jobs at the world's largest gold mining company by market capitalization in order to join Rubicon Minerals, and this speaks to their confidence in the company's potential.
The company will be able to internally fund an aggressive exploration program given its anticipated cash-flow from the Phoenix Gold Project.
With these points in mind gold bulls should consider taking a position in Rubicon Minerals.
Disclosure: I have no positions in any stocks mentioned, and no plans to initiate any positions within the next 72 hours. I wrote this article myself, and it expresses my own opinions. I am not receiving compensation for it (other than from Seeking Alpha). I have no business relationship with any company whose stock is mentioned in this article.