The market continues to surprise us these days. We are seeing some companies which we honestly thought were dead or at least dying come back with a vengeance as they close deals to sell properties in order to continue developing other properties they have. This is typical in the junior resources sector, however it has caught us off guard as we thought the market for properties was already flooded. Apparently that thinking was a good bit off, but we do have to be thankful that we did not take a short position in any of those names because that would have been truly detrimental.
We point this out simply because it highlights a rule all investors and traders should live by. If you are long a theme, be long. Never get cute and go short those names you anticipate underperforming to give greater leverage to those names you anticipate doing well, because there is nothing worse than one being right on the big idea but wrong on the smaller ones.
Chart of the Day:
Gold continues to weaken this morning and we have had to update this chart numerous times before submitting this article. The technicals are weakening and the 100-day was breached and caused the pile on bear trade.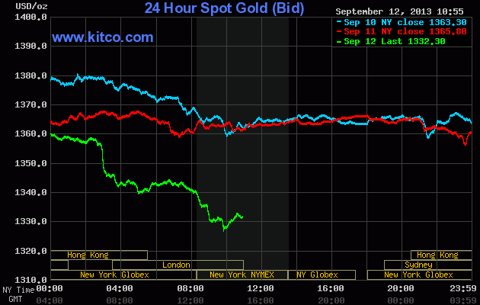 Source: Kitco
Commodity prices this morning are as follows:
Gold: $1362.90/ounce, down by $1.10/ounce
Silver: $23.125/ounce, up by $0.109/ounce
Oil: $107.72/barrel, up by $0.33/barrel
RBOB Gas: $2.7484/gallon, up by $0.0127/gallon
Natural Gas: $3.567/MMbtu, down by $0.017/MMbtu
Copper: $3.2785/pound, up by $0.016/pound
Platinum: $1477.60/ounce, up by $3.50/ounce
Copper
One of our longer-term focused calls with Freeport-McMoRan (NYSE:FCX) is beginning to pay off for everyone now and we are receiving some interesting emails asking us what to do with the position. Those we have received emails from have positions which are up anywhere from 5-20% and have all held the shares for less than a year. So annualized those returns are quite good, however we think this is a long-term play with greater returns down the road for those willing to hold through the volatility. Copper appears to be rebounding right now and the recent energy acquisitions should pay off as the company develops those properties and continues to expand production. The only drag appears to be gold, but if the economy turns and inflation becomes a concern, well then all three segments of the company could be cranking out outsized profits. We are waiting for that time before we call for the register to be rung.
Oil & Natural Gas
For some time it has been bad news on top of bad news for Harvest Natural Resources (NYSE:HNR) investors. With yesterday's announcement, and subsequent 26.51% rise, that the company had entered into an exclusive agreement to sell the company's Venezuelan assets while spinning out its other assets into a new company we feel that the company has turned a corner (assuming the deal closes). The press release announcing the deal can be accessed via this link, but to summarize the proposed deal it calls for Pluspetrol to assume the company's long-term debt and other obligations while taking ownership of Harvest's 32% stake in Petrodelta. Hopefully management can close this deal and move forward, because this has not been a rewarding situation for shareholders.
We have seen a lot of information regarding Linn Energy (LINE) over the past few days but in short it appears that their merger is still on track and SEC approval is not far down the road. We also noticed that the company announced an acquisition of Permian assets (see press release here) for $525 million. The purchase gives Linn hundreds of infill drilling locations as well as reserves which are heavily skewed towards oil, something that the company needs more production of. So long as the Berry acquisition is still a go we are bullish here, but should that fall through we think that Linn could be in some trouble as the market would look quite unfavorably upon the failure of closing the deal. Long-term investors might want to look at entering here now that the company appears confident and is even moving to make other purchases such as the $525 million Permian deal.
It will be interesting to see if the shares can continue breaking out. A move over $29 would be quite bullish in our view and taking out $30/share would be huge psychologically.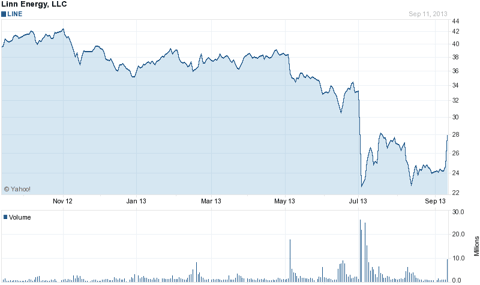 Source: Yahoo Finance
Speaking of the Permian, it is certainly a hot spot to be right now. One of the top performers in the area has been Diamondback Energy (NASDAQ:FANG) which has risen strongly even as it raised cash since their IPO and had big shareholders sell large blocks. The Permian has the oil exposure that many investors are seeking right now as well as some of the highest returns on investment for the companies drilling there. To expand upon that, it matters little whether you are drilling horizontal or lateral wells as both offer compelling returns right now. Diamondback continues to see strong interest in its shares and with yesterday's move saw shares hit a new 52-week and all-time high during the session. We remain bullish of this name.
The last time we were pounding the table to buy shares was in the $130/share area and since then the performance has been quite strong. Expect more of the same moving forward, especially if the Delaware Basin in the Permian pans out.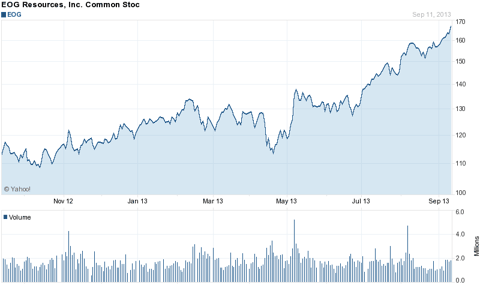 Source: Yahoo Finance
EOG Resources (NYSE:EOG) is best known for the Bakken and, although it does have some solid land positions in the Eagle Ford and Permian, it was the Bakken which pushed shares higher yesterday. The rail traffic data is showing tremendous amounts of oil and liquids flowing out of the Bakken to such far flung states as California and the growth in transportation volumes is due to the growth in companies' production growth. Yes that should seem a no brainer, however we do see the transportation data before company production data so it does provide some insight into the overall production growth of the area. The company also presented at the Barclays CEO Energy-Power Conference and that transcript is available here. It is worth the read with some very bullish pieces of data in there.
Disclosure: I have no positions in any stocks mentioned, and no plans to initiate any positions within the next 72 hours. I wrote this article myself, and it expresses my own opinions. I am not receiving compensation for it (other than from Seeking Alpha). I have no business relationship with any company whose stock is mentioned in this article.
Additional disclosure: We do own shares of Gulfport Energy (NASDAQ:GPOR) which owns shares in FANG.