By G C Mays
Just two days after the announced breakup of the joint venture between OAO Uralkali (OTC:URALL) and Belaruskali stunned the global fertilizer industry, Intrepid Potash (NYSE:IPI) reported Q2 revenues that were 6 percent lower than a year ago and YTD revenues that were 9 percent lighter than the first six months of 2012. The announced breakup of the joint venture did a lot more damage to the stock price than the earnings report. Intrepid Potash stock plunged by 28.5 percent to close at $13.89 on July 30 before bottoming out on August 6 at $11.51 a share as fears about falling global potash prices added to growing concerns about how already declining crop prices were going to affect farm economics.
The same macro economic factors that impact its larger North American competitors Mosaic (NYSE:MOS), Agrium (AGU) and Potash Corp. (NYSE:POT) impact Intrepid Potash. These factors are commodity prices, inventory levels in the distribution channel, farm economics, weather and raw material availability and cost. Additionally, domestic potash prices are heavily influenced by Canpotex, the Canadian marketing arm of Mosaic, Agrium and Potash Corp. This makes Intrepid Potash more reactionary and thus more speculative than its competitors as its size adds more downside risk in my opinion.
The earnings report certainly did not help matters but should not have been a surprise to those who follow the industry closely. Despite higher year over year production and flat to higher tons sold during Q2, lower pricing for Muriate of potash, which typically accounts for more than 80 percent of tons sold, caused revenues to sag.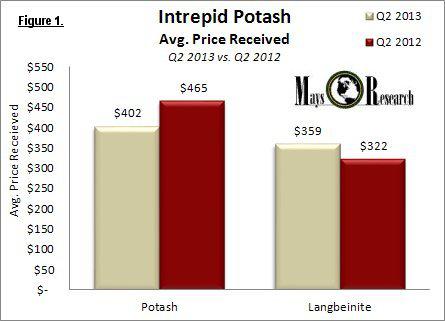 As shown in figure 1, the company's Langbeinite product, which it markets as Trio, has maintained strong pricing in 2013. This product is enjoying stable to rising prices and tons sold as interest in the product grows. However, its share of total tons sold is small, ranging between 9 percent and 22 percent of total tons sold in a given quarter since 2011. The target market for this product are the agriculture and animal feed markets.
Business cycle margins in the industry peaked in 2011, a year in which Intrepid Potash's average price per ton for potash reached $497 per short ton in Q4 of the same year. Figure 2 illustrates deteriorating operating margins over the most recent business cycle as well as recent changes in liquidity and solvency ratios.
Despite falling profitability ratios, the company enjoys a strong balance sheet. With solid liquidity and solvency ratios, the company is ready for the tough road ahead in its short to intermediate term future. Potash Inventories in North America remain well above the 5-year average and have recently risen above prior year levels after keeping pace early in the year.
Intrepid Potash also has higher than normal inventories. At $70.7 million, that is 20 percent above year ago levels. While they have sold just about all the muriate of potash it produces, it has produced more Langbeinite than it has sold. While the large Canadian producers have begun to embrace a consignment model as well as sharp production cuts, management at Intrepid Potash do not think it is the best way to discover price. Recent history has created the current environment. In late 2008 potash prices quickly soared to nearly $900 a ton before crashing just as fast during early 2009, burning fertilizer dealers badly on price. Given that history a consignment model, at least for the time being, is probably the best compromise producers and dealers could make.
Despite the recent drop in the stock price, a recent closing price of $14.24 values the stock at or near fair value compared to peers, in my opinion. The company is trading at a price to sales ratio of 2.5 that is below the group average of 3.8. However, a leading PE 30.3, which is well above the group average of 18.5 concerns me from a valuation standpoint. Only another outsized move to the downside compared to the group would cause me to look at the valuation again. The stock typically does not lead, but follows its larger global competitors as the industry moves through its cyclical peaks and valleys. However, it may be awhile before the industry starts growing profits again.
Disclosure: I have no positions in any stocks mentioned, and no plans to initiate any positions within the next 72 hours. I wrote this article myself, and it expresses my own opinions. I am not receiving compensation for it (other than from Seeking Alpha). I have no business relationship with any company whose stock is mentioned in this article.