Luxottica (NYSE:LUX) is the world's largest eyewear company. The Italian firm was founded in 1961 by Leonardo Del Vecchio and now employs more than 70,000 persons in more than 130 countries. It's best known brands are Ray-Ban, Persol or Oakley but the company also produces glasses for several luxury and designer brands including Chanel, Tiffany & Co or Prada. Luxottica still emphasizes the excellence of the Italian know-how and design but is one of the few Italian companies that were able to go fully international. It is now listed in New York (since 1990) and Milan (since 2000).
Luxottica has been able to provide investors with a solid growth over the years along with an increasing dividend. The eyewear market is growing in emerging markets but the company can also benefit from increasing sales in the premium segment in occidental countries.
To me Luxottica is a buy for long term investors for several reasons:
A growing market with several growth engines
The eyewear market should keep growing over the next years and will benefit from growth in emerging markets as well as in the premium segment in Europe and North America.
According to Transparency Market Research the market was valued at approximately $ 81 billion in 2011 and is expected to reach $ 130 billion by 2018.
Luxottica is the global leader in a sector that should not be too impacted by a crisis or any economical event. People need and will need glasses no matter what.
The activity is well diversified geographically with increasing sales in North America and emerging markets and decreasing exposure to Europe and recession. I like the fact that this Italian company is progressively getting more exposure to countries like Brazil where it opened a new factory in 2012 or India where it developed a small plant.
Net sales by geographic area (2012)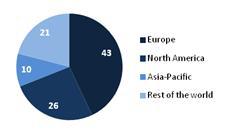 Source: Financial report
Evolution of sales by area (2008-2012)
Europe 51% to 43%
North America 23% to 26%
Rest of the world (incl Asia) 25% to 31%
Source: Financial report
Diversity of the brand portfolio with a focus on luxury brands
Luxury products have resisted to the crisis and have driven the results of many companies over the last years. I like the fact that Luxottica is a retail eyewear company but with a strong focus on luxury brands such as Ray Ban for instance. I believe that such a strategy was able to maintain a good level of sales during the crisis and will drive the revenues in occidental countries over the upcoming years.
Luxottica is a perfect mix of retail and luxury activities with a strong international presence, which is to my mind the best combination nowadays. The company has been able to make eyewear a new frontier of fashion.
The Italian firm now manages more than 30 brands and maintain a well diversified portfolio that allows the company to deal with many markets all over the world.
It recently acquired Alain Mikli International, a French luxury eyewear company, which owns the Alain Mikli brand and the Starck Eyes license. This recent acquisition should boost growth in the premium segment.
Vertically integrated business model and focus on R&D
The management has been convinced very early that vertical integration was key in the business and acquired a distribution company in 1974. Luxottica is now able to realize the design of frames, the whole production and the distribution.
The company can move quickly and adapt easily to the environment.
Luxottica gathers the innovation in the sector by investing massively on Research and Development and developing new product designs and features, which should drive the revenues in a competitive industry.
Strong Financials, good debt profile and increasing dividends
Luxottica achieved a double digits growth last year in both revenues and net income, and net sales exceeded € 7 billion for the first time. Margins also kept improving.
| | | | |
| --- | --- | --- | --- |
| $m | 2010 | 2011 | 2012 |
| Total revenue | 7,778 | 8,078 | 9,342 |
| Gross profit | 5,108 | 5,263 | 6,206 |
| Gross profit margin | 65.7 | 65.2 | 66,4 |
| Operating income | 955 | 1,048 | 1,295 |
| Operating margin | 12,3 | 13,0 | 13,9 |
| Net income | 546 | 595 | 720 |
| Net income margin | 7.0 | 7.4 | 7.7 |
Source: Financial report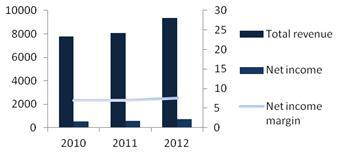 Source: Financial report
Net debt decreased by 25% in 2012 and went from $ 2,824 m in 2011 to $2,127 m in 2012. It accounts for a net debt / EBITDA ratio of 1.8x in 2011 and 1.2x in 2012, which denotes a strong debt profile.
The dividend has kept growing over the last year and in now 0.58€, which accounts for a dividend yield of 1.5% at the time of writing.
Evolution of the dividend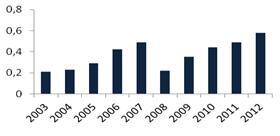 Source: Financial report
The stock is relatively expensive with a PE ratio of 32 (given that the PE of the industry is 14) but remains a good option for long term investors who want to sleep well at night.
Disclosure: I have no positions in any stocks mentioned, and no plans to initiate any positions within the next 72 hours. I wrote this article myself, and it expresses my own opinions. I am not receiving compensation for it (other than from Seeking Alpha). I have no business relationship with any company whose stock is mentioned in this article.