Estimating the future earnings of any company, even a company with modest growth prospects, is an inexact science. Changes in the competitive landscape or in macro factors can wreak havoc on a defensible earnings forecast.
You might think that with all the moving pieces that could impact bank earnings, ranging from potential future regulatory regimes to consumer confidence to the future level of interest rates, that there would be a robust dispersion of bank earnings estimates. You'd be wrong.
The chart below lays out the number of 2014 sell-side EPS estimates and the standard deviation of these estimates divided by the respective means for the 20 largest US banks and thrifts by market cap, ex the trust/processing banks. Data is provided by FactSet via SNL Financial LC: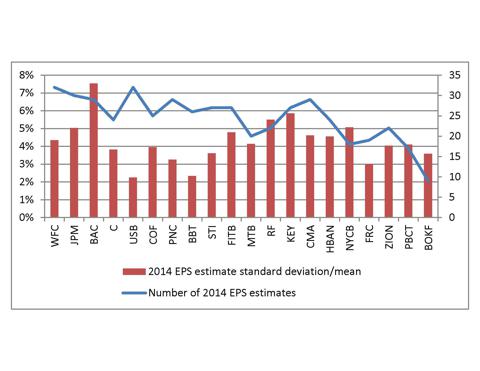 As you can see from the blue line above, there are over 20 sell-side estimates for most of these banks (the average is 24). The average standard deviation of EPS estimate (red bars)? 4.3%! The largest standard deviation is only 7.5%; it belongs to Bank of America (NYSE:BAC). BAC continues to work through its problems. It surprises me that there is so little analyst disagreement about how this might play out. The sell-side community thinks there is a 68% chance that BAC's 2014 EPS will be between $1.26 and $1.47. Citigroup (NYSE:C) faces similarly severe operational challenges, and yet its standard deviation is only 3.8%. Top-performing US Bancorp (NYSE:USB) has a standard deviation just a bit over 2%.
Two of these institutions have large short positions: M&T Bank (NYSE:MTB) - 9.7% as of the end of August, and New York Community Bancorp (NYSE:NYCB) - 9.0%, implying that there might be some risk associated with their future earnings. But you'd never know it from the standard deviations.
Do the sell-side analysts all think alike, or do they just find safety in being clustered close together?
Disclosure: I have no positions in any stocks mentioned, and no plans to initiate any positions within the next 72 hours. I wrote this article myself, and it expresses my own opinions. I am not receiving compensation for it (other than from Seeking Alpha). I have no business relationship with any company whose stock is mentioned in this article.