Google (NASDAQ:GOOG) is mostly known as a search company, which makes sense. That is where most of its revenue comes from. The company has grown in many other ways in recent years. There have been ventures into video (YouTube), software (Google docs), cloud storage (drive) and experiments such as Google Fiber, delivery, etc. I don't think anyone would argue that outside of search, Google's biggest success has been its mobile operating system, Android. As phones become "smart," Android is gaining market share: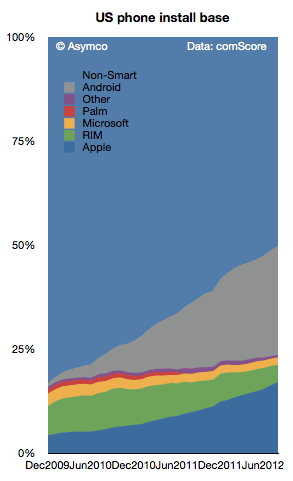 Credit: Asymco
From a small acquisition, Android quickly became the top mobile O/S. Outside of Apple, phone makers that resisted moving to Android (Blackberry, Palm, etc.) quickly became irrelevant and they now must be very careful not to become dependent on Google. Companies such as Samsung (OTC:SSNLF) have been very clear about their intentions to distance themselves to some extent but the reality is that Google and Apple have achieved domination of the critical mobile space.
What's Next?
Much has been written about the battle for the living room. Major players such as Microsoft's (NASDAQ:MSFT) xBox, Apple's (NASDAQ:AAPL) TV console, Sony's Playstation and many others are competing to dominate that space. It's not exactly clear how Google will dominate the living room, but there have been some experiments such as Google Fiber, Android-powered TV sets and others that might end up working. The outcome is far from clear.
One area where Google looks extremely strong is the future of the car industry. Think about it for a few minutes.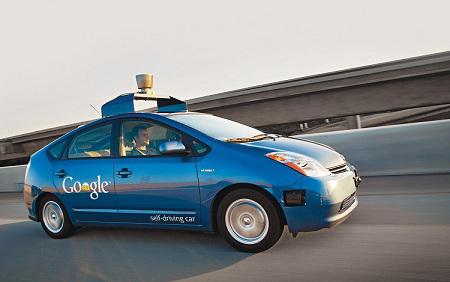 - Google has been working on providing internet to cities, coffee shops, to remote areas, in airplanes, etc. There's no doubt that within a few years, most cars will be connected. Google seems well positioned to achieve this and while you could certainly argue that phone companies could also compete. Google will likely have a more global infrastructure.
- Though many have tried, no one is coming close to Google in terms of offering maps, and the acquisition of Waze was one more step to dominate the area.
- Voice recognition will obviously be critical to drivers within a few years and while Apple's Siri has made some progress, it doesn't come close to what Google's voice recognition has been able to achieve.
- Self-Driving cars: Google has been testing for years and is making significant progress. While several car producers have been working on this, there is little doubt that they are years behind.
- New Car Models: You may have heard of Uber, the leader in private driver services that is forcing significant change in several countries around the world. You will probably not be surprised to hear that Google has taken a significant stake in the company.
At some point, Google will likely start offering a car version of Android. At that point, it will become more and more likely that car producers will end up having little choice but to partner with Google. An additional benefit is that after seeing what worked well and what didn't, in offering a fairly open O/S to phone makers, Google will be able to make some adjustments when offering similar solutions to car makers.
It's obviously too early to tell what kind of market this will be and how much revenues Google will be able to make off of the new "smart cars." With several huge multinational companies and consumers all around the world, the market is very significant. In this space, Google does not (yet) have a rival comparable to what Apple is in the smartphone space. Yes, some car makers are better at technology than others but it seems like a stretch to think that they could successfully produce any (let alone all) of these features better and faster than Apple.
I don't think most analysts are considering the potential of this future Google venture, in the same way as Android was ignored for too long. That is a major mistake and it's one more reason to believe that Google is a good value at these prices.
Disclosure: I am long GOOG, MSFT, AAPL. I wrote this article myself, and it expresses my own opinions. I am not receiving compensation for it (other than from Seeking Alpha). I have no business relationship with any company whose stock is mentioned in this article.