When the recession hit the US economy, it not only adversely affected business activity, but everything attached to it including employment, investment spending, household income and business profits. However, some businesses, like variety stores, became increasingly popular as more shoppers turned to these stores for discounts. This customer reaction provided variety stores an opportunity to expand their businesses. Keeping in view the changing consumer behavior, PWC and Kantar Retail foresee discount retailers to be the fastest-growing store-based retail category, sustaining more than 7 percent growth through 2020.
Dollar Tree (NASDAQ:DLTR) is one of the largest and most successful single-price- point retailer and variety store in the country. It operates more than 4,600 stores across 48 American states and 5 Canadian provinces. The stores are bright, conveniently-located and fun to shop in.
Strong Financial Performance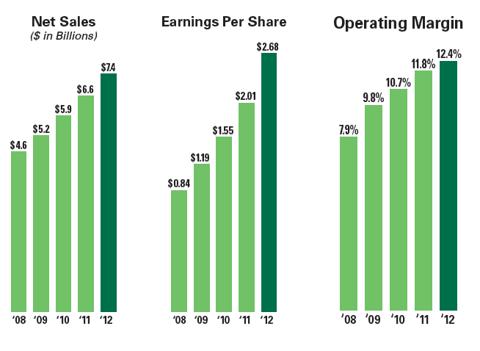 Click to enlarge
Over the past 5 years, the company's performance was outstanding, as it showed a consistent growth in its top and bottom lines during the recessionary phase. The company illustrated an incredible growth in sales at a CAGR of 12.62% since 2008. Net sales increased by 11.5%, or $7.4 billion, in 2012 as compared to 2011, primarily due to the increased sales in new stores. Comparable store net sales had also gone up by 3.4 percent for the year. Moreover, a consistent improvement in the operating margins of Dollar Tree signifies that the company is becoming more and more operationally efficient. In addition, growing EPS, which is a very good indicator of profitability, indicated strengthening business performance. The company managed to grow it EPS at a CAGR of 33.65% over the last five years.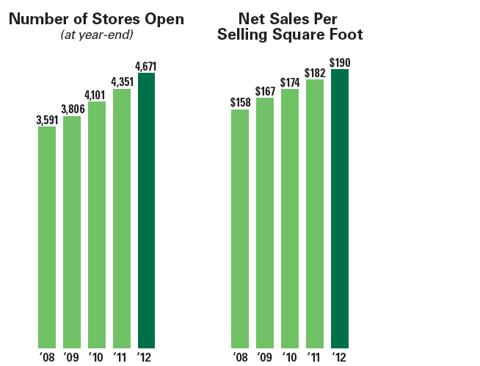 Click to enlarge
As mentioned earlier, the company has increased its net sales by opening new stores. The company has opened 345 new stores in 2012, with the total number reaching 4,671 stores. Net sales per selling square foot, a good measure of analyzing retail performance and productivity, have increased to $190 in 2012 exhibiting a CAGR of 4.72%. Of the 2.9 million selling square foot increase in 2012, approximately 0.3 million was added by expanding existing stores.
Share repurchase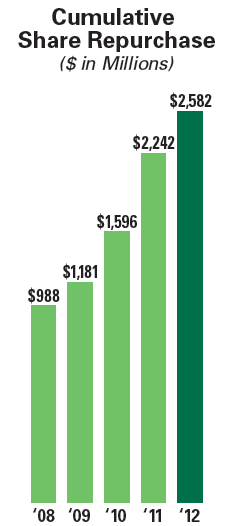 So far the company has repurchased shares worth $2.58 billion. In 2012 and 2011, the company repurchased 7.7 million shares for $340.2 million and 5.3 million shares for $145.9 million, respectively. The company had also repurchased 8.7 million shares by paying $214.7 million during the fiscal year 2010. As of February 2, 2013, the company was looking forward to buying back shares of worth $859.8 million under its share repurchase program. The consistent repurchase of shares indicates management's confidence in its future cash flow and most investors take such confidence as a positive signal to invest in this stock.
DuPont Analysis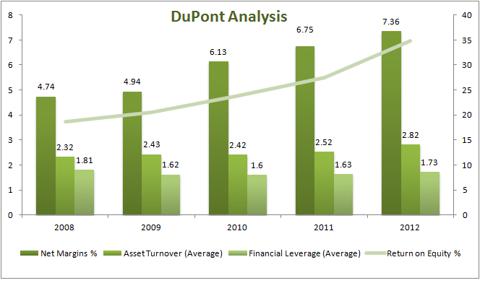 Click to enlarge
The above chart shows the DuPont breakdown of the company's return on equity into net margins, asset turnover and financial leverage. The chart exhibits that the major portion of the company's ROE was contributed by its net margins, which indicates increasing stability of the company. Also, the financial leverage has decreased over the period. The return on equity is following an upward trend, with the company being able to register a strong return of more than 35% on its equity.
Recent Quarter Performance
While big-box retailers are losing traffic, shoppers especially those with a lower income bracket, are still turning up at the Dollar's stores. Dollar Tree reported that its net sales for the second quarter, 2013 were $1.85 billion, an increase of 8.8%, as compared to $1.70 billion reported in the second quarter of 2012. Comparable store sales have also increased by 3.7%. EPS for the second quarter was $0.56, an increase of 9.8%, as compared to $0.51 in the second quarter, 2012. Operating margin increased by 10 basis points for the quarter to 10.9%. Cash and cash equivalents at the quarter-end totaled $413.7 million. During the second quarter, the company has repurchased 0.9 million shares against a payment of $43.7 million. The company intends to buy back shares of worth $747.7 million under its share repurchase program in the next few years. The company continues to grow, as it opened 81 stores, expanded and/ or relocated 32 stores, and closed 2 stores. Retail selling square footage increased by 7.0%, as compared to 41.9 million square feet, a year ago.
Conclusion
Despite the economic slowdown, discount stores not only survived the downturn in the economy but increased their sales and expanded their operations. Over the years, the company has showed consistent growth and strong financial performance. Moreover, the increasing number of new stores signals that sales are expected to grow in the near future and so will Dollar's profit margins. Currently, the stock is undervalued based on P/E valuation, which is a plus point for the stock's investors. To sum up, the stock poses a valuable opportunity for investors. Hence, I would give a buy recommendation for this stock based on its strong potential for appreciation in the coming years.
Disclosure: I have no positions in any stocks mentioned, and no plans to initiate any positions within the next 72 hours. I wrote this article myself, and it expresses my own opinions. I am not receiving compensation for it (other than from Seeking Alpha). I have no business relationship with any company whose stock is mentioned in this article.