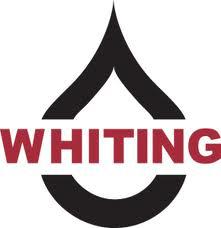 As have most Bakken producers, Whiting Petroleum's (NYSE:WLL) stock has perked up recently. No doubt this is due to a rise in WTI and thus expectations for higher realized prices and higher Q3 earnings. In addition, the Redtail prospect in the Niobrara is a catalyst for high returns (going forward).
Whiting gave a presentation at the Barclays Energy Conference this week. Key takeaways are:
Company currently experiencing the best EBITDA margins ever: about $75.88 of EBITA/boe.
July reserve update increased to an estimated 396.3 million boe from 378.8 million at YE 2012 despite sale of Postle Assets (45.1 million boe).
Redtail Niobrara prospect (87,559 net acres) has great

OOIPs

and economics: estimates are for a 5-1 ROI with $5.5 million horizontal well cost.
North Ward Estes has the potential to add 100+ million boe to reserves.
Company has picked up 509,000 net acres in three new resources plays, one of which is the Smackover in Louisiana. The company was tight-lipped on the other two.
Niobrara's Redtail Prospect
Whiting CEO James Volker called the Redtail prospect as the most exciting new prospect in the last decade since the Bakken. The main reason is high OOIPs, with an estimated 59 million boe in place per drilling spacing unit. According to Volker, the company expects approximately half-a-million recoverable boe/well. With well costs in the neighborhood of $5.5 million/well and 15% recovery rates, Volker says it's "5 to 1 or better on your money" each time you put the bit in the ground. Core results from WLL's Razor well show three zones (the heavy black on the right side) in the reservoir. The company has 87,599 acres in the Redtail. It currently has two rigs in the play and plans to ramp up to as many as 5 rigs in 2014.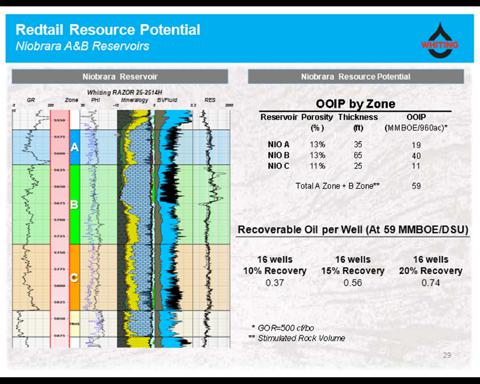 Whiting Has Been A Laggard
I have been a Whiting shareholder for years now. I have viewed many bullish presentations and listened to many conference calls during that time. In the past, I would get bullish by the company's prospects, and indeed, it has been growing production nicely and consistently deliver some of the best drilling results in the industry. However, as I have pointed out in past articles, net income has not grown in-line with production. I was so exasperated by the company's Q2 results (production & realized prices up, net income down) it led me to write the article Sell Whiting Petroleum, Buy ConocoPhillips where I pointed out:
Let's put things in perspective. According to WLL's 2012 annual report, production has gone from 17.5 million boe in 2008 to 30.2 million boe in 2012 (+73%). Yet net income per share has gone from $2.97/share to $3.48/share over the same period, up only 17%. As a result, the stock has been an underperformer.
This year's Q2 earnings were simply a continuation of that trend: great production results once again yielding poor EPS. Seriously, what oil company grows production 16% year-over-year with realized prices up 15% and posts lower earnings? It was the same in Q1 - production was up 10% but earnings were down.
I don't think things will change at Whiting until the board of directors ditches Whiting's "Production Participation Plan," in which management and employees get rewarded for production increases at any cost, and replace it with incentive stock options. That way, management and employees are in direct alignment with ordinary shareholders. The employee participation plan liability was up $4.8 million in Q2 with total plan liability at $106.6 million.
But I guess the thing that bothers me most is Volker's lack of concern for the shareholder. He never mentioned WLL shareholders once in his presentation. The contrast between Volker's presentation and Suncor's (NYSE:SU) Steve Williams' presentation at the same Barclays conference was night and day. Williams talked incessantly about his company's focus on shareholder returns: dividends, share buybacks, and stock price appreciation. Volker? Not once.
Summary & Conclusion
Although the future may appear bright for Whiting Petroleum, long-time shareholders have been down this road before: rosy outlook, impressive production growth, but stagnant earnings. I think investors would do well to take advantage of any run-up in the stock prior to the Q3 earnings release, but sell prior to that release. If long-term history is any indication, WLL will once again disappoint on the bottom line. There are simply better performing companies out there: EOG Resources (NYSE:EOG), Continental Resources (NYSE:CLR), and even bigger dividend paying companies like Chevron (NYSE:CVX) and ConocoPhillips (NYSE:COP).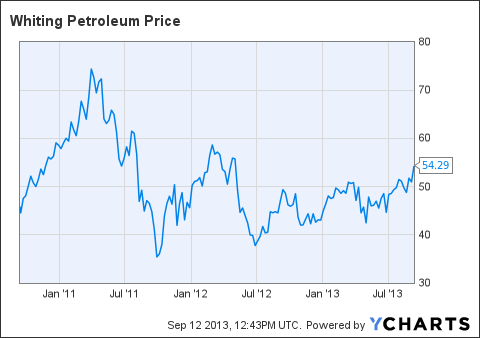 Disclosure: I am long COP, CVX, SU, WLL. I wrote this article myself, and it expresses my own opinions. I am not receiving compensation for it (other than from Seeking Alpha). I have no business relationship with any company whose stock is mentioned in this article.
Additional disclosure: I am an engineer, not a CFA. The information and data presented in this article was obtained from company documents and/or sources believed to be reliable, but has not been independently verified. Therefore, the author cannot guarantee its accuracy. Please do your own research and contact a qualified investment advisor. I am not responsible for investment decisions you make. Thanks for reading and good luck!