Western Digital (NYSE:WDC) can easily rank among the best managed large-cap tech companies today. For the first quarter of the company's fiscal 2010, it reported YOY revenue growth of 4.6% to $2.2 B and operating income grew 36% YOY to $319 M.
WDC Reported A YOY Revenue Increase...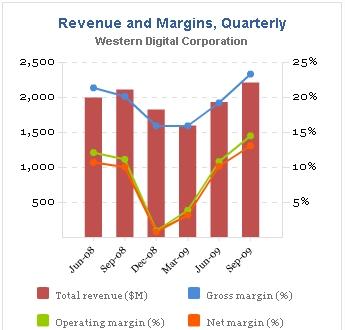 Source: Gridstone Research
The performance is more impressive when you compare it with arch-rival, Seagate's (NASDAQ:STX) numbers. Seagate reported a 12% revenue decline for the Sep09 quarter and reported an operating income of $220 M on a higher revenue base of $2.6 B. So effectively, WDC pulls in $100 M more in profits despite having $400 M lesser in revenue accrual.
...While Seagate Had A 12% Revenue Decline YOY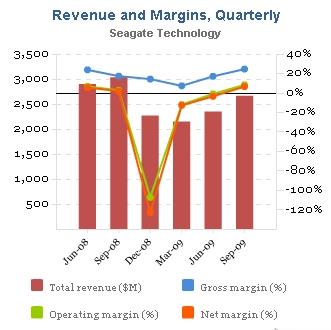 Source: Gridstone Research
The key difference is that WDC sold more of mobile PC drives thereby improving its profit margins. In a rare instance, WDC managed a blended ASP increase in the Sep09 quarter compared to Jun09 quarter.
Sequential Growth In Units And Blended ASP...

Source: Gridstone Research
..And The YOY ASP Decline Has Slowed Down

Source: Gridstone Research
WDC mentions it its earnings call that it has sold ~19 M mobile HDD units while Seagate has sold ~14 M. Though Seagate has sold more drives in total (~46 M) compared to WDC (~44 M), WDC outsells Seagate in the mobile PC arena and this has been the biggest source of its competitive edge over Seagate.
WDC is also able to turn its inventory faster than Seagate as it enjoys a better share of the buoyant netbook market . This is illustrated by the superior inventory turns that it has achieved though Seagate itself has done a no less commendable job on this front. Both the HDD vendors have a negative cash conversion cycle and this clearly suggests that the top HDD vendors hold the cards in the current demand>supply environment.
WDC enjoys superior inventory turns...

Source: Gridstone Research
...While Both Seagate and WDC have negative cash conversion cycles!!
Source: Gridstone Research
WDC, in its earnings call, claims that total industry shipments were ~152 M in the Sep09 quarter giving WDC and STX market shares of 29% and 30% respectively. Effectively these two vendors control 60% of the market. Both have consciously refrained from capacity addition in excess of demand and therefore the demand-supply balance is in their favor as of now. WDC derives ~56% of its revenues from its top 10 customers (largely OEM's) and the industry situation makes it clear the HDD oligopoly is going to benefit Seagate and WDC in the short to medium-term. A price war or excess capacity addition that could derail profitability is unlikely. Therefore both Seagate and WDC stand to benefit immensely if the PC demand stabilizes and begins to grow in the next few quarters.
WDC is also increasing its SSD (Solid-state Devices) investments to widen its addressable market and that could provide the growth platform for the long-term. For its superior execution, favorable industry conditions prevalent now and its ability to stay at ahead of the innovation curve among peers in the HDD industry, WDC clearly stands out. WDC currently trades at a P/E multiple of 14.73( based on Oct 27 close of $35.39) and looks a good medium-term bet.
Disclosure: No Positions