The recent stock price trend is not what many investors would have expected for a company with a weight loss drug that has a potential market of 100 million obese people in the United States alone. Since the launch of Belviq in June, Arena Pharmaceuticals (NASDAQ:ARNA) has gone from a stock price of about $8.50 down to its current trading level at $5.80.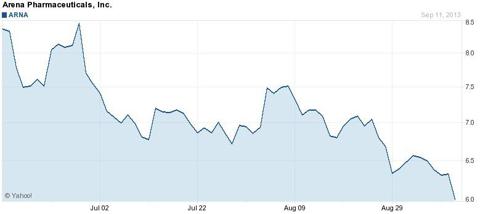 Clearly there has been selling pressure. The biggest question is when that pressure will ease, and where is the bottom for this equity. The concept of the anti-obesity pill Belviq was to see patients losing a good percentage of their weight, not the equity.
Sales of Belviq have been "good" but not great. Essentially they are showing a path of decent but slow growth that is below what many were expecting from the sector, but high enough to show longer term potential.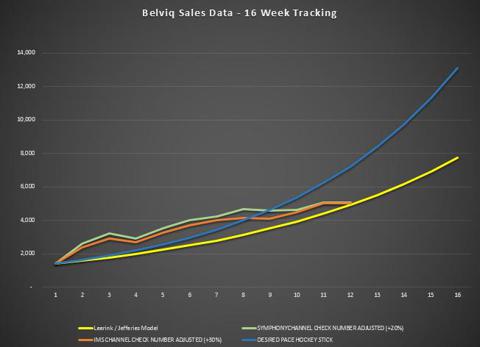 Belviq sales have spent 6 weeks in the 3,000's and are in danger of seeing a 7th week in the 3,000's when IMS Health prescription data gets published on Friday. This weeks data will include a holiday, so it will indeed pressure the numbers. However, a product that is seeing consumer demand should grow despite events like holidays. One primary reason that the equity has been under so much pressure is that the sales are not demonstrating high demand as yet. The reasons for that include a lack of insurance, a lack of the ability to do consumer advertising, and doctors that are unaware of the product. All of these issues can be addressed with time and effort. That is why potential still exists. The down side is that the near term suffers because of these same issues.
Adding a psychological aspect to the downward pressure are two recent insider sales. Steven Spector exercised options on 20,000 shares at $1.49 and then sold them all at $6.54. Insider Domenic Behan exercised options on 150,000 shares at $1.49 and another 50,000 at $1.81 and sold all 200,000 at $6.31. There are any number of reasons an insider might sell, and not all of them are bad. Reading too much into transactions such as this is a mistake many make. That being said, the perception can be that such actions are not positive.
Thus, we have insider sales combined with slower than anticipated growth, combined with what will most likely be a flat week in prescriptions because of a holiday. These items combined can make for a pretty negative near term outlook on Arena. Those that see potential will see this as a buying opportunity. Those that bought in on the launch hype may be very frustrated with negative returns thus far and exit. Longer term longs are still safe, but have lost a lot of money on paper.
Strategies can all differ, but one simple truth holds true. Until such time that there is compelling enough information to reverse the downward trend, it has a decent likelihood of continuing. If I were on the sidelines I would wait to see a reversal happen before jumping on this stock, and even then, there are many considerations to weigh.
Simply stated, the sales trend needs to gain some steam. We can not watch this equity take a month or two to progress through each 1,000 in sales levels. We need to see a stark improvement to see a more immediate reversal to the trend or come to terms with the fact that the growth story is something that is years in the making and not weeks or months. I feel that this week will present some trying times for Arena investors. I myself am fast getting to a point where I will pull my remaining stake off of the table until the dust settles. I still see potential here, but must be smart with my portfolio. Stay tuned, and be aware that the storm clouds are still in the sky.
Disclosure: I am long ARNA. I wrote this article myself, and it expresses my own opinions. I am not receiving compensation for it (other than from Seeking Alpha). I have no business relationship with any company whose stock is mentioned in this article.