With the caveat that the figures for two states may have been undercounted, initial jobless claims for the latest week dropped below 300K this week to a level of 292K. This is the lowest reading since March 31, 2006. We will have to see next week's revisions to find out just how distorted the numbers were, but for now, it was an impressive number.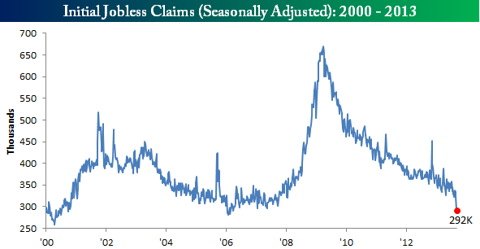 With this week's sharp decline, the four-week moving average dropped to 321.3K from 328.8K. This is the lowest level for the four-week moving average since October 2007.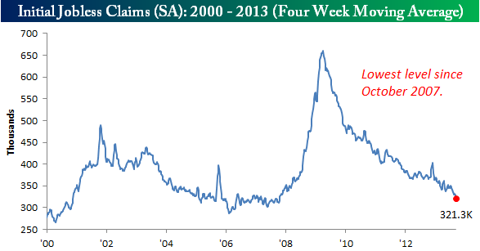 On a non-seasonally adjusted basis (NSA), initial claims saw an even larger decline than the 31K decline in the seasonally adjusted reading. Over the last week, NSA claims dropped from 268.6K down to 228.4K, for a decline of 40.2K. This is now the lowest reading for NSA claims since September 2000, and well below the historical average for the current week of 308K.