1.Introduction
This year marked some very distinctive developments in the gold market. After an eleven year bull run took gold from $300/oz in 2000 to an all-time high of $1923/oz in 2011, gold went down again and hit $1179/oz just three months ago. Currently gold is recovering from these lows but seems to have difficulties breaking through the $1400-level: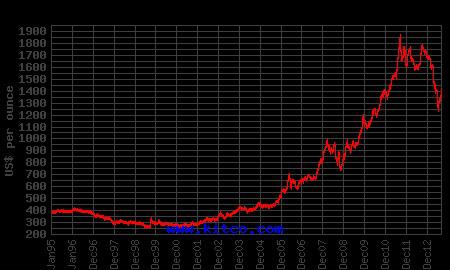 Multi year chart of gold (Kitco)
There are two big forces dominating the movement of gold: the Exchange Traded Funds or gold ETFs, and physical gold. As the gold ETFs are contracts on a tracker designed to follow the spot price of gold bullion, they are often referred to as "paper gold". There are non physically-backed ETFs and physically-backed ETFs, meaning respectively that the ETF hasn't stored the value of its contracts in gold bullion, or does have it stored. Physically-backed ETFs are by far the largest ETFs, and are mainly traded by hedge funds and other parties like banks and speculative investors in the USA. The biggest of them is the SPDR Gold Trust ETF (NYSEARCA:GLD), which has $42.02B assets under management (only gold). Number two is the iShares Gold Trust (NYSEARCA:IAU) with $7.98B AUM (only gold). GLD therefore seems to be much more popular.
To show the difference in market share with non physically-backed ETFs: the biggest non physically-backed ETF is the Powershares DB Gold Double Long ETN (NYSEARCA:DGP), which has only $262M AUM (only gold) and is futures-based and leveraged.
2.Development of the physical gold market
It is interesting to have a look at recent developments in the gold market. Every quarter the World Gold Council (WGC) releases a report on the gold market. The WGC is a large and global trade association of jewelers and bullion dealers, which compiles data from various governments (and Thomson Reuters) into an extensive report, with the following highlights for Q2:
The global demand for gold during the quarter was 856.3 tonnes, 12% less than the same quarter last year. There was net outflow of 402 tonnes from gold ETFs, driven by hedge funds and other parties like banks or speculative investors which were continuing to exit their positions. Conversely, the demand for gold bars and coins increased by 221.7 tonnes to 508 tonnes. For gold jewelry demand increased by 154.7 tonnes, so the overall physical demand increased by 376.4 tonnes.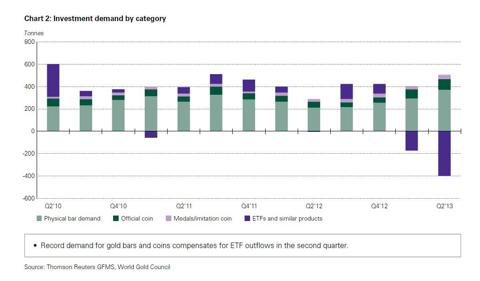 The key findings of the report are as follows:
Consumer demand in China continued to show strong growth, totaling 276t in the second quarter, an increase of 87% compared to the same quarter last year, as investors used the lower gold price to buy in advance of expected future price rises. Jewelry demand in the quarter was 153t, up 54% on the same quarter last year, while bar and coin investment was 123t, up 157% on Q2 2012.
Consumers in India also showed continued strong appetite for gold, with recent government measures to curb demand having had little impact on the quarter's figures. Consumer demand was 310t, up 71% on last year. Bar and coin investment rose 116%, while jewelry demand rose by 51%.
Bar and coin investment globally totaled 508t, a record figure, and a rise of 78% on the same quarter last year.
Central banks remained committed to gold. Although demand of 71t in Q2 2013 was below the record quarterly figure of 165t purchased the previous year, central banks have now been purchasers of gold for ten consecutive quarters.
There was a net outflow of 402t from ETFs in the quarter. This was more than compensated by inflows into other forms of gold investing, such as the record 508t in bars and coins.
Gold demand and supply statistics for Q2 2013
Second quarter gold demand of 856t (US$39bn) was down 12% compared with Q2 2012.
Demand for jewelry was 576t (US$26.2bn) in the quarter, up 37% on last year. This was the highest figure since Q3 2008, and the highest second quarter figure since Q2 2007.
The net outflow from ETFs was 402t (-US$18.3bn). However that was more than compensated by bar and coin investment, which saw inflows of 508t (US$23.1bn). Total investment demand, including OTC investment, totaled 257t (US$11.7bn).
Net central bank purchases totaled 71t (US$3.2bn), 57% down on what was a record-breaking quarter a year ago. Central banks have now been net purchasers of gold for ten consecutive quarters.
Demand in the technology sector was stable once again, totaling 104t, a rise of 1% on last year.
Mine production in the quarter was 4% higher than a year ago, at 732t. Recycling fell 21%, leading to a total supply that was 6% lower than a year ago.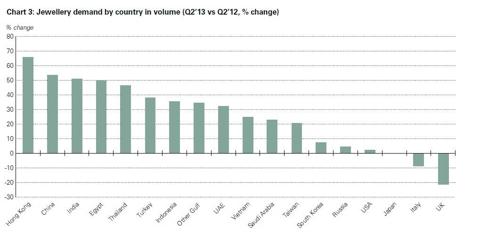 Another effect which was also presented in the WGC report but received less attention could be interesting for the future of the gold price; not only the demand but also the supply of gold has declined over the past quarter. This decline in supply was caused by the most elastic part of the gold supply, recycled gold. Due to lower gold price people all over the world stopped selling their (old) jewelry and precious metals coins. The amount of recycled gold went from 389.0 tonnes in the second quarter of 2012 to 308.3 tonnes last quarter.
When combining these trends one should note that the market will be increasingly tight for physical gold in the near future. However, one also must take into consideration large mining companies such as Barrick having, for example, the huge Pascua Lama project being halted, Anglogold Ashanti suspending some of their projects, and some other smaller companies with projects under development and higher all-in sustaining costs being forced to do the same. Therefore production will likely decrease in late 2013 and early 2014, and if prices don't increase this trend of closing down or not building (future) mines will continue for much longer. If we look at the report's near-term expectations, scarcity of physical gold seems to be the trend.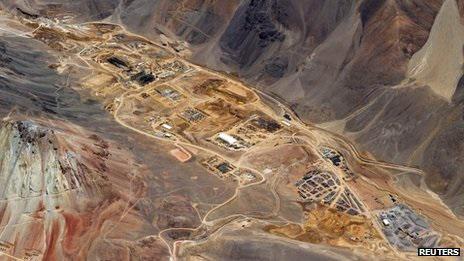 Pascua Lama project, Chile
3. Gold ETFs like GLD are losing ground to physical gold now
Gold prices could stay low or go to levels now predicted by analysts ($900-1000/oz) because gold already failed to react to the collective worldwide QEs (initially deemed as cause for increasing inflation that didn't occur at all). Therefore gold already lost for a large part its meaning as a safe haven against inflation supposedly caused by printing money, and because of this demand for gold as an investment asset (mainly through ETFs, predominantly traded in the USA) is fading, and could deteriorate further when gold prices go to predicted levels. The entire gold industry as a whole could fade with it, if the world demand returns to the original level of demand for the main applications for gold, namely technology and jewelry.
With paper gold (ETFs) losing ground now because hedge funds and other parties don't see big safe haven applications at the moment, the gold market is gearing towards a more Asian based, physical based market as trust in the yellow metal still exists in Asia. I believe this will change when the price of gold reaches previous $1600/oz and higher levels, becoming more attractive for hedge funds and other parties as it gets more recognition as an investment again.
The world of gold has already seen the first exclusive physical bullion market opening its doors in Singapore. There is also the larger and more influential trading floor, the Shanghai Gold Exchange (SGE) where more physical gold is traded. Another indicator of a potential separation of paper and physical gold going on is the small but increasing price difference between the SGE and the COMEX trading floor in New York, where by far the most trading in gold takes place, based on the volumes of the gold futures market. Because physical gold is consistently trading at a premium over paper gold because of increased shortages, this separation becomes even more apparent.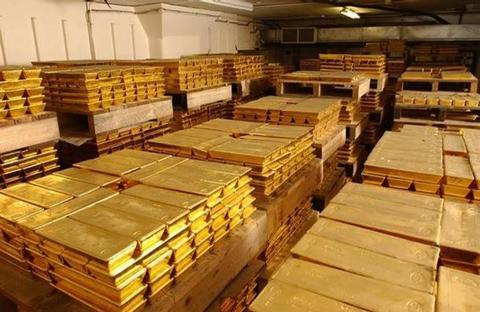 Other developments that could influence the direction of GLD as an investment asset at the moment, are the massive outflows at ETFs in general.
Because of the impending attack on Syria and the uncertainty surrounding the phasing out of the Quantitative Easing program by the Federal Reserve, investors last month left ETFs en masse.
According to data from ETFGI, the research of Deborah Fuhr, the following happened (to be found here and here):
"The outflow in August stood at $16.77 billion, a new record. A month earlier there was talk of an influx of $45.26 billion. The total global assets in listed index trackers decreased due to the outflow to $2.11 trillion.
Investors withdrew especially back from U.S. stocks, and to a lesser extent from emerging markets. European equity ETFs saw inflows of just over $5 billion.
In the fixed income market outflows totaled $5.23 billion. Especially government bond ETFs were out of favor, but also inflation-linked and high yield saw an outflow.
SPDR ETFs, the second largest player worldwide and provider of the largest gold ETF , even had to deal with an outflow of $19.24 billion and is therefore on a year to date of $-7.44 billion in August."
It is clear to see GLD is having a rough time right now, but so are almost all other ETFs. It depends, among other things, on the developments on Syria and the phasing out of QE3 by the FED, what will happen next for ETFs in general, and gold ETFs like GLD in particular.
4.Conclusion
The economic environment for GLD becomes harder to deal with at the moment, because as a security, it seems to have lost its appeal for now to hedge funds and other parties. However, as long as it can maintain enough trading volume and is able to keep in touching distance of the price of physical gold, there should be no problem for GLD continuing as a solid investment asset on a slightly more moderate but steady base.
When the prices for physical gold reach levels above $1500/oz-$1600/oz again, chances are hedge funds and other parties will return to gold ETFs like GLD, seeing new opportunities, perhaps even turning the gold market into a more security-based market again.
The demand for physical gold itself is soaring right now, causing the premiums to rise and creating small gaps in prices compared to paper gold. This has led to special trading platforms (plus some huge storage places to go with that in Asia) being developed in order to create a competing, full blown physical gold market.
I don't necessarily consider this a bad thing for gold ETFs. A fully developed Asian based physical gold market could be a solid foundation for the gold price worldwide, providing another base for investment in gold ETFs like GLD as well, next to investment opportunities for hedge funds and other parties which were the single driving force before the current development of a physical gold market.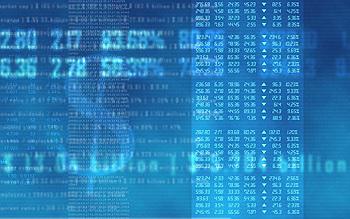 Disclosure: I have no positions in any stocks mentioned, but may initiate a long position in GLD over the next 72 hours. I wrote this article myself, and it expresses my own opinions. I am not receiving compensation for it (other than from Seeking Alpha). I have no business relationship with any company whose stock is mentioned in this article.