As I write this Apple's stock (NASDAQ:AAPL) is down over 5% for a total loss of 7% in the last two days or around $30 billion dollars in market cap. Put another way Apple has lost the equivalent of a company the size of Yahoo.
Some of this loss is for legitimate reasons. Investors were hoping we might see a new product other than the new iPhones (although Apple is expected to have another launch event for new iPads next month). Some were disappointed by the lack of a new blockbuster feature and others are bemoaning a lack of innovation. However, most of the loss is being attributed to Apple's pricing of the iPhone 5c. Analysts are arguing that Apple has priced the phone too high and therefore won't be able to recapture market share in important developing markets such as China. UBS, Piper Jaffray and Credit Suisse all downgraded their ratings or earnings estimates in wake of the higher than expected price.
Regardless of whether you think the pricing is wrong or not is this single decision (which is easily changeable) really worth a $30 billion loss?
Why Apple's Pricing Makes Perfect Sense
We had a similar outcry when Apple released its iPad mini last year. Every media pundit and analyst around the world was bemoaning the high price, saying the device 'looked expensive'. What happened? The device sold out immediately. The vast majority of the 3 million iPads Apple sold in the three days after release were iPad minis. Apple struggled to meet demand and waiting lists for some forms of the mini device took many weeks to abate.
So the reality is Apple got the pricing near perfect. If anything you might argue the price was too low since many consumers moved away from the larger and more expensive iPad. The latest reports suggest that more than 60% of Apple's tablet sales are from cheaper iPad minis. Apple does not break down the different types of iPad sales in its quarterly reports, preferring to group them all together. However, we can infer that the iPad mini is having a major impact. Apple's latest quarterly numbers showed a 14% drop in year on year units but a much larger 27% drop in total iPad sales. The drop is primarily because Apple did not introduce a new iPad in the quarter as it had the previous year but the large difference between units and sales implies the cheaper mini is cannibalizing Apple's larger 10-inch iPad.
Pricing the device any lower would have increased cannibalization, wasted shareholder value and lost billions in sales.
Today we have a similar situation with many shocked at the price of the 5c. An unlocked 5C will still cost $549 just $100 cheaper than the cheapest iPhone 5s at $649. That's higher than any analyst expected but the biggest surprise is that in China the 5c will sell for 4488 Renminbi ($733) and the 5s for 5288 Renminbi ($864). I think this furor over the price is ridiculous. For a start all the reaction seems to assume the price is set in stone. It makes perfect sense that Apple would keep its prices high at launch. Here's why.
Initial Demand - Even with the higher price Apple will struggle to meet initial demand for the 5s. Why waste sales and shareholder value by pricing the phone cheaply. In 2012 Apple sold over 5 million iPhone 5s in less than 3 days and the initial supply was quickly sold out. People have forgotten that the biggest factor, which held back initial sales of the iPhone 5, was not demand it was supply and Apple was plagued with supply issues months after the launch.
Don't forget that for the first time Apple is launching in China at the same time (and Puerto Rico as well). The iPhone 5 sold 2 million devices in the first three days when it was launched in China last year.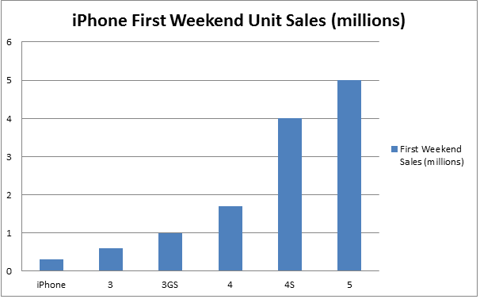 So if we start with the 5 million sales at last year's iPhone launch and add in the 2 million Chinese sales as well. Then if we consider that Apple is now offering two different phones and that one of those is $100 cheaper than any phone Apple offered last year. I would argue that Apple will easily sell well over 7 million phones in the first three days.
The demand and logistical operation is going to be huge. I would be stunned if Apple could meet initial demand so it makes no sense to price the phone cheaply when they will likely quickly sell out. Apple might even have been worried that if they priced the 5c too low they would get overwhelmed with orders. (They were overwhelmed last year but everyone has forgotten). Apple has also had recent difficulties with its supply chain. A fire on September 4th at Apple supplier SK Hynix caused chip prices to surge 19% and may reduce supply.
Cannibalization and Lower Risk - Apple is understandably nervous of cannibalizing itself. A major side effect of the mini is that it caused sales of Apple's larger expensive iPad to plunge. The mini now accounts for over 60% of iPad sales. If the same thing happened with the iPhone it would be a disaster for Apple's sales and earnings. Apple doesn't want developed market customers to abandon the 5s and rush to the cheaper 5c. This would seriously damage sales even if margins are relatively unaffected (as we suspect will be the case). Keeping a high priced 5c encourages people to buy the 5s and means Apple won't destroy its business if it turns out everyone loves the 5c because of the colors.
Flexibility - Keeping the price of the 5c high gives Apple the most flexibility. It makes perfect sense to gauge market demand for each device and then react in the appropriate manner. It's far easier to lower the price of something than it is to raise it. Why limit yourself by starting off with a cheap price before you fully understand the market?
Protects the old iPhone 5 and the Brand - The 5c is actually a slight upgrade to the 5 (except perhaps for its plastic color case), an aggressively low priced iPhone 5c might have caused a collapse in the price of the older iPhone 5. This might seriously damage the premium feel of Apple's brand and would probably have a long-term impact on margins and pricing expectations. Customers also like the fact that phones hold their value well. This gives them confidence to buy and allows them to sell their older phones so they can afford the latest model.
Margins - Keeping the price high has the major benefit of preserving Apple's margins. Although, unlike some analysts think, I don't believe this is the primary reason Apple has kept the price high and I think it has more to do with the other reasons mentioned above.
As initial demand cools and Apple ramps up production volumes they can then start to lower the price of the 5c and get more aggressive. Apple has shown it can and will price its phones to gain market share. Its recent decision not to re-price its phones in India, despite the fall in the Rupee, is evidence of this. I expect Apple to aggressively go after market share in China and other emerging markets. However, it was important that Apple first protected the sales of its developed market business. There's nothing to stop Apple making big cuts to the price of the 5c in the future and I expect it will eventually do exactly that. The current market reaction is just short sighted.
Rather than leaping to conclusions I'm trusting Apple's management for the moment. I don't believe anybody understands the demand for their products as they do. They were right in their pricing of the iPad mini and I'm certainly glad they didn't start off pricing the 5c too low. I'm backing them and I still believe the stock looks very cheap with new product categories on the way and what I expect to be its biggest ever iPhone launch on the 20th September.
Disclaimer: Each article or comment written by this author is intended as general information only, and is not intended to provide specific advice, or due diligence to be relied on. As such, the information presented in any article does not consider any reader's personal investment objectives or financial situation; therefore, no article makes any personalized recommendations. See full disclaimer here
Disclosure: I am long AAPL. I wrote this article myself, and it expresses my own opinions. I am not receiving compensation for it (other than from Seeking Alpha). I have no business relationship with any company whose stock is mentioned in this article.