Retailer GameStop (NYSE:GME) posted a steep decline in second quarter results that was overshadowed by a positive outlook for the back half of the year. Revenue fell 10.7% year-over-year to $10.4 billion, which was a bit better than consensus expectations. Earnings per share dropped 44% year-over-year to $0.09, which was also better than consensus estimates.
Sales have been weak…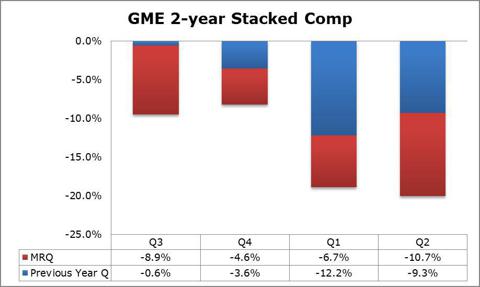 Click to enlarge
Image Source: Valuentum, Company Filings
Shares of GameStop are up 177% over the past year-a phenomenal increase given the steep same-store sales declines recently (shown above). Weakness didn't moderate much in the second quarter, with same-store sales dropping 10.7% year-over-year. Of course, the rally in GameStop's share price has little to do with what happened in fiscal year 2012 or even fiscal year 2013, save the firm boosting returns of capital to shareholders.
Physical Distribution Not Ending
Rather, the worst of GameStop's fears about next generation counsels were not realized. Rumors swirled that both Sony's PlayStation 4 (NYSE:SNE) and Microsoft's Xbox One (NASDAQ:MSFT) could block the resale of games, which accounts for nearly 50% of GameStop's earnings. Some also speculated (ourselves included) that Sony and Microsoft could cut physical game sales out of the supply chain and switch to a primarily digital distribution business, allowing them to capture more value along the sales chain. Neither of these potentially devastating events occurred, leaving the market optimistic about the company's future relevancy.
In hindsight, it is easy to see why the next generation counsels won't cut physical distribution out of the mix. For one, gamers tend to be younger and may not have access to credit cards that would be necessary for digital distribution. Further, it could (somewhat) decrease the social appeal of gaming if users were unable to readily share and swap games. We believe Microsoft and Sony likely floated these rumors to see what the public perception would be, and when the response was overtly negative, the firms backed away from eliminating physical distribution.
However, that does not mean that physical distribution won't decrease, in our view. If the next-gen consoles have any of the same problems with disk drives malfunctioning, some users will be forced to download games instead of buying them at GameStop. More importantly, we're not sure to what extent console gaming is thriving. Certainly there will be a big boost from Take-Two's Grand Theft Auto V (NASDAQ:TTWO) and EA's Madden 25 (NASDAQ:EA), but mobile is undoubtedly taking some share from traditional gaming.
Are the Next Two Years the Peak?
The big issue for GameStop, in our view, is that the business is likely to peak within the next two years. The new generation of systems will likely drive sales and earnings in fiscal year 2014 and 2015, but then GameStop will have to deal with reality: it will be a long time before another console launches. The 7th generation of consoles lasted 8 years, while the 6th generation lasted 7 years, and the 5th generation lasted just 5 years. With incremental improvements becoming harder to drive, there's a good chance that the 8th generation consoles will last for 10 years (maybe more).
Essentially, GameStop will have to deal with the reality of being a brick-and-mortar retailer with increasing omni-channel competition from Best Buy (NYSE:BBY) and online competition from Amazon (NASDAQ:AMZN) and eBay (NASDAQ:EBAY), but more importantly, a direct-to-consumer marketplace that is more profitable for the console makers.
Still, guidance for the third quarter was strong, calling for same-store sales growth of 11-15% driving earnings per share of $0.50-$0.55. With the launch of the new consoles likely to come in November, and a strong third quarter slate of releases, the firm anticipates full-year same-store sales of -3.5% to +1.5% driving full-year earnings per share of $3.00-$3.20.
Valuentum's Take
Near-term positive catalysts may indeed boost GameStop's performance over the next several quarters. However, we think the market isn't giving proper credit to the amount of competition GameStop faces, and the current share price inappropriately extrapolates near-term catalysts into long-term trends. We have no interest in shares of the video game seller at this price.
Disclosure: I have no positions in any stocks mentioned, and no plans to initiate any positions within the next 72 hours. I wrote this article myself, and it expresses my own opinions. I am not receiving compensation for it (other than from Seeking Alpha). I have no business relationship with any company whose stock is mentioned in this article.
Additional disclosure: EBAY, MSFT are included in our actively-managed portfolios.