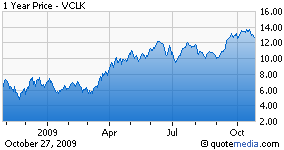 ValueClick (VCLK) is expected to report Q3 earnings after the market close on Tuesday, October 27 with a conference call scheduled for 4:30 pm ET.
Guidance
The consensus estimate is 14c for EPS and $129.18M for revenue, according to First Call. Guidance for Q3 provided by management on its last earning call is for 19c-20c in EPS, and $125M-$130M in revenue.
Analyst Views
Kaufman expects ValueClick Q3 results to show modest upside to their revenue, EBITDA and pro forma EPS estimates of $128M, $32M, and 20c. The firm believes investors could see approximately $3M-$5M of upside to their revenue estimate, and $1M-$2M of EBITDA upside. Kaufman's checks during the quarter, as well as recent public company results, suggest display advertising increased sequentially in Q3. Kaufman is looking for quarter-over-quarter growth in display advertising revenues and think their flat sequential estimates may be slightly conservative. Investors could see a sequential increase in comparison shopping revenues due to the Q3 improvement in eCommerce growth rates as evidenced by the improved outlooks for eBay (EBAY) and Amazon (AMZN).
Key conference call issues: commentary in terms of signs of stabilizing for the lead-generation segment which could serve as a catalyst; commentary in terms of ValueClick's expanded Google (GOOG) relationship.
Bottom-line: Kaufman expects ValueClick to show improved fundamentals in both eCommerce and online advertising in Q3. However, Kaufman believes shares are fairly valued given their mid-single-digit long-term-growth outlook. Kaufman would like to see signs that ValueClick can re-accelerate growth before they would become more constructive.