Sohu.com (NASDAQ:SOHU), a leading Internet media and gaming company in China, reported disappointing results on Monday. The stock was already down -- 16% on the day of earnings (October 26th) to $59.9.
What propelled Chinese stocks to their peaks in 2008 is what is pulling them down these days: growth rate expectations.
At the start of 2008, Chinese internet firms blew past consensus estimates quarter after quarter and stock prices rose to dizzying heights. The Chinese consumer was becoming as important to the US stock market as the US consumer. Between the beginning of calendar 2007 to 1H08, Sohu's stock rose a phenomenal 195% as quarterly revenues tripled from $33 million in the March '07 quarter to $102 million in the June '08 quarter. Quarterly EPS grew a staggering 800% from $0.12 to $1.02 per quarter in the same period.
Compare this with the revenue and profits over the last year or so. In the just concluded September '09 quarter, revenues have grown just 13% year-over-year to $136.6 million, while EPS in fact declined from $1.02 to $0.88.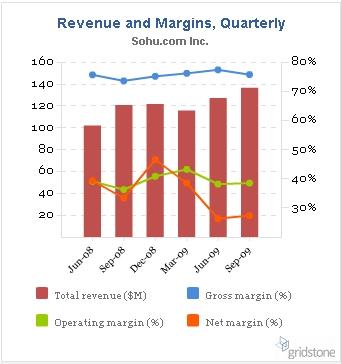 Source: Gridstone Research
With top-line growth stagnating (compared to prior 2007/08), operating profits have been flat for the last 3-4 quarters compared to the typical 2X/3X year-over-year growth in profits in 2008.
Profits Are Near Flat...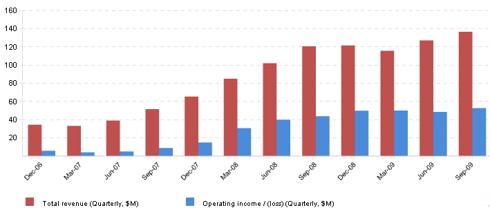 ... While Profit Growth Pales In Comparison To 2008 Growth Rates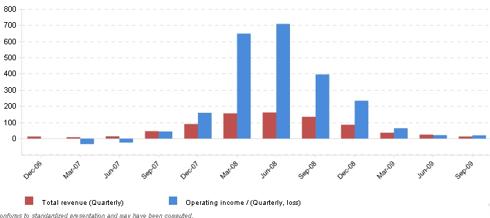 Another serious concern for investors would be the increase in effective tax rate. Chinese tech firms enjoy a 3-year tax holiday and also pay reduced tax rates for three years after the tax holiday.



A cursory glance at Sohu's quarterly filings indicate that the effective tax rate has increased from almost 0% in 2007 to 15% in 2009/10, and could further increase to 25% in 2-3 years time. So, at an EPS level there seems to be limited upside for Sohu if revenue growth is in the teens. Even in terms of cash generation, Sohu disappointed in the last quarter (June '09) as cash flow generation from operations grew at 5% while revenues grew at 25% raising concerns on the cash burn rate of the business during the downturn.



With revenue growth getting further stunted, investors reaction to Sohu's results by hammering its stock is no surprise. It looks like investors are no more seeing Sohu as a growth stock.
Disclosure: No Positions