Intel (NASDAQ:INTC) is poised to compete at all price points and with support for Windows, Android and Unix Os machines. The company showed a range of tiered prices at its International Developers' Forum in San Francisco that set out the vast array of devices with "Intel Inside" that consumers may opt for as early as this Christmas shopping season.
At the entry level, Intel is promoting tablets costing $99 USD and running either Windows or Android.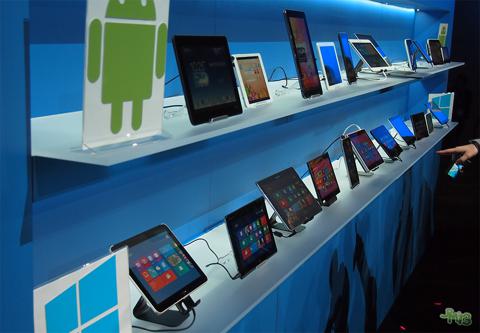 In the mid tier, the traditional "clamshell" laptops at prices of $199 powered by either Bay Trail or Celeron processors - seemingly bringing in a new generation of Netbooks.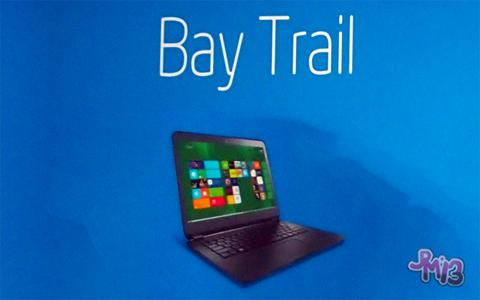 At the $299 price point Intel's vision is a range of 2 in 1 products that can operate as a tablet or a laptop powered again by Bay Trail or Celeron processors.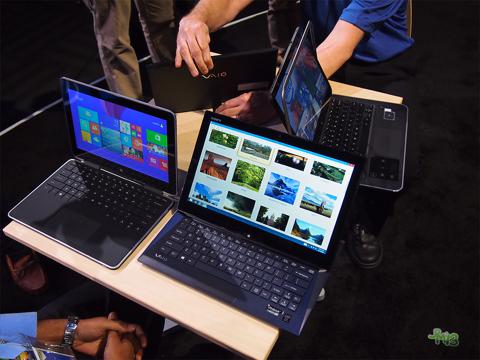 At the higher end, $399 and above, Intel foresees a plethora of options using iCore processors comprising ultra books and powerful laptops for serious work by road warriors.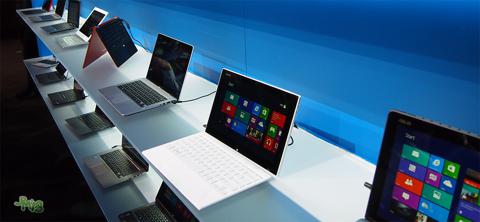 To what extent original equipment manufacturers such as Dell (NASDAQ:DELL), Hewlett-Packard (NYSE:HPQ), Lenovo (OTCPK:LNVGY), Toshiba, Sony (NYSE:SNE), Acer, Asus and Fujitsu line up with Intel's proposed tiers of price and performance is unclear, but what is clear is that consumers will have the widest array of choices ever with the broadest selection of touch screen Windows 8 or Android devices they could ever wish for.
The imminent launch of Microsoft (NASDAQ:MSFT) Windows 8.1 will no doubt have an impact on the direction that consumers move in terms of personal computing, but Intel is less tied to Windows than ever and offers OEM's processors that are agnostic about OS choices.
This Christmas and 2014 should begin to tell the tale for the PC market. If the slide of the past few years is to slow, it is now. Intel and the OEM's have thrown everything they can at the market and it is impressive. More power, thinner designs, longer battery lives, touch screens, and improved OS choices make it a PC users market and I am excited about it.
The desktop market is getting much of the same treatment. Newer and more powerful machines and touch screen monitors and all-in-ones are entering the retail scene and from my walk through at Best Buy (NYSE:BBY) they are sleek and powerful. Terabytes of storage and gigabytes of RAM is the norm, plenty of USB ports, HDMI outputs, better graphics performance, blistering speed and tons of options. It should be a strong retail season.
From what I have seen in the stores, customers are buying PC's and tablets. Macbooks with Haswell are in demand; HP's wide range of devices is popular; Sony's new ultrabooks are industry leading; and, Lenovo's latest designs are clean and functional. I have difficulty choosing between them.
In my view, we are on the eve of a turnaround in the PC market which will benefit not only Intel but also Microsoft. In Intel's case, it will also benefit from surging demand for $300 Chromebooks which will now be powered by Intel processors, and from the first real assault by Windows on the strongholds of Android and Apple iPads in the tablet space.
For Intel and Microsoft, the stakes are high. If the slide in PC's can be stemmed and growth return, every 10 million devices is worth something on the order of $500 million to $1 billion revenue to each company at margins in the 60% plus range. In a combined PC and tablet market exceeding 500 million units annually, there is a lot of room for each to win or lose big time. I am betting Intel and Microsoft will hold their dominant 90% plus share of the PC part of the market making up over 300 million devices and will take a meaningful share of the tablet market, perhaps 10 to 20%, with Intel's support for Android devices making it less vulnerable to a shift away from Windows than Microsoft.
At the same time, both Intel and Microsoft are aiming at the smart phone market. In this area, Microsoft has enjoyed growing demand for Windows phone which is expanding faster than Apple (NASDAQ:AAPL) and has a reasonable chance of breaking through 10% market share in 2014. Intel is farther behind having only recently launched Silvermont and represented so far in only a handful of smart phones. Nonetheless, both should make progress in 2014.
As set out in an earlier article, I expect Intel to earn on the order of $2.30 per share in 2014. Microsoft for its part should break through $3.00 per share of earnings as its enterprise business grows, its new devices enter the market, and its results are clear of the write downs that have held back prior years.
I am long both stocks through options.
Disclosure: I am long INTC, MSFT. I wrote this article myself, and it expresses my own opinions. I am not receiving compensation for it (other than from Seeking Alpha). I have no business relationship with any company whose stock is mentioned in this article.
Additional disclosure: I hold calls on both Intel and Microsoft