Early Wednesday, Philip Morris International (NYSE:PM) announced that it had increased its quarterly dividend 10.6% to $0.94 per share, or $3.76 annually. This marks the 6th consecutive annual dividend increase for Philip Morris, clearly setting the company up as a dividend growth stalwart, much like its former parent Altria Group (NYSE:MO). The size of Philip Morris' dividend increase is quite impressive, considering its YTD struggles. This may point towards some year-end strength for the company. Philip Morris now yields about 4.35% at its new annual dividend rate.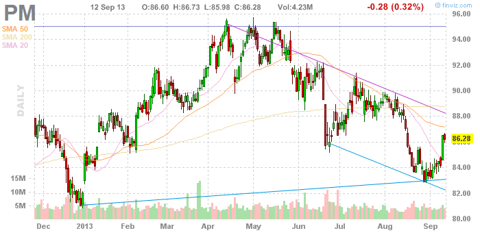 Dividend raise was inline with previous increases
Since its 2008 spin off, Philip Morris' average dividend increase has now averaged about 11%. While some may argue that these increases would have been lower if not for Philip Morris' aggressive share buybacks, this is still nonetheless impressive dividend growth. Philip Morris' dividend level is now 104% higher than it was in 2008, basically doubling in 6 years.
In general, Philip Morris has posted stronger dividend growth compared to its former parent Altria. Since 2008, Altria's dividend increases have averaged about 8.8% per year, 25% lower than Philip Morris. However, to be fair, Altria has typically traded at lower multiples than Philip Morris and with the corresponding higher yield.
| | | |
| --- | --- | --- |
| | PM | MO |
| 2008 | 17.4% | 10.3% |
| 2009 | 7.4% | 7.8% |
| 2010 | 10.3% | 10.1% |
| 2011 | 20.3% | 17.9% |
| 2012 | 10.4% | 7.3% |
| 2013 | 10.6% | 9.1% |
| Average: | 11.0% | 8.8% |
***Do note that Altria's 2009 dividend is adjusted to take into consideration its two dividend increases that year.
Philip Morris dividend increase was higher than anticipated
Color me impressed by the size of Philip Morris' dividend increase. Earlier in the year, I had written that I expected Philip Morris' dividend increase to range from $0.05 to $0.07. This estimate was based on my assumption that Philip Morris was looking to lower its payout ratio (based on EPS) back to its historic norms. Fortunately, my estimate was incorrect.
It is true that Philip Morris' actual EPS growth is expected to come in essentially flat for the year. This may lead to a temporary spike in Philip Morris' payout ratio. However, note that this dividend increase is actually in line with Philip Morris' expected adjusted EPS growth. If you were to listen to or read any of Philip Morris' conference calls, you would see that the company tends to measure its performance based on currency neutral performance. As I noted in the above linked article, Philip Morris' FY 2013 guidance points toward adjusted EPS growth of around 10% to 12%.
If I were to speculate, Philip Morris may be wanting to reward its shareholders for its stock's lackluster YTD performance. When compared to the S&P, Philip Morris has not had a good 2013.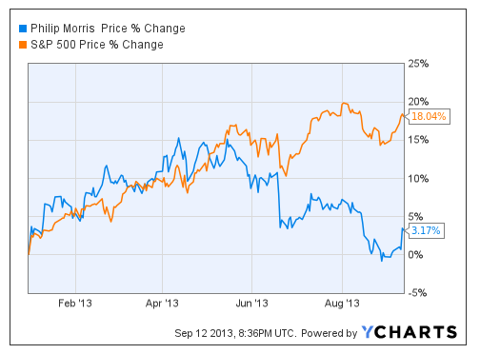 Philip Morris' increasing debt is a moot point
Yes, Philip Morris has seen its debt load increase significantly. However, the company has been using this debt for a good cause -- namely to buy back stock.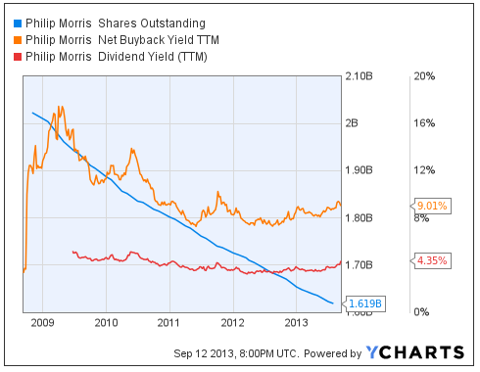 Since 2008, Philip Morris has bought back a massive $31B worth of stock, reducing its share count by nearly 25%. As shown above, this figure dwarfs dividend payments and is Philip Morris' primary means of returning capital to shareholders. In addition, with its yield currently hovering over 4.3%, share buybacks may actually be accretive for Philip Morris, as interest expense on the debt is often lower.
Conclusion
Philip Morris seems to be undervalued at current prices. Yes, the company is facing currency related issues, which have hampered its EPS growth this year. Philip Morris has noted that its operating environment is the most challenging since 2008. However, what would happen if this trend reverses?
A double-digit percentage increase in a dividend is always nice, and with Philip Morris, these increases are clearly meant to reward long-term shareholders of the stock. Steady dividend growth is a compelling reason to buy and hold a stock such as Philip Morris.
Disclaimer: The opinions in this article are for informational purposes only and should not be construed as a recommendation to buy or sell the stocks mentioned. Please do your own due diligence before making any investment decision.
Disclosure: I am long PM, MO. I wrote this article myself, and it expresses my own opinions. I am not receiving compensation for it (other than from Seeking Alpha). I have no business relationship with any company whose stock is mentioned in this article.