Times have rarely been tougher for the rental car industry than over the past year, but Dollar Thrifty Automotive Group (NYSE:DTG) reported third quarter results that were actually encouraging. Profit jumped 59% in the quarter with net income coming in at $30.1 million or $1.29 per share versus last year's $18.9 million. When excluding one-time events the results dropped to $1.19 per share, but on the whole they were still impressive as analysts were calling for $.79. The results were aided by lower costs, and the company said the worst is likely behind the industry. Furthermore, management expects rental revenue will show a year over year increase for the month of October, which is the first month to see gains since May of 2008.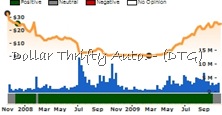 Surely, the stock would get a boost after such an impressive quarter and upbeat outlook, right? Not exactly, Dollar Thrifty also reported that the company would be raising capital through a secondary offering. News of a rather large secondary offering has sent shares reeling, down more than 15% in afternoon trading. According to the statement, DTG plans to offer 5.75 million shares to the public, a move that would represent an increase to shares outstanding of about 26%. Clearly, the dilution to common shareholders makes this investment fundamentally less attractive.
A quarterly result that Dollar Thrifty investors had hoped would provide movement to the upside has been completely overshadowed by the secondary offering. At Ockham, we are maintaining our Fairly Valued stance on DTG as of this week's report, but our analysis had not yet accounted the dilution the offering represents. It is unclear that this will be sufficient to warrant a downgrade to Overvalued next week but it will make per share valuation metrics less favorable by 26%. Considering this stock has strongly rebounded to above $20's after hovering around the $1 mark earlier this year, it would be difficult to refer to this as a value stock. At this point, despite the stronger quarter and improving sales trends, we are not advising buying into this stock.