In 1965, the Cape Cod-based rock band The Barbarians penned the following lyrics to their hit song, "Are You A Boy Or Are You a Girl?"
Are you a boy, Or are you a girl
With your long blonde hair, You look like a girl (yeah)
(You look like a girl)

You may be a boy, You look like a girl

You're either a girl, Or you come from Liverpool
(Yeah, Liverpool)
You can dog like a female monkey, But you swim like a stone
(Yeah, a rolling stone)

You may be a boy (hey). You look like a girl (hey)
This same confusion could hold true today when investigating mid-cap utility National Fuel Gas (NYSE:NFG), but the title would be something like, "Are You A Gas Utility, A Gas Mid-Stream, or An Oil/Gas Exploration and Production (E&P) Company?"
National Fuel Gas is all three. NFG services 730,000 customers in the Buffalo NY to Erie PA area as a regulated natural gas utility, offers interstate and field gathering gas pipelines, and drills for oil and natural gas in California, the Marcellus and Utica Shale plays and most recently in the Mississippi Lime play.
In addition to their regulated service, NFG operates 3,000 miles of pipeline and storage network of 34 facilities along with an oil/gas exploration and production company. The crown jewel is about 750,000 fee acres in the Marcellus shale, upwards of 200 drilling locations on 5-acre spacing in California, new acreage in the Mississippi Lime and acreage in the Utica shale.
These geographic service areas are shown below, from NFG's most recent investor presentation: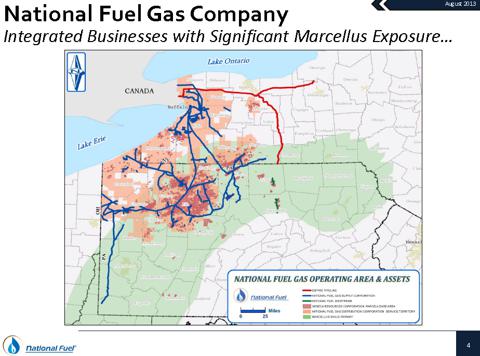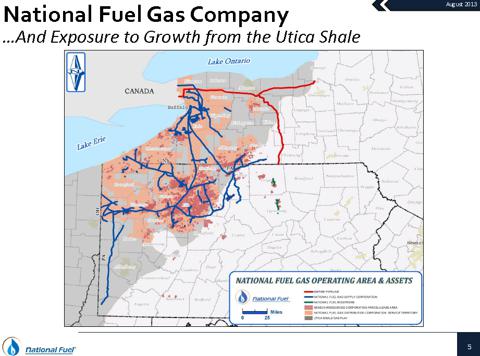 NFG's newest acreage include 13,650 net acres in the Mississippi Lime where five test wells will be drilled in 2014.
Below is a table that outlines the importance of each of these segments to the company. The first part lists the percent of adjusted EBITDA generated by each with the second listing the total dollars in millions (FY ends Sept 30)
| | | | | | |
| --- | --- | --- | --- | --- | --- |
| Segment | TTM 6/30 | FY 2012 | FY 2011 | FY 2010 | FY 2009 |
| E&P | 57% | 56% | 57% | 52% | 48% |
| Pipeline & Storage | 19% | 19% | 17% | 19% | 23% |
| Utility | 21% | 23% | 25% | 26% | 28% |
| Marketing | 1% | 2% | 1% | 3% | 1% |
| | | | | | |
| E&P | $467 | $397 | $377 | $327 | $280 |
| Pipeline & Storage | $157 | $137 | $111 | $121 | $131 |
| Utility | $173 | $160 | $169 | $167 | $164 |
| Marketing | $21 | $10 | $11 | $17 | $6 |
| Total | $818 | $704 | $668 | $632 | $581 |
National Fuel Gas mid-stream and E&P businesses have been the drivers of earnings growth over the past several years. This trend is expected to continue into the near future. Below is a graphic outlining expansion plans for the Pipeline and Storage segment in the Marcellus and eastern Utica shale fields.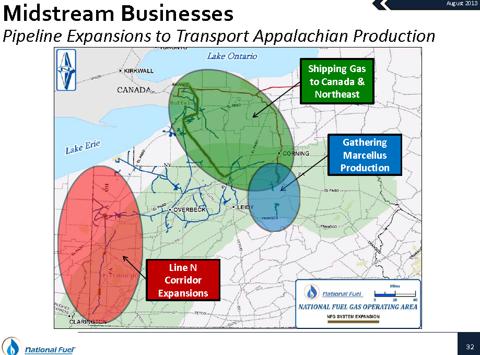 NFG has been successful in reducing costs in the E&P segment, known as Seneca Resources. Even with the current depressed market price of natural gas, Seneca Resources is profitable and its profitability is expected to improve over the next two years. Strikingly, unit costs are expected to decline by 15% between FY 2012 and FY2013. This could add upwards of $60 million in profitability at even stagnate production numbers and could account for upwards of $0.70 a share in EBITDA improvement. Below is a graphic showing unit costs for Seneca per Mcfe from 2008 to Forecast 2014: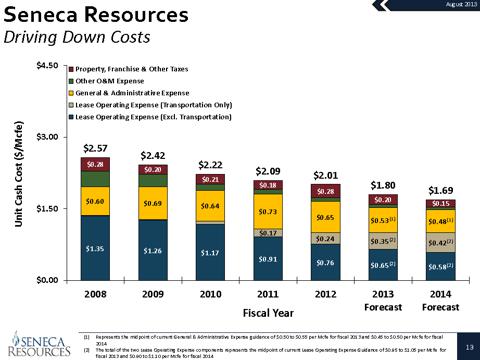 Along with a reduction in unit costs, Seneca has been experiencing a substantial expansion in total proven reserves. As the company develops the Marcellus and Utica assets, total proved reserves have been steadily rising. While the California oil reserves have been falling slightly over the past five years, natural gas reserves have grown almost 4 times.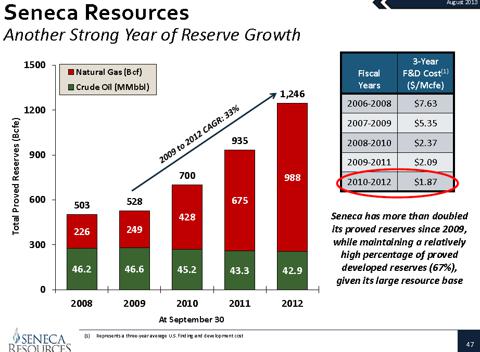 FY 2013 ends in a few weeks at the end of Sept. EPS are expected to be reported at $3.08, up from $2.56 in 2012. EPS in 2014 are anticipated to be $3.21. Based on the current price, NFG trailing PE is 21.1 vs. a 5-yr average of 20.6. The forward PE is 20.9 vs. a 5-yr average of 19.0. Based on these comparisons, NFG is not currently overpriced.
Below is a Point and Figure chart of NFG. According to the chart, a bullish pattern has been in place since the end of July at a price of $65. For this bullish pattern to falter, share prices would have to close below $63 for a 3 Box Reversal pattern to emerge .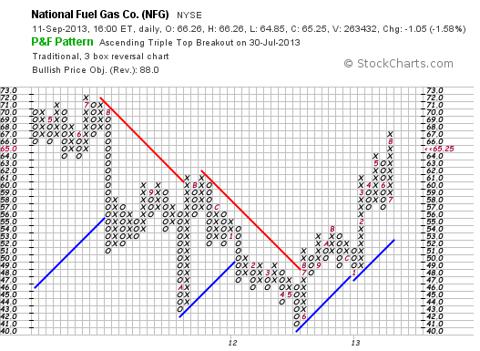 Total oil/gas production for FY2012 was 83.4 Bcfe, with 24.5 coming in the 4th quarter. The company anticipates total production for FY2013 to be between 95 and 107 Bcfe, for production growth of between 11% and 23%. For FY2012, proved reserves increased by 33% to 1,246 Bcfe, of which 67% was proved developed. Most importantly, reserve replacement in 2012 was 473% of production.
Several catalysts could unlock additional shareholder value. EQT Corp (NYSE:EQT) is a very similar company in structure. Previously, EQT owned midstream assets, a regulated utility, and an E&P segment. Since last year, EQT has been remaking itself by first spinning off 15% of its midstream assets into EQT Midstream (NYSE:EQM) while retaining an 85% ownership. Share prices for EQM and EQT have substantially outperformed the overall market this year.
Recently, EQT announced it was selling its regulated gas utility to Peoples Gas, owned by privately held SteelRiver Infrastructure Partners. The deal was inked at a price equal to 9.5 times the utility's EBITDA.
In addition, Laclede Gas (LG) agreed to buy Southern Union's Missouri Gas and New England Gas for 10.8 times EBITDA.
Management believes they can increase production by 20% in FY2013 and by 20 Bcfe annually in FY2014 and beyond. A rising natural gas price will add earnings power to NFG's E&P, Seneca Resources.
Based on both the spinoff of EQM and the purchase by People's gas at 9.5 times EBITDA, these segments of NFG could be worth about $35 a share. Seneca Resources' proved reserves could be valued at $1.60 per Bcfe, or $24 a share. Combined, these assets could be worth about $59 a share, or about NFG's current market price.
NFG was founded in 1902 and has paid a dividend for the past 111 years. Dividends have increased every year for over forty years and have a 5-yr average annual increase of 3.7%. The next dividend increase should be in March of next year. The current payout ratio of 47% leaves plenty of room for additional dividend increases. At the current dividend rate and share price, NFG yields 2.2%.
Return on invested capital over the past 12 months is 7.7% vs. a 5-yr average of 6.9%. This is above peer ROIC of 4.8% and 7.7%, respectively. NFG has a beta of 1.07, a bit higher than most utility investors are seeking.
Gabelli Utility Fund (MUTF:GABUX) and Gamco Investors (NYSE:GBL) combined own about 9.1% of outstanding shares of NFG. Mario Gabelli, fund manager who runs both, is very high on NFG. Below are comments from the GABUX 6-month shareholders report (pdf) dated 6/30/13:
2012 saw several high profile deals in the natural gas transportation field, including Kinder Morgan Inc.'s (1.5%) acquisition of El Paso Electric Co. (1.0%) and Energy Transfer Equity LP's (NYSE:ETE) (2.0%) acquisition of Southern Union Gas (NYSE:SUG). The development of the enormous shale natural gas reserves in the U.S. has spurred construction of new pipeline routes and more midstream infrastructure. These transactions highlight the value of owning pipeline footprints to connect new shale supplies and major consumption markets, and we believe additional mergers and acquisitions are likely to come.

National Fuel Gas Co. (4.7%) (NFG - $57.95 - NYSE) is a diversified natural gas company. NFG owns a regulated gas utility serving the region around Buffalo, NY, gas pipelines that move gas between the Midwest and Canada and from the Marcellus to the Northeast, and an oil and gas exploration and production business. NFG's regulated utility and pipeline businesses, as well as its California oil production business, provide stable earnings and cash flows to support the dividend, while the natural gas production business offers significant upside potential. NFG's ownership of 800,000 acres in the Marcellus shale, including 745,000 acres in the shale fairway of Pennsylvania, holds enormous natural gas reserve potential, and we believe the position could be worth $3.4 billion based on recent comparable transactions. Despite the decline in natural gas prices leading to lower production levels, we continue to expect significant long term earnings and cash flow growth from gas production, and we remain excited about the expansion potential of the strategically located pipeline network. The company has increased its dividend for over forty consecutive years.
More information can be found in the most recent NFG Investors Presentations found here.
One potential negative for NFG is the large exposure to the Marcellus Shale field in Upstate New York. The State currently has a "temporary" moratorium on fracking (now about 5-yrs old), which is the most popular method of drilling for oil/gas in the Marcellus. There is currently no endgame in sight whereby the State's stranglehold on drilling will cease. This may negatively impact NFG until the issue is fully resolved. However, unlike many other E&P firms, NFG owns the land and is under no time constraints to drill or lose the rights to do so.
Energy and utility investors should review mid-cap National Fuel Gas as a potential addition to portfolios. While patience may be needed for the market to fully appreciate the assets, NFG could be considered fairly valued at its current price, but may not stay that way once natural gas pricing starts to climb out of its existing funk. There is a lot of potential and catalysts that can cause NFG to hit price targets in the range of $89 to $90 a share over the next few years, amply rewarding current shareholders.
Readers can listen to the song "Are You A Boy Or Are You A Girl" by the Barbarians on YouTube here.
Author's Note: Please review important disclaimer in author's profile.
Disclosure: I am long NFG. I wrote this article myself, and it expresses my own opinions. I am not receiving compensation for it (other than from Seeking Alpha). I have no business relationship with any company whose stock is mentioned in this article.