I have been following Glu Mobile (NASDAQ: GLUU) very closely for over a year now, as many of you know. I have received much scrutiny over the last year in response to the bullish articles, and for the most part rightfully so, as the stock price has fluctuated tremendously, and management has had a failure to deliver. The projections I made however were covering Glu on a fundamental basis, and it was impossible for me to foresee game delays.
I have since realized, like most others have, that it is very difficult to make projections on such small companies with emerging and seemingly ever changing technologies and systems. Lesson learned.
So I began really studying the technical side of Glu and on Aug 22nd my technical analysis told me that it was time for Glu to change the awful post earnings trend and start heading north again. Sure enough, on Aug 24th Glu had a slight gap up to $2.19 and ran to a high of $2.51, surpassing the 50 day MA on strong volume before being sold off heavily. The next day the buy signals were confirmed and Glu traded up and down throughout the day but closed back near it's open. The very next day the stock made an even stronger rally, surpassing both it's 50 day and 200 day moving averages. The two very tough levels of resistance were again surpassed with strong volumes, but it was aggressively sold back down and closed BELOW its opening price. The stock then traded in a very tight range for the next 11 days and even though the MACD crossed over to bullish, the stock was barely moving at all.
Here is a look at the daily chart that displays what I am taking about. You will notice the long wicks to the upside of the candles in the last couple weeks, implying that the stock rallied but was pushed back down. Be sure to also take a look at the MACD in the histogram at the bottom. You will notice the bullish crossover and the completely flat top it formed in the last 10 or so days.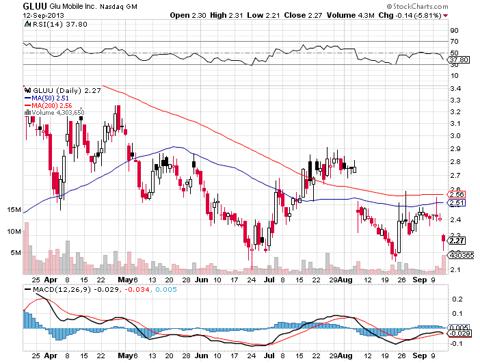 Now I watch almost every tick that happens on Glu's stock on a daily basis, and things just were not adding up for me. The technicals were increasingly bullish but every time the stock would rally it would get absolutely hammered back down.
Furthermore for the last 3 days there was an incredible amount of support shown each day at the $2.40 level. The selling was so aggressive that I did not understand how it was able to continue holding it. I actually even placed a limit order to sell some of my shares at $2.40, as probably anyone watching it would have. To my surprise, my all or none order stayed open for 5 minutes without being sold, even though there were plenty of shares showing on the bid. I then decided to cancel the order and try to figure out what the heck was going on.
Well after the close, the announcement that Glu Mobile would be holding a secondary offering came. The stock immediately started selling off AH down to $2.22. Then an unusually large trade came in at around 4:04 pm that was above the close price at $2.41. Someone was snatching up all the shares on the ask that were available before the close. Then there were several large orders placed at $2.30 and $2.35 in AH and people were selling into them like crazy, but the bids kept coming back. Someone was again picking up shares!
Then today came and the stock opened down, but never touched below $2.21. There was also someone aggressively buying shares in good size lots at the ask. I am sure some of it was Conaccord Annuity, supporting the price, but over 4 Million Shares traded hands today and the stock rallied into the close on HUGE VOLUME. The last trade was even for 80,411 shares at the closing high of $2.27.
Now who would want 4 million shares of the company at $2.20+ when they should easily be able to pick them up around $2.10 or lower? Someone who is in a hurry to grab the shares, that's who.
Another red flag to me was the VERY unusual trading in call options Thursday... particularly the March '14 2.50 calls and puts. There were 1,837 March 22 '14 call options purchased on the day at the ASK price of 30 cents. Now on a very big down day, it is pretty unusual for a stock price to trade at the ask with such abnormally large volume, as the open interest was at 1,186. This implies that a 55% increase in a new long position was created. Sound a little unusual to you? Well check this out. There were also 1,671 $2.50 puts sold at the same expiration date. Open Interest was only at 203, creating a staggering 723% increase in bullish puts! On an 8% down day, the puts actually decreased 23% in value... WHAT?! Thus its possible that someone in the know sold these puts, and used the funds to double down on their position by buying the calls.
So all of that back-story was to help you understand my confusion, and now I will get to the point. That point being that I believe Glu is in the midst of a hostile takeover situation.
The Shareholder Rights Plan
Colloquially known as the "Poison Pill", the Shareholder Rights Plan is a defense tactic used by the board of a company to force a hostile acquirer to negotiate with the board, instead of taking a controlling interest in a company through the open market.
The "Poison Pill" tactic is illegal in many jurisdictions such as the United Kingdom, and frowned upon in others such as the European Union. It is however lawful in certain states within the United States. One of which is any company incorporated in Delaware, which Glu Mobile just happens to be.
Now I won't go into all of the details of Shareholder Rights Plans, but here are a couple links that I very much encourage you to read on Shareholder Rights Plans.
What I will do is tell you that while it is simply speculation, I believe it to likely be true, and here is why:
Glu has many, many, many catalyst in the pipeline. Furthermore, Niccolo De Masi himself has said at each earnings release for the last year, that the company has sufficient cash on hand and has no need to access the capital markets for additional funding to support operations. He said this very thing on the most recent second quarter earnings call on Aug 6th.
Now De Masi is either a blatant liar and deserves to be fired… or Glu in fact does not need the money to fund operations, but needs the offering to stave off a hostile takeover.
Now I know this is very hypothetical, but bear with me here. First of all, why on earth would any company ever issue a secondary offering near 52 week lows when they have sufficient cash, and all of the following positive catalysts in the very near future? Well… they wouldn't.
These Positive Catalysts Include:
Glu just announced that Deer Hunter '14 would be launching very soon. Deer Hunter '14 has been in beta in Canada and has been the #1 Free Game, and top 3 grossing game on iPhone there. This game is also the 1st of Glu's lineup to feature skill based competitions where users can win real money through its partnership with Skillz. This alone is a huge catalyst and it should be launched this week!
Glu expects to launch 2 games in September including Deer Hunter '14 mentioned previously, as well as Gang Lords.
Curiously enough, Glu has only released one game since the end of the first quarter, but now is set to release its most highly anticipated game of the year the very day after the announcement of a secondary offering? That makes no sense at all.
The company expects to return to revenue growth in the 4th quarter, and to reach profitability early in 2014.
Glu is supposed to launch its mobile gambling suite through Probability PLC this quarter. This move further into the hot mobile gambling sector will likely trigger a strong rally in shares of the company.
New smartphones are in the midst of being launched prior to the holidays, and this should bring many new downloads and much more revenue in for the company.
The iPhone is finally being launched in China, and the impending China Mobile deal with Apple (NASDAQ: AAPL) will be huge for Glu and other mobile gaming companies. Glu in particular has reported very strong numbers out of China, and revenues from China stand to at least double with an Apple-China Mobile deal.
Secondly, it simply does not make sense that the company would want to issue this secondary right now, when waiting until the fourth quarter when the shares should be much higher would be much more beneficial to the company, and shareholders.
Lastly, If Glu did in fact need money, it could issue debt as it did in 2010 when it raised $30 Million. Point being, it's not the money it needs.
Were These Also Measures by Glu to Deter a Hostile Takeover?
My speculation is further strengthened by some of Glu's other recent moves that are widely known to be tactics to make things more difficult for a hostile takeover. See "Other Takeover Defenses" Those moves include:
Warrants issued to MGM on August 9th to purchase 3,333,333 shares of the company at $3 (link to S-3 found here) The $3 price was well above the market price in the mid 2's. For them to be exercised, Glu would have to trade above $3 for MGM to want to exercise them. A feat that many believed to be unlikely. Consequently, any acquirer would have to pay anything over $3 to MGM in the event of a buyout. Thus, making an acquisition less appealing.
Also on August 9th, Glu filed an S-8 (found here) where the company registered 7.4 Million shares as a part of their amended equity inducement plan that could be awarded to employees. Those options of which could be exercisable IMMEDIATELY. This tactic is another well known action taken by a company to deter a hostile takeover. This gives Glu the ability to award the stock options to employees who could then turn around and exercise them, diluting the shares outstanding as well as causing the hostile acquirer to have to pay more to acquire the company.
I also believe that the widely scrutinized restatement of revenues Glu announced on their 2nd quarter earnings call was a measure taken to deter this hostile takeover. Doing so will now require an acquiring company to have to pay more to purchase the company, as a buyout price is usually calculated as a multiple of revenues. For example, if Glu's earnings were (for illustration only) $1 million before restatement and $1.2 million afterwards, a company that would pay 10 times revenues to acquire it would have to pay $12 Million (10 x $1.2 Million) vs the $10 million (10 x $1 million) they would have had to pay before the restatement.
Now I very well could be totally be off base here, as I have been known to be wrong before. The people I have talked to in person and on StockTwits have even called me a conspiracy theorist with a confirmation bias, but to me there are just too many confirmations for even MY bias.
If I am incorrect in my theory, then the downside remains to be around $2.20 in the next 3 days as Conaccord Annuity will have to hold the price here to keep a premium above the $2.10 offering price, so the downside is limited. If I am correct, this "Poison Pill" tactic usually returns a 100% premium to the average trading price. That trading price is stated by Glu in the 424B5 prospectus in section S-22. That average price is outlined as between $2.91 and $2.15, implying an average price of $2.53 with the potential purchase price of $5.06. With the stock closing today at $2.27, the risk is seven cents or 3%, with a potential return of 123%!
The "White Knight"
So why deter a buyout? The board of Glu obviously believes the company to be woefully undervalued currently, as do I. It is likely that they rejected the bid from the company which then spurred the hostile takeover. By threatening to issue this secondary offering, it at least buys the company time to find a company that is willing to acquire Glu on favorable terms for shareholders, often referred to as a "White Knight". This could also explain why there have been no insider purchases, as it would be insider trading if they are in fact knowledgeable of a possible acquisition.
Even if I am wrong about the hostile takeover, a secondary offering is known to be a ploy by a company's board of directors to surface any potential acquirers, as they will want to get into Glu before this secondary offering takes place on Tuesday, September 17th. Regardless, we will likely know by tomorrow (Friday the 13th of all days) as it is quite possible that Glu will announce it is willing to sell itself to an acquiring entity, in hopes of finding a "White Knight". I also anticipate the share price to trade higher tomorrow, as even the chance of this coming to fruition should cause shorts to start covering heading into Tuesday.
Conclusion
It is very true that I am not an insider and have no real knowledge of the matter, so I am simply speculating based on my findings. I also think it would be unfair, not to point out that the very same points that i make in this article can also be shed in a very negative light as well, as most people are. I was infuriated myself initially. But as the saying goes, when there's blood in the streets, its time to buy.
Disclosure: I am long GLUU, AAPL. I wrote this article myself, and it expresses my own opinions. I am not receiving compensation for it (other than from Seeking Alpha). I have no business relationship with any company whose stock is mentioned in this article.