After a hiatus of over a year here at Seeking Alpha, I have been looking forward to the day I could devote more of my time to get back to writing. Thursday's high impact Amarin news has provided me the perfect opportunity. Specifically, the events surrounding Thursday's TEVA Pharmaceuticals (NYSE:TEVA) / Pronova announcement regarding generic Lovaza as follows:
"Par Pharmaceuticals Cos. and Teva Pharmaceuticals Industries Ltd. won an appeals court ruling in Delaware that could allow the companies to bring generic versions of heart drug Lovaza to market.

The news sent shares of Amarin Corp. (NASDAQ:AMRN) lower Thursday, as it could open up competition for the company's fish-oil cholesterol pill Vascepa. Amarin was recently down 7.1% to $6.66.

The Delaware court overturned a ruling that had been in favor of Pronova BioPharma ASA, which was acquired earlier this year by German chemicals company BASF SE (OTCQX:BASFY). In that prior ruling, two patents for Lovaza were upheld, preventing Par Pharmaceutical and Teva from selling generic versions of Lovaza.

Lovaza, derived from Omega-3 fatty acids, lowers very high levels of triglycerides in the bloodstream.

In 2009, Pronova alleged patent infringement against Par Pharmaceutical and Teva after they both filed abbreviated new drug applications with the U.S. Food and Drug Administration to bring generic versions of Lovaza to the market to treat very high triglyceride levels. The cases were consolidated."
I am going to dissect this information so that shareholders may be better informed as to the impact to Amarin. For full disclosure, I purchased shares Thursday on the sell-off, as I see this sell off as untenable with regards to the October panel, which is Amarin's next catalyst. I do feel that I have been very balanced in my prior Amarin articles in which I did not purchase shares, I am sure I will receive criticism for this article as a shareholder.
Court Ruling - Pronova vs. TEVA and Par
Of course, headlines like "Amarin [Shares] Tumble Following Appeals Court Filing on Pronova vs. Teva related to Lovaza" spark fear in the most hardy day trader. A 7% move in 7 minutes on a few million shares of volume do well to shake out nervous investors and/or those holding intra-day or very short term. If one delves into the detail of the announcement Thursday, however, a much less ominous picture presents itself.
Before I delve into the ruling, as an important side note, Pronova initiated action against the drug company Apotex in 2009, but settled with them, agreeing to let Apotex market a generic Lovaza in early 2015 or earlier (based on undisclosed terms) - fully 2 years before the expiry of Pronova's '667 patent. I am not sure if people are forgetting this fact, but generic Lovaza was coming in 2015 at the latest. This is not groundbreaking information.
The ruling in full can be found here. As briefly as I can summarize, TEVA Pharmaceuticals and Par Pharmaceutical Companies, Inc. previously filed ANDAs with the FDA to work toward approval and subsequent marketing of a generic Lovaza. Pronova, the owners of the Lovaza formulary, sued for patent infringement in 2009. In early 2012, Judge Sue Lewis Robinson, of the U.S. District Court for the District of Delaware, ruled in Pronova's favor concerning patents 5,656,667 and 5,502,077 - both the essence of the Lovaza formulary. I will refer to these as "667" and "077" patents. The '077 patent is useless to discuss as it expired in March of this year (and this point is mentioned in the ruling). The '667 patent, however, is (was) good until 2017.
Here is where the case gets interesting. The arguments by TEVA/Par have nothing to do with formula. In this regard, the patents are rock solid. However, with regard to patents, the following legal statute is clear - one's invention cannot be used by the "public" more than one year prior to filing the patent application.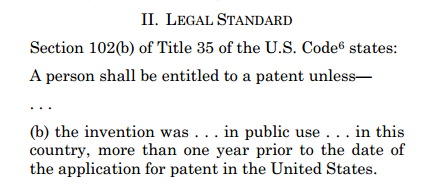 Evidently, as argued, back in 1987 (more than a year before the patent application), Norsk Hydro (Pronova's former self) sent samples of their drug to a few scientists to gauge interest in the product. One of these three scientists consumed the product and gave it to a few colleagues to try as well. TEVA artfully argues that this specific act constitutes "public use" and thus invalidates the patent. And the appellate court agreed! If someone could have made this same technical argument at any time in the last 15 years, there would have been abundant generic Lovaza and GSK/Pronova would never have had their $1 billion fish oil pill. When you read the case, it is quite amusing.
Now, I should also disclose that I am not a patent lawyer, nor have I studied any law besides some simple business law. I believe Pronova can now appeal this to the Delaware Supreme Court, which would most likely be their final stop. In my view, an appeal is very unlikely. They have the outstanding agreement with Apotex for generic partnership approximately a year from now, but the litigation timeline will assuredly drag on longer than this time, thus providing questionable benefit. Pronova is also developing their next generation pill known as PRC-4016 (which I will get to later). Combine these with the Vascepa roll out and cannibalization of Lovaza sales, and you would have to determine the pay-off of continued litigation (something I am sure Pronova is doing right now).
Impact on Amarin and Vascepa
So, the natural question is what effect does this patent ruling have on Amarin and the sales of Vascepa? I go on the assumption that Pronova will not appeal and this ruling stands as is. Instead of 2015, we could see generic Lovaza hitting markets in early to mid-2014. The question thus is how much will the cheaper, generic Lovaza eat into sales of Vascepa? This hinges on a few key issues, and in the opinion of this author, the result will be some noticeable effect, but overall - negligible. If I had to sum it up in one or two photos, it would be the following:

While the astute - notably Adam Feuerstein - will point out that on a strictly scientific basis, you cannot make this comparison as the drugs were never in trial against each other, the differences in trial results between Lovaza (left column) and Vascepa (right column) are so starkly different that I simply do not see doctors prescribing generic Lovaza for the simple risk of increasing LDL-C by such a large amount and the day to day life impact of the fishy taste/smell/burp in folks. You will notice that TG effect comparison between Lovaza and Vascepa is absent here. Lovaza did perform better in this testing area but the population tested had higher TG's than that in Amarin's, so I personally consider the two drugs essentially "even" with regards to TG benefit.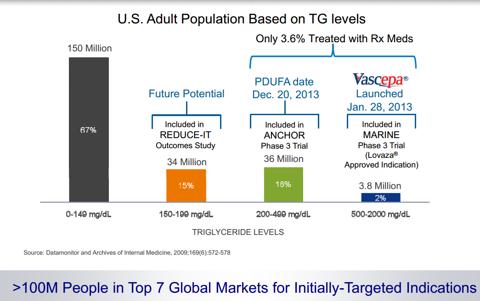 This should not be a new chart to Amarin investors. Here we see the adult population with elevated triglycerides in the U.S. (and somewhat new is a global number - interesting, which will play into some of my DCF factors). Vascepa (the current indication) and any generic Lovaza competitor will be competing for that small portion of patients with very high triglycerides (far right bar). In this author's opinion, the ANCHOR population represents the "meat and potatoes" for Amarin. At the end of this article, I will provide a discounted cash flow estimate taking into account fairly small market share for Vascepa in a high trig population just to entertain the possibility of generic Lovaza gaining traction.
NCE Issues and Amarin's Patents
No patent/marketing/anything Amarin discussion can go without mentioning the lovely New Chemical Entity issue. I have discussed this in detail in the past and still stand by my prediction that AMR101 will not be granted NCE status. Both the highly cited Andrew Goodwin, Ph.D. and even Amarin's (seemingly) perma-bear Adam Feuerstein tipped their hats toward NCE status. For the reasons outlined in the article linked above, I simply do not believe AMR101 is different enough to be granted NCE - and I fully expect the Amarin perma bull crowd to argue with me on this.
My viewpoint reflects that of Amarin's CEO. At this point, while having NCE status would no doubt be helpful and reflect positively in Amarin's share price, the 30 patents Amarin has around Vascepa plus the ~30 more in process have built a formidable patent wall protecting the intellectual property around Vascepa and possible future formularies (including the EPA/Statin combo… a possible future step for Amarin).
Some argue that competitors will just rely on generic Lovaza or an OTC herbal supplement that is "sufficiently similar" to Vascepa. To those folks:
As I discussed above, generic Lovaza will probably steal some potential Vascepa market share. But as for arguing over the smallest piece of the pie, I say that the overall effect is negligible.
People have been pounding the table over high purity fish oil supplements for the past couple of years. As many have stated, and the scripts data is showing - doctors are not going to recommend an herbal supplement to someone suffering from a potentially life threatening disease. There is simply nothing more to say.
Competitors, revisited
As I touched on this topic last year, I am going to revisit briefly for one possible competitor that I was sparse on details previously.
- Pronova
Pronova BioPharma was recently acquired by BASF. BASF, interestingly, is also a recent Amarin manufacturing partner. Pronova, besides being the manufacturer for Lovaza, is currently in development of another cardiovascular drug known as PRC-4016. PRC-4016 is supposed to lower both TGs and LDL, while increasing HDL - much like Neptune's Krill Oil is purported to do. The company has slowly released more details of this drug as Phase I data has been released and the drug is currently recruiting for Phase II trials. The details of this drug are being kept close to the chest, but based on Pronova's claims, it seems to be a "structurally modified" form of Omacor (Lovaza), resulting in a brand new chemical entity. The company claims IP rights are already secured, so similar patent issues currently afflicting AMR101 could very well be avoided.
I imagine the 4016 drug can be manufactured more cheaply than Krill Oil, and if it truly does what the company claims, Vascepa could have a serious threat on its hands if it does not diversify into a statin/fish oil combo product that works equally as well. Pronova is not giving up after Lovaza goes generic. They are remaining ahead of the long-term curve and are well worth to keep a close eye on. Just look at this investor presentation from 2011 to see how they are successfully executing a long-term strategy.
Vascepa Success
Similar to the above, I am going to revisit my DCF model I created last year based on recent quarterly data and guidance provided by Amarin.
As everyone is aware, Amarin's directors have chosen to self-market Vascepa, much to the disappointment of shareholders who were hoping for a partner/takeover as early as this year. I am basing my projections on the continued "go it alone" approach that I assumed in my article last year. While Amarin's CEO leaves much to be desired as far as clarity, management has delivered on every promise and continues to deliver positive script numbers week after week. I am not going to go into script numbers, but Quoth the Raven does a good job here. What remains absolutely critical is the continued migration of 130 of the 190 million covered U.S. patients from Tier 3 to Tier 2 coverage, thereby lessening the out of pocket blow to consumers and further supporting Amarin revenue.
I have never really been in the "imminent takeover" boat regarding the company as some other Seeking Alpha authors have stated, but I do think management has remained in general talks with several companies throughout the year. This goes without saying of course, that Omthera Pharmaceutical was recently acquired by AstraZeneca (NYSE:AZN). Many view this as a negative for Amarin - that AstraZeneca thinks that Epanova is superior to Vascepa. I disagree with this thesis. If we look at Epanova's Phase III trial results, it seems that Vascepa is an equal if not better product. Epanova's selling point is better bioavailability - aka it is more easily absorbed into the body. Vascepa has a clear first to market advantage here, and I do not believe the mere dosing convenience will be a big selling factor to doctors (not to mention generic Lovaza coming soon, and is more similar to Epanova than Vascepa). Again, we cannot compare the two as they have not been pitted against each other in clinical trials. I believe that AstraZeneca was simply "fishing" for a better priced takeover target - and they did get the bargain issue that in my opinion carries the bargain product. Please realize that this is all my personal conjecture, and cannot have any solid idea unless I worked at either company, which I do not (and if I did would probably be in for a major reckoning after writing this…!).
So what are the odds of Amarin being bought out? I have no idea. Nor does anyone else - and do not let them convince you otherwise. No one knows if it will happen within the next month, 6 months, or 6 years. As management has stated, this is still very much on the table, and I believe a big factor will be the outcome of both the October FDA panel as well as the approval for the ANCHOR indication. This significantly opens the market for Vascepa, and would make the company look immensely more attractive.
But what about this panel and PDUFA date? The Street's Adam Feuerstein takes the view that the panel vote will be a thumbs down based on a very simple, and to be honest quite shrewd premise - why the hell is the FDA convening a panel for this drug and indication? Vascepa is fish oil - patent protected highly purified fish oil - but fish oil nonetheless. This stuff is safe. This stuff works. What could the FDA possibly want to discuss? Well, Amarin has a SPA covering both ANCHOR and REDUCE-IT thus leading some folks to think that no panel would be necessary and Amarin would smooth through to FDA approval in December. Feuerstein states:
"… I tend to believe FDA is convening this panel because it's wary of expanding Vascepa's use without definitive proof that fish oil reduces the risk of heart attack, strokes and other cardiovascular events.

Amarin is conducting a large cardiovascular outcomes trial of Vascepa, dubbed Reduce-IT, but results won't be known until 2016.

I expect many of the experts, most notably the cardiologists, sitting on the Oct. 16 FDA panel will want to see Reduce-It trial data before agreeing to expand Vascepa's use. Too many large studies of fish-oil have failed recently to show any significant cardiovascular benefit for patients."
To put it simply, he's either
Correct, and Amarin shareholders are going to have a very terrible fourth quarter.
Incorrect, because why would the FDA accept all the data with the SPA, knowing that REDUCE-IT data will come, and waste all this time and money? ANCHOR is not intended to reduce CV events; it is intended to reduce triglycerides. The population is significantly larger than omega-3 fatty acids have ever been approved for, and some standard inquiries should be made - thus the panel. I actually believe the panel, for all the hype, will be quite boring compared to others of note recently (TTNP panel anybody?)
The investing community will find out in just over a month. To be clear, while I obviously lean with the second option, I will not be holding my investment through this binary event. If Adam's right, which despite the crazies out there who vilify him, is more often than not the case, Amarin share price is going to react much more negatively than if there is a positive vote.
Valuation
We finally get to the fun stuff - a discounted cash flow analysis assuming approval and market of the MARINE, ANCHOR, and REDUCE-IT indications, as well as a sensitivity analysis to account for some market margin of error. Many of my assumptions are similar to last year, but I have adjusted some - such as SG&A and R&D to reflect recent quarterly reports as well as script data and quarterly revenue data to come up with what I believe is a more accurate estimation of Vascepa sales growth. Most importantly, I have significantly adjusted - downward - the amount of money Amarin gains for a year's supply of Vascepa based on reports of $184 wholesale for a month's supply. I have kept this constant, although will surely change over time, so bear this in mind.
The one major change of note is total diluted shares outstanding. In my previous DCF, I mistakenly did not use a fully diluted share amount in my calculation. Taking the outstanding warrants into consideration last year, my estimate dropped from $34/sh to $28/sh (still a lofty premium at the time). However, due to recent issues, total diluted shares outstanding come to 194.4 million. This has a strong per share effect on my analysis, combined with the lower revenue per person lowers my price target quite dramatically from prior.
And now, for the DCF and sensitivity Analysis: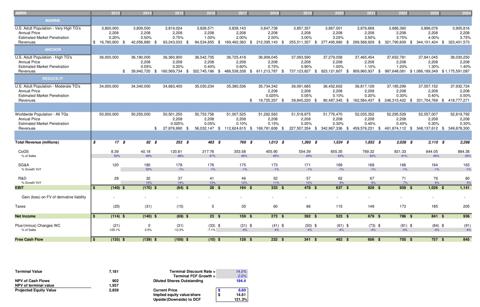 Conclusion
Amarin has fought tooth and nail to get where they are now. This is a good sign from company management - they have battled and still remain intact. If ANCHOR gets approved with no caveats, I suspect one could reasonably see 80-100% price appreciation from today. Again, this number makes a number of assumptions - primarily the FDA approval of ANCHOR and eventually REDUCE-IT indications, without which either could negatively affect share price. I have presented my ideas as best as I see them. There are risks associated with investing in Amarin, particularly their continued ability to sell as well as FDA panel outcome in October. I keep tight stops on AMRN and will not hesitate to exit my position on any continued weakness - in which case I would be a buyer after more clear signs from the panel.
Disclosure: The author is long AMRN. The author wrote this article themselves, and it expresses their own opinions. The author is not receiving compensation for it (other than from Seeking Alpha). The author has no business relationship with any company whose stock is mentioned in this article.