Over two years ago, I wrote this article about how to trade the spread between the Kinder Morgan Energy L.P. (NYSE:KMP) and Kinder Morgan Management (NYSE:KMR). For review, KMP units are conventional limited partnership units that pay cash distributions. By contrast, KMR shares are known as I-shares. They are pari passu with KMP units, with the only difference being that the distributions are paid in additional shares (of KMR) rather than cash.
Because they represent the same ownership, KMP units should trade close to the same price as KMR stock. In practice, KMR shares have a slight drag because the paid-out shares are priced prior to the ex-distribution date, when the price is typically higher. So one could argue that they should trade at a slight discount to KMP.
When I wrote the original article, KMP traded over $15 more than KMR. Since then the spread has narrowed dramatically, getting very close to 0 earlier this year. The pattern I noted in the original article has continued to work: the spread peaked on the day before ex-distribution date and then declined rapidly in the following days. Traders who bought KMR and shorted KMP on the ex-date, over the last two and a half years, have done very well.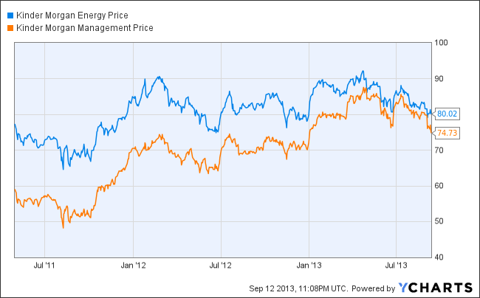 Click to enlarge
What is difficult to see in this longer term chart is that the spread has recently sprung back, to over $5. I still believe the long term spread is destined to be less than $1. Insiders are voting with me on this. Over the years, they have consistently called the spread "silly" and "irrational." Over the last 3 months, insiders (including Rich Kinder) have bought $1.25 million of KMR shares and only $200,000 worth of KMP units. For me, the threshold for shorting the spread is $5 and I will particularly be looking to increase the trade near the next distribution date.
Disclosure: I have no positions in any stocks mentioned, but may initiate a long position in KMR over the next 72 hours. I wrote this article myself, and it expresses my own opinions. I am not receiving compensation for it (other than from Seeking Alpha). I have no business relationship with any company whose stock is mentioned in this article.
Additional disclosure: I may also short KMP