Many income investors have lost money over the past several months. The fear of the Fed withdrawing its bond-buying program has investors scrambling to move out of preferred shares, REITs, utilities and other dividend-paying stocks. XLU, the SPDR Select Sector Utilities Fund is down about 5% over the past month. VPU, the Vanguard Utilities ETF has dropped over 5% from over $85.00 per share to close to $80.00 per share. MKM Partners strategists Katie Stockton and Jim Strugger suggest that the timing may be about right to get into utilities. Both seem to be finding technical support at their current prices. If this is true, it may be a good time to purchase some utility stocks right now.
I ran a screen to help me find some worthy utility stocks by using as my search criteria electric and gas utilities that were offering a 4% dividend or better. In addition the utility had to carry a 3 star or better rating from S&P and a Hold or Buy from The Street Ratings. The results of the screen are listed in the table below: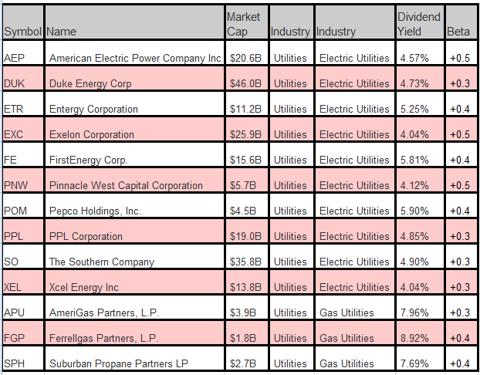 Click to enlarge
A quick look at this list shows that the gas utility limited partners have the greatest dividend yield. FGP was the only issue that carried a moderate buy of the three and that recommendation came from S&P. The Street Ratings had a hold on the stock. Of the 10 electric utilities, AEP, PPL, SO and XEL had moderate buy ratings from both S&P and The Street Ratings. I chose to limit my consideration to these 5 companies since they were the issues with buy ratings. Below is an examination of each of these companies to consider which of them would be the best-suited to include in my portfolios currently.
FGP serves approximately 1 million customers throughout the 50 states, D.C. and Puerto Rico. It has acquired Mr. Bar-B-Q and the propane operations of Western Petroleum located in Utah, during the first half of the year. It is one of most highly leveraged companies in the gas utilities industry with a debt-to-capital ratio of 102%. However that does not appear to be a danger since the company's operating profits are over 3 times greater than its interest payments.
FGP's dividend was greater than its profits last year. This can't continue over time. S&P estimates that this will change this year. It expects that greater volume and reduced costs will provide 1.4 times coverage of the dividend this fiscal year. FGP has not increased its dividend for 5 years and there don't appear to be any increases anytime soon.
The company has been attempting to add customers by buying out other propane distributors in or near its existing operating areas. Over the past 10 years FGP's sales have increased at a compound annual rate of 7.5%. Other operating measures are not as good as its peers: net operating profit after tax margin is 4.5% whereas the margin of its peer group is 5.3%; its ROIC has been 7% whereas the margin of its peers has been 10.6%.
FGP is for people who are just after the distribution and can tolerate some risk. The company has plenty of room to reduce its operating costs and if it does, it will become more profitable. S&P believes that the company is on track to do this. If the company turns out better earnings this quarter than it did last year, I might consider adding it to my portfolios.
AEP is a public electric utility that generates electricity using coal, lignite, natural gas, nuclear energy and hydroelectric energy. It also owns and leases around 2600 barges that it uses to transport coal and other dry bulk commodities. It operates primarily in Arkansas, Indiana, Kentucky, Louisiana, Michigan, Ohio, Oklahoma, Tennessee, Texas, Virginia, and West Virginia.
S&P recently raised its recommendation to buy since it expects AEP to increase operating earnings for the rest of 2013 and 2014. It has a 12-month target of 49 for the issue based on a 14.8 P/E looking out to 2014. AEP is currently paying a 4.6% dividend, which is well above its recent peer average of 4.3%. AEP is paying about 75% of its earnings out in dividends, which is not too high for a utility company. With rising earnings and an excellent dividend AEP is a good addition to my portfolios.
PPL is an energy and utility holding company that generates electricity using coal, gas and oil, nuclear energy and hydro. It delivers electricity and natural gas to about 10 ½ million customers primarily in Kentucky, Pennsylvania and the United Kingdom.
In addition to S&P and The Street Ratings having a buy on the company, Ford Equity Research also has a buy on PPL. S&P expects EPS to decline about 5% for the years 2013 and 2014 from 2012. S&P raised PPL to buy for two reasons: the decline in the price of the stock and a projected 7.9% rate base growth from 2013 through 2017. S&P puts the target price for PPL at $34.00 based upon 15.5 P/E for 2014. Since PPL has an above-average yield of 4.85% with a safe dividend with payout ratio of only 58%, when compared to its peers, it stands out as a good addition to my portfolios.
SO is a public electric utility that generates electricity with the use of coal, nuclear, oil and gas, and hydro resources in the states of Alabama, Georgia, Florida, and Mississippi. It also has solar facilities, a landfill gas facility and 1 biomass facility. The company is also involved in the communications industry through it Southern Telecom subsidiary.
S&P expects SO's EPS to grow 2% this year. It expects EPS growth of 5% in 2014. SO raised its dividend 3.6% in June and paid out about 75% of its earnings to stockholders. If earnings grow as suggested by S&P, SO should continue to increase its dividend since it targets a payout ratio of 70 - 75%. S&P is suggesting a 12-month target for SO of $49.00 based upon a 17.1 P/E, which is higher than its peers. Since this company is offering a dividend of nearly 5% with additional growth in the future, it should find a place in my portfolios.
XEL as an electric utility that generates and sells electricity in the U.S. by using coal, nuclear, natural gas, hydro, solar, biomass, oil, and wind energy sources. It serves customers in Colorado, Michigan, Minnesota, New Mexico, North Dakota, South Dakota, Texas, and Wisconsin. The company is also involved in the distribution and sale of natural gas as well as developing natural gas pipelines.
S&P predicts that 2013 operating EPS will grow about 7% from 2012's $1.82 per share. These earnings will be driven by electric rate increases in many of the areas XEL operates. This earnings increase will slow down to low single digits in 2014. S&P has a target price of $32.00 over the next 12 months based on a 16 P/E. S&P also predicted that the dividend would be increased at 2 - 4% per year from its current $1.12. At the current price, XEL is paying over 4% back to its stockholders. Considering its reasonable dividend with increases on the way, this looks like a possible holding for my portfolios.
Disclosure: I am long PPL. I wrote this article myself, and it expresses my own opinions. I am not receiving compensation for it (other than from Seeking Alpha). I have no business relationship with any company whose stock is mentioned in this article.
Additional disclosure: I have sold puts on SO and AEP.