If you want to know how shortsighted many investors are in Closed-End Funds (CEFs), take a look at a fund from Legg Mason Partners that continues to see sellers in its market price and yet has had one of the best Net Asset Value (NAV) total return performances of any CEF this year, even outperforming the S&P 500. Now that may not sound like such a big deal, particularly if SCD were a technology or biotech stock, but here we're talking about a diversified fund that invests in mostly interest rate sensitive securities and even includes fixed-income securities.
The Legg Mason Partners Capital & Income fund (NYSE:SCD) is a 20.4% leveraged CEF (based on total managed assets or 26% leveraged based on common share assets) offering a 7.7% market yield and currently trading at a wide -11.8% discount as of September 11, 2013.
Now discounts have been widening for most CEFs ever since interest rates shot up in early May and investors have been reacting to depreciating NAVs by jettisoning any bond related CEF that uses leverage. But this does not mean that all leveraged CEF NAVs are being hurt by higher interest rates. For some leveraged CEFs that are equity based and may have some fixed-income exposure, they may also be getting caught up in the sell-off even though their NAVs are performing fine. Such a fund is SCD and I believe this presents an excellent opportunity for investors to get exposure in sectors such as Master Limited Partnerships (MLP's) and Real Estate Investment Trusts (REIT's) at a discount.
So if you think American Capital Agency Corporation (NASDAQ:AGNC), Annaly Capital Management (NYSE:NLY) or other REITs and MLPs might be good investments now but don't want to take on the risk of owning the funds directly, SCD is a great way to get exposure to both sectors at a double digit discount and receive a 7.7% yield. Another positive to owning SCD as opposed to a limited partnership is the avoidance of K-1 tax forms. Now of course, individual MLPs and REITs may offer even higher yields but many investors might also feel more comfortable taking a larger position in a diversified fund like SCD instead of riskier individual MLPs or REITs.
Let me first show you SCD's YTD Premium/Discount chart which shows SCD's widening discount since the beginning of the year, currently at -11.8%.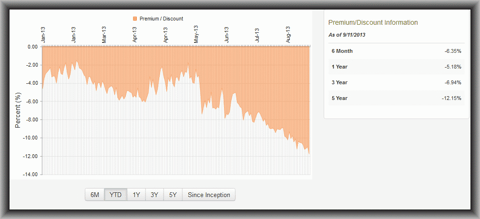 Click to enlarge
So why is this happening when the broader market averages are at essentially all-time highs as are many of SCD's holdings? Well, that's one of the confounding aspects of CEFs. Funds can be performing very well at their NAV level and yet investors can still sell down the fund. For those who think that investors may know something and are just trying to get ahead of the curve, I can tell you that investors in these funds are much more likely to sell a fund based on emotional factors rather than trying to project out into the future.
A more likely reason why SCD is being sold off along with other leveraged CEFs is because investors take one look at the fund's portfolio weightings and figure the fund must not be doing well. So let's first take a look at SCD's portfolio weightings and see why investors are assuming the worst.

Click to enlarge
What you'll first notice is that 62% of SCD's portfolio is in either energy MLPs (26.3%), REITs (19.7%) or convertible fixed income securities (16.1%) as of June 30, 2013. Throw in utilities at 10.6% and you might see why investors might assume that SCD's portfolio is overweighted in underperforming sectors. Now its true that certain MLPs, REITs and utility stocks have not had a good year but by no means is this across the board. In fact, many funds focused on the MLP, REIT and utility sectors are doing quite well despite the fact that investors are assuming these yield oriented sectors are underperforming. I'm not going to go into SCD's individual stock selections but you can access the fund's full portfolio via this link, SCD Holdings 7/31/13.
Another factor that might be impacting SCD is that for the last few distribution periods, more and more of each quarterly distribution is being designated as Return of Capital (ROC) such that roughly 45% of SCD's distributions this year have been designated ROC. Though many might consider this to be a negative, to me it is actually a positive because of the tax benefits of ROC. As long as the fund is growing its NAV, and I'll get into that in a minute, then ROC is not being destructive. In other words, the fund managers could be just realizing losses in certain positions this year and are using those losses for determining ROC even while the fund's NAV is still growing. There's a big difference between ROC and destructive ROC where the latter is detrimental to a fund's NAV and really should be called Return-of-Principal.
Let's now take a look at SCD's performance. What's interesting is that SCD is actually having a better year in 2013 at the NAV level than in 2012 despite higher interest rates. Last year, SCD's NAV was up 14.04% on a total return basis (i.e. including all distributions) which slightly beat the S&P 500, which was up 13.4%. Year-to-Date through September 11th, SCD's NAV is up 20.1% compared to the S&P 500 up 18.4%.
So in other words, SCD's NAV has been outperforming the S&P 500 over the last couple years no matter what the interest rate environment has been. That has not been easy to do for a diversified fund and a lot of the reason goes to the outstanding portfolio management by fund managers. And how have investors rewarded SCD with that outperformance? Here is SCD's 1-year market price performance compared to the S&P 500 without distributions. Here you can see that SCD's market price (shown in red) was soundly outperforming the S&P 500 (shown in blue) up until mid May.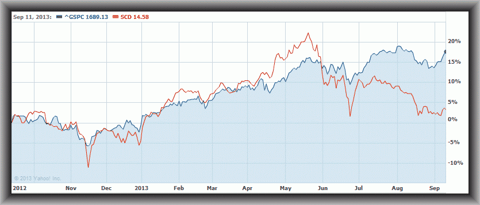 Click to enlarge
Remember, a fund's NAV performance is the fund's true performance compared to its benchmarks whereas a fund's market price performance can be based more on market sentiment and investor emotions. So is this an opportunity to lock in a 7.7% market price yield and own an outperforming CEF that I believe is being misjudged by investors? I think so. SCD goes ex-dividend this Wednesday, September 18th.
Disclosure: I am long SCD. I wrote this article myself, and it expresses my own opinions. I am not receiving compensation for it (other than from Seeking Alpha). I have no business relationship with any company whose stock is mentioned in this article.