It is safe to say that we are truly witnessing a bull market in the domestic E&P names. Across the country we are witnessing companies find liquid shale plays with multiple pay zones that just adds further momentum to the bull market. We have not seen many acquisitions to date as most of the buyers have been very focused on their purchases, but we suspect that over the next few years we will see some big names move in and consolidate certain plays. That is historically how these bull markets have played out and there is no reason why that should not happen this time around. This time is not different, so we continue to wait until drilling locations become more scarce and growth rates can only be maintained via acquisition.
Chart of the Day:
Corn continues to come under pressure as we are on pace for one of the largest harvests in history. Based off of the actions this season by farmers we would suspect that next year we will see less corn planted and more substitute, or alternate, crops planted like soybeans.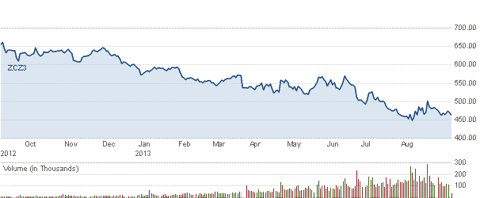 Click to enlarge
(Click to enlarge)
Source: CNBC
Commodity prices this morning are as follows:
Gold: $1319.10/ounce, down by $11.50/ounce
Silver: $21.91/ounce, down by $0.239/ounce
Oil: $107.62/barrel, down by $0.98/barrel
RBOB Gas: $2.7614/gallon, down by $0.0013/gallon
Natural Gas: $3.619/MMbtu, down by $0.019/MMbtu
Copper: $3.2065/pound, down by $0.0035/pound
Platinum: $1442.00/ounce, down by $0.70/ounce
Oil & Natural Gas
It happened in relatively short order, but Cheniere Energy (NYSEMKT:LNG) hit a fresh 52-week high of $33.83/share during yesterday's session before closing at $33.10/share for the day. Volume spiked to 10.4 million shares and as this one went higher so too did many other names in the space. It is fair to say that Cheniere has regained its leadership role and as such readers should pay a bit more attention to this name as a forward indicator moving forward.
We talk about a lot of names in the shale game these days and have focused on a few names in Colorado in and around the Wattenberg play. Bonanza Creek Energy (NYSE:BCEI) is one name we have mentioned before, but not a name we have had particularly high on our buy list because it initially ran away from U.S. and ruined the risk/reward we had previously identified. With more of the midsized E&P names bringing money back to the U.S. to develop domestic shale plays, Bonanza Creek might very well be in a position to realize significant upside if they can attract a bid. We hate to invest in names simply due to takeover potential, but the bottom line is that we think this name is in an interesting geographical area with a great play that could make this a very tempting acquisition for a couple of bigger fish.
Finally a breakout here, but the question now is how much higher can the name go? Long term it looks attractive to us, so for those lacking exposure to 'oily' Colorado plays, this one is worth a look.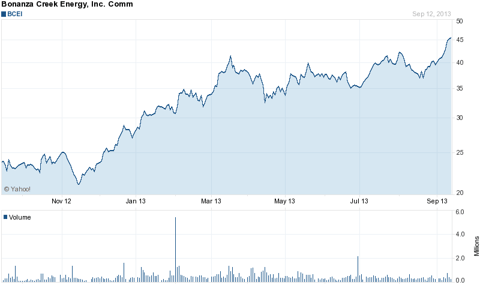 Click to enlarge
(Click to enlarge)
Source: Yahoo Finance
Also hitting new 52-week highs yesterday were Gastar Exploration (NYSEMKT:GST) and Goodrich Petroleum (GDP), two names that have been making nice moves on the business side and consequently have seen their share prices respond. Both names are risky as they undergo their transformations, however the assets that really excite investors do appear to be derisked in a way that leads U.S. to think that we are seeing these rises as the beginning of larger inflection points. In other words, we think that right now the market is finally realizing the value proposition presented by these two names. Putting risk-capital to work in these names on any future pullbacks (not related to geology of course) would appear prudent in our opinion.
Gold
This chart comparing ABX to GLD, the SPDR Gold Shares, shows why owning gold in physical terms rather than via gold equities is a better deal during downturns. The past three months show precisely how ugly it can get.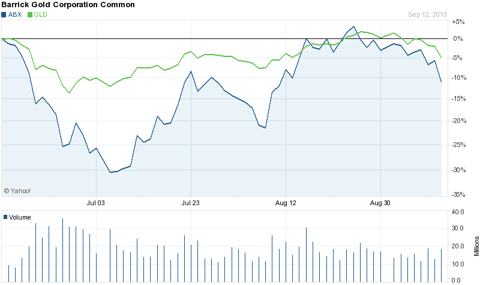 Click to enlarge
(Click to enlarge)
Source: Yahoo Finance
It has been bad to be in physical gold, but far worse to be in gold equities, which is something that many fail to recognize. Yes we did say we would be long physical precious metals, especially when talking gold but that was if one HAD to be long and as a preferred way over the equities to gain exposure. Barrick Gold (NYSE:ABX) is one of the largest and most liquid names in the gold mining sector and even it moves big on big days in the physical gold market. Sometimes there is no profitable trade to be had, but there is always a winning trade present and sometimes that simply means that one has to lose less money than the alternative. So yes, we would own physical gold over gold equities right now if required, but our focus right now is on the bull market in the domestic oil names.
Disclosure: I have no positions in any stocks mentioned, and no plans to initiate any positions within the next 72 hours. I wrote this article myself, and it expresses my own opinions. I am not receiving compensation for it (other than from Seeking Alpha). I have no business relationship with any company whose stock is mentioned in this article.