2013 has been a fantastic year for stocks. We have only had a slight pullback from the all time highs on the Dow Jones of 358 points or 2.3%, although we did to about the 14,750 level over a week ago in response to the crisis in Syria. That pull back broke the longest streak without a pullback of 5% more in over seven years. Now here we are just over week later and we are only 3% away from the highs again. But I am concerned. Fundamentally, things just are not that strong. Recent jobs numbers have been modest at best, most economic reports, such as manufacturing and housing have been trailing off once more.
Fundamental Weakness
There is not much good news coming out of potential market moving data that has been released. Today's (9/13) reported retail sales disappointed, diminishing hopes of any positive signs of growth. It was a 50% miss, coming in at 0.2 versus 0.4 consensus growth versus the last period. Yesterday's import price index was projected to increase by 0.5 from the last report and stayed flat, a 100% miss. On Wednesday wholesale inventories missed by 67%, coming in a 0.1 change versus 0.3 expected. Consumer credit reported on Monday for July 2013 missed by 15.5%, coming in at a change of 10.4 versus 12.3 expected. Last week's all important August jobs number was poor, 169,000 added versus 179,000 consensus, a 5.5% miss. We just continue to limp along. A real recovery should see 300,000-400,000 jobs added, even more. The one good piece of news, unemployment dipping to 7.3% from 7.4% is completely misleading. Its a result of people giving up looking for work. Basically, the denominator gets smaller, so the unemployment rate goes down. This fundamental weakness has me on edge, especially when I consider the Fed and know the technicals are on my side.
Technicals Are on The Side of The Fundamentals
My readers know I'm not one to say much about technical analysis, but in this case they are supporting my fundamental concerns. but I will say this market is setting up for a classic double top formation or possible head and shoulders (figure 1). If we cannot break to new highs, I think we could see a drop to a few percentage points below the most recent one month low, or worse. More importantly, fundamentally, this strong action cannot go on forever, even with the Federal Reserve still having its pedal to the medal. In fact, as soon as there is a confirmed indication that the Fed will pull its foot off the gas to reduce its massive third round of quantitative easing, aka QE3, big money will likely hit the sell button and hard, even though everyone is expecting it.
Figure 1. 3 Month Chart of The Dow Jones Industrial, Forming Possible Bearish Setups.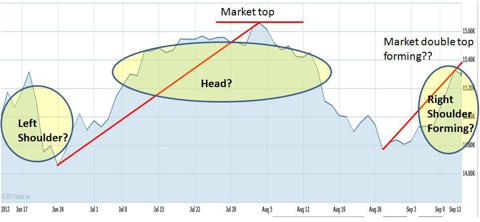 Concern Over the Federal Reserve
I do not know how or when the Fed will begin to dial back, it could be this month, it could be the end of the year, we just don't know. Despite the timing issue of the taper, we are overdue for a large 10%+ correction. Coupled with the potential double top forming, I think the market will be looking for an excuse to sell off once again if we do not make new highs and the fed tapers. We know the Fed wants to slow down. Perhaps the Fed will end the Operation Twist replacement debt-buying program, where they are spending another $40 billion to $45 billion a month in balance sheet expansion. Chairman Ben Bernanke is on record about his concerns with the efficacy of the Fed's continued monthly asset purchases.
Unwinding such large positions could take a toll on markets. While the Fed has been buying, the action has been phenomenal for stocks and terrible for gold. With investors watching and listening to the Fed's every word, we know that big money is just waiting for a sign that the party is over. Fundamentally we are setting up for pain, and the technicals support this as well. Currently, the Dow is now at 15,300 and the S&P 500 is at 1683. With the Dow Jones ETF (NYSEARCA:DIA) just a little over 2% off its all time highs, trading at $152.99 and the SPDR S&P 500 ETF (NYSEARCA:SPY) printing at $169.04, it would be prudent to be prepared for a fast and quick selloff if new highs aren't made and if the Fed tapers. Even though we all expect it, it will undoubtedly hit markets. When it starts, it could be quick and volatile. It may not be today, it may not be tomorrow, but the Fed will cause selling.
I recommend watching closely to see what happens in the next few weeks, listening to the Fed statements, reading meeting transcripts and being prepared. It may be a good idea to lock in a little bit of profit now if you have it. Further, to take some protective action, traders may want to put on some bearish positions. Those who are bearish could consider not only selling stock, but also selling covered calls on their positions, shorting stocks or buying puts. While each of these approaches has its respective benefits and risks, in this article I want to highlight three volatility funds and one leveraged bear fund that could provide great short-term returns in the event of a market sell-off. These funds have performed terribly in 2012 and in 2013 as the market has seen record low volatility and extreme bullish action. If this changes, expect the following funds to provide superb short-term returns.
Direxion Daily Small Cap Bear 3X Shares (TZA): This is my favorite way to invest in a bear market short term. It is also in the highest risk category given its leveraged nature. TZA management seeks daily investment results of 300% of the inverse of the price performance of the Russell 2000 Index (also known as the small cap index). The Russell 2000 measures the performance of the small-cap segment of the US equity universe and consists of the smallest 2,000 companies in the Russell 3000 Index, representing approximately 10% of the total market capitalization of the Russell 3000 Index. It includes approximately 2,000 of the smallest securities based on a combination of their market cap and current index membership. TZA actually does not invest in equity securities or stocks. What TZA does is create short positions by investing at least 80% of its net assets in financial instruments to provide leveraged and unleveraged exposure to the small cap index and the remainder in money market instruments. TZA recently underwent a reverse split, thus it seems to be trading higher than in the past. It now currently trades at $24.58 a share on average daily volume of 6.2 million shares. TZA has a 52-week range of $23.93-$76.56. During large selloffs, it is not uncommon for TZA to gain 5%-7% in a session.
iPath S&P 500 Short-Term VIX futures ETN (VXX): The Chicago Board Options Exchange Market Volatility Index or the VIX, is a popular measure of the implied volatility of the S&P 500 market index. You may hear it often referred to as the fear gauge or the fear index. The VIX is a measure that is supposed to represent the market's expectation of stock market volatility over the next 30-day period. The VXX is a fund that is one of the better ways to track the VIX (which is not directly available to invest in), in my opinion. This investment seeks to replicate, net of expenses, the S&P 500 VIX Short-Term Futures Total Return Index. The index offers exposure to a daily rolling long position in the first and second month VIX futures contracts and reflects the implied volatility of the S&P 500 index at various points along the volatility forward curve. The index futures roll continuously throughout each month, from the first month VIX futures contract into the second month VIX futures contract. VXX recently underwent a major one-for-four reverse split to increase share value. The fund has an annual expense ratio of 0.89%, is currently trading at $14.70, and has a 52-week trading range of $14.01-$39.60.
ProShares Ultra VIX Short-Term Futures ETF (UVXY): This is my favorite play when I expect a short-term volatility spike. The investment fund seeks to replicate (net of expenses) twice the return of the S&P 500 VIX Short-Term Futures index for a single day. The index measures the movements of a combination of VIX futures and is designed to track changes in the expectation for one month in the future. On average, approximately 3.7 million units exchange hands daily. UVXY currently trades at $34.70 and has a 52-week range of $32.24-$384.70. This wide range has been a result of multiple reverse stock splits conducted by the fund's managers. In times of volatility, this instrument has been known to pop 15%-20% in a day.
How I'm Positioning
Im looking at a terrible fundamental environment, the prospect of the fed popping its own bubble at any moment and have technicals on my side. As I clearly suspect a further selloff, perhaps larger than the last we saw just two weeks, I first picked up some call options in the TZA and VXX, and also sold some calls on the DIA and SPY. I also sold some calls on some of my largest blue chips holdings. Furthermore, I have begun allocating more funds to defensive positions including high dividend paying stocks, gold and silver while selling some of my winners to raise dry powder for when the dust settles. I recommend investors take some profits if they didn't around the last top. I highly recommend traders who bought on the last dip exit positions and take on a more bearish stance. This doesn't mean sell everything, it just means raise some cash and be prepared for a volatile autumn.
Conclusion
Fundamentally, as well as technically, we are setting up for some more trouble. There are many approaches investors can take to position accordingly for market panic. While we have had a great bull run over the last few years and I think the recent sub 15,000 pullback on the Dow is a harbinger of things to come, especially since we are expecting the Fed to announce a taper just about any day. If the Fed action is really what kept this market heading higher, inflating another bubble, we need to be prepared. For those with courage, shorting the SPY or DIA is an option. Buying put options or selling calls on the SPY and DIA is another option for those believing a sell-off is coming. Finally, allocating some funds to the aforementioned volatility and bearish funds is an option, as they will perform very well and yield short-term gains in response to the market panic that will ensue if big money managers begin selling when the Fed confirms they will cease purchasing assets.
Disclaimer: This article is for informational purposes only and highlights approaches one can utilize and funds one can consider in the event or anticipation of short-term volatility and bearishness. I have disclosed generally the approaches I am taking but should not be considered a recommendation to specifically buy or sell any of the aforementioned assets.
Disclosure: I am long TZA, VXX. I wrote this article myself, and it expresses my own opinions. I am not receiving compensation for it (other than from Seeking Alpha). I have no business relationship with any company whose stock is mentioned in this article.
Additional disclosure: I am short DIA, SPY