One would have expected the news that Apple (NASDAQ:AAPL) struck a deal with China Mobile (NYSE:CHL) to be significant enough to move the iPhone maker's stock higher. Instead, the announcement was sufficiently overshadowed by a negative reaction to the pricing expected for the "cheap" iPhone 5C that shares are, in fact, lower since the release. Priced at $549 in the U.S. without a contract, Reuters is reporting that the iPhone 5C will retail for $733 in China.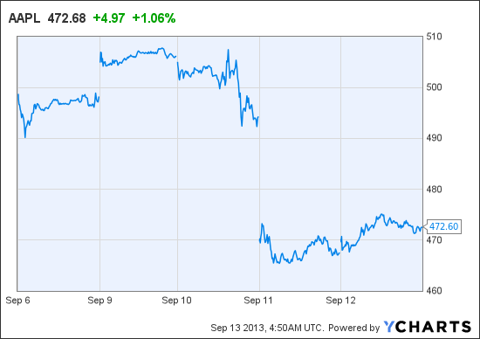 The high price means that only the wealthiest Chinese citizens will be able to afford the new smartphone that was supposed to help Apple become more competitive in emerging markets. According to IDC, Google (NASDAQ:GOOG) Android has achieved a 79.3% global market share and roughly 66% of smartphones shipped in 2013 are expected to go to the emerging markets - this number was just above 40% in 2010. What all this means is that Cupertino seems to be taking a margin-defending approach to China, rather than trying to compete. China Mobile is the largest wireless provider on the planet, meaning that a competitive offering from Apple would have had great potential.
In the video below, I discuss how Apple has put itself in jeopardy in China and how I would look at shares looking ahead.
Disclosure: I have no positions in any stocks mentioned, and no plans to initiate any positions within the next 72 hours. I wrote this article myself, and it expresses my own opinions. I am not receiving compensation for it (other than from Seeking Alpha). I have no business relationship with any company whose stock is mentioned in this article.