When I said that I thought it was wise to wait until Tesla (NASDAQ:TSLA) declared profitability, some of the bulls came out and said I was crazy. However, I knew the price would continue to climb after. It always pay to be conservative.
My first few articles of Tesla were very cynical, however, I was never an outright Tesla bear. The conversation has changed about Tesla, it has moved from being if they could actually be profitable to how many cars they can actually sell. The bears lost the fight but they are convinced they will win the war.
John Petersen, an expert on batteries, has been an outspoken TSLA bear. I actually believe some of his arguments are valid, unfortunately, almost all of them are useless when it comes to stock price motion. His most recent argument, Tesla has a battery supply problem. I find this a little odd since he was convinced at one point that Tesla would be a niche automaker but now his argument is they won't be able to meet demand.
I can't really think of many examples where an industry has expanded to support the production of some manufactured goods except for, you know, the entire industrial age. If there is a massive demand for lithium-ion batteries, capitalism will work it out.
The Reality
The TSLA bears are obsessed with how much they know. Margins, competitors, supply restrictions, etc. They believe the complexity of their knowledge will translate into stock price motion; they assume the market is rational.
The problem is that it has already been shown that the complexity of their knowledge fails to translate into price motion. Many of them honestly believed that their arguments were stronger than a new automaker startup declaring profitability.
Now don't get me wrong, I don't necessarily disagree with all the arguments but I think it would be a huge mistake to trade on a stock based on things that might happen in another 1-2 years. For the next 6 months to 1 year, there is only one thing that is going to really matter for Tesla.
Car Sales Growth
If Tesla can maintain quarter-over-quarter car sales growth, the stock price will continue to climb. Tesla is still a startup - it is not Ford (NYSE:F) or GM (NYSE:GM). You can bog yourself down with talk about market capitalization and rational scale but that doesn't matter. It didn't matter during the internet bubble and it doesn't matter now.
The question to ask yourself is on November 4th, 2013, will they have quarter-over-quarter sales growth? If you believe the answer is yes, you should either be bullish or stay away. If you believe the answer is no, I would be interested in why you think this. The Tesla Model S is now the top selling car in Norway.
Tesla is a relatively small company and it is very easy for a small company to get quarter-over-quarter sales growth.
Technical
Both Tesla's weekly and daily are parabolic, the daily not as much. Shorting parabolics can be dangerous. Parabolic curves will sometimes take a breather before proceeding even higher. Shorting because you think the price could finally be breaking might turn out devastating.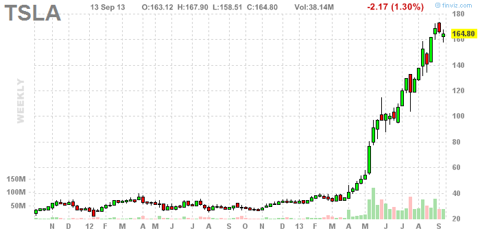 On the flipside, purchasing during a run-up can also be dangerous if the stock price does break. I would be surprised if the price broke before November 4th. The weekly price motion is somewhat violent, so care needs to be taken. If you were not in the stock earlier, it might be dangerous to get in now.
Another chart I like to look at regarding momentum is an SMA of the daily change percent. This usually fluctuates greatly but can sometimes show where the momentum is at.
(click to enlarge)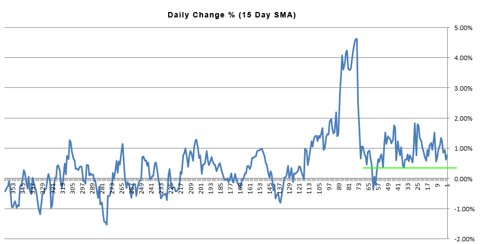 The average daily change has been staying above 0%, the pattern appears both on 15 days SMA and 30 days SMA, but the 60 day SMA shows a declining trend. This further leads me to believe the curve will persist at least until November.
Risks And When To Exit or Enter
If Tesla declares sales stagnation, you might want to seriously consider exiting and not because the company will fail but because the stock will most likely react violently.
If you're not in the stock already, it might be a bit late to get in. If you really feel you're missing out, you should wait for an extended quiet period.
If the stock starts falling at the same acceleration it increased, you should exit and then not re-enter until the stock becomes quieter.
Forecast
Tesla will most likely climb or consolidate up moving toward November 4th. When Tesla declares quarter-over-quarter sales growth, the price motion will continue to push up with a following natural correction. This could last into the new year.
Disclosure: I have no positions in any stocks mentioned, and no plans to initiate any positions within the next 72 hours. I wrote this article myself, and it expresses my own opinions. I am not receiving compensation for it (other than from Seeking Alpha). I have no business relationship with any company whose stock is mentioned in this article.