Qihoo 360 Technology (NYSE:QIHU) stock has given a return of ~228% ytd compared to ~48% return on Baidu (NASDAQ:BIDU) and the market return of ~20%. Qihoo is a leader in PC security and browsers. Apart from the PC security, the company also got good traction in mobile security and the mobile apps store. Company revenue was up by 108% year on year. The growth resulted from its mobile apps, its online game and search engine.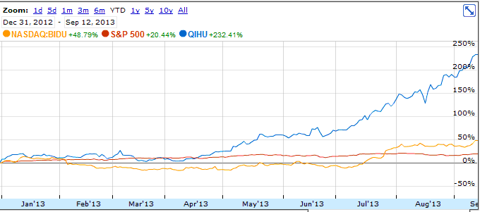 Strong presence in the security market
The company's core Internet security product and services has shown steady growth and by June 2013 its user base has increased 96% in the PC segment and 70% in the smartphone segment. The PC segment has grown from 94% to 96% year over year, while smartphone users have increased from 120 million to 338 million in the same time horizon. With the increase in the smartphone usage in China, the company will be able to increase its security product and services in the smartphone space. This will help the company cross-sell its services, such as browsers, directory page, and app store to the user, and increase its revenue.
Sogou acquisition boosts the search engine revenue for Qihoo
Chinese search market is dominated by local player Baidu, which has around ~67% of the total search traffic. Qihoo is the second-largest player in the Chinese search market. Google's exit from the Chinese market has created an opportunity for Qihoo to gain market share in the search market and narrow the gap with Baidu. In the last one year since Qihoo has launched its own search engine, the company has been gaining market share from Baidu. As measured by page views, Qihoo's market share has increased from 15.8% in June 2013 to 17.5% in August 2013. The company is in talks to acquire Sogou, which will help increase its market share in the search engine business. This will help it to pose a real threat to Baidu as the major search engine player. The acquisition will also help increase its revenue and margin. The company's search engine can become an effective alternative to Baidu and can gain a market share of about 30% in the short term.
Gaming and Mobile will drive future growth
As of June 2013, there are about 270 games commercially running on the Qihoo platform, including both mobile and PC games. The number of paying gaming accounts increased to 444,000 compared to ~ 360,000 in the prior quarters. I expect that the mobile gaming and mobile ads will be the future source of revenue as the smartphone use in China is growing at a rapid pace. The company has also tested its new mobile search engine "Leidian" in June. Leidian is a combination of a traditional search box with a navigation page to enable one-click access. I believe that mobile ads can contribute significant near-term revenue growth, while mobile search/commerce are long-term growth drivers.
Valuation
| | | | |
| --- | --- | --- | --- |
| Company/Key Ratio | P/E Trailing | P/E Forward | PEG Ratio |
| Qihoo | 181.43 | 42.73 | 1.37 |
| Baidu | 30.22 | 23.12 | 1.43 |
| Tencent | 47.08 | N/A | N/A |
If we compare these key metrics, Qihoo is trading at a premium to its peers in both search engine and internet platform provider areas. But, given the active user and the scope to cross-sell its product to the existing members, I believe the stock is correctly priced.
Conclusion
The revenue model of Qihoo 360 lies between that of TENCENT Technology Co. and Baidu Inc. The main source of revenue is games because more than half of revenue comes from them. Baidu Inc. obtained a long-term impetus from advertising of searching and site navigation. So, Qihoo 360 has become the rivals to these companies in the respective fields. I believe that with the possible acquisition of Sogou, Qihoo further will strengthen its position in the search engine area. The growth in the mobile segment is very impressive, and with new apps and search engines it can further consolidate its number one position in the mobile segment. So, I believe the stock is fairly priced at current value.
Disclosure: I have no positions in any stocks mentioned, and no plans to initiate any positions within the next 72 hours. I wrote this article myself, and it expresses my own opinions. I am not receiving compensation for it (other than from Seeking Alpha). I have no business relationship with any company whose stock is mentioned in this article.