Microsoft (NASDAQ:MSFT) turned in a reasonable performance in 2013, earning $2.61 a share a 30% increase over 2012. Revenues of $77 billion grew 5%.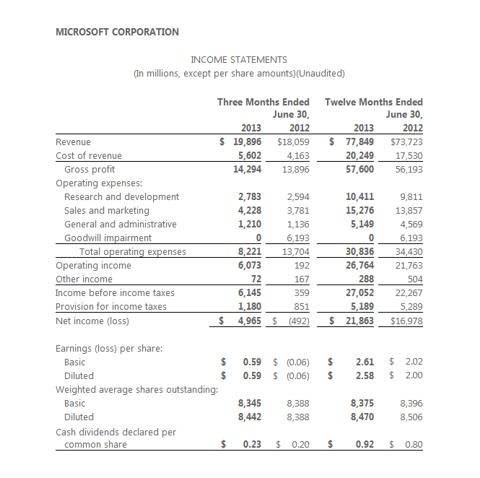 Click to enlarge
(Click to enlarge)
The results were impaired by a $900 million write down of Surface tablet inventory in the June 30th quarter.
Revenues grew in each segment and income showed gains across the board with the exception of the Windows division, which suffered from the inventory write down.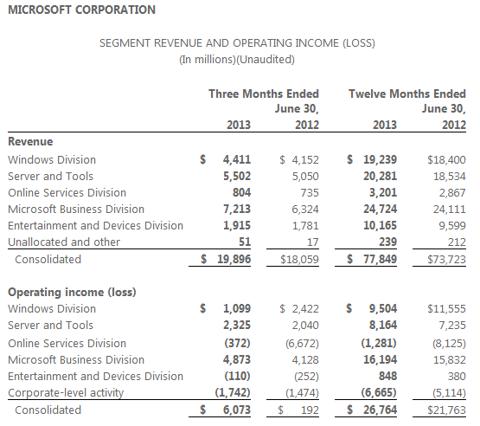 Click to enlarge
(Click to enlarge)
Investors tend to focus on Windows, lamenting the relatively slow take up of Windows 8 and the low sales volumes achieved by the Surface tablet in its first iteration, particularly the Surface RT model. They often overlook the fact that Microsoft Business Division combined with the Server and Tools Division make up some $45 billion in sales and over $24 billion in operating profit and are continuing to grow at about 5% annually.
Despite the Surface RT setback Microsoft made some important strategic moves in the Ballmer era, which will provide a growth trajectory for years to come.
Windows phone
With its partnership with Nokia (NYSE:NOK) leading the charge, it saw Windows phone market share grow rapidly reaching over 4% by June 30th, 2013, an increase of 77% over 2012. New Lumia phones continue to be launched together with interesting devices from Huawei, Lenovo (OTCPK:LNVGF) and Samsung (OTC:SSNLF). The phones are taking share from Apple (NASDAQ:AAPL) and Samsung in certain markets, particularly urban China where market share rose to 5% from 2% in the second half of 2013 while Android phones lost share and iPhone share was flat. The impending introduction of a lower cost iPhone and a possible deal between Apple and China Mobile could impact this trend unfavorably.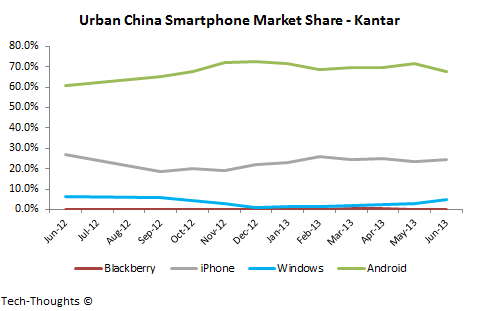 Windows phone is also a popular choice in France, where its market share has risen to 9% from about 4% in 2012 while both Android and iOS have given ground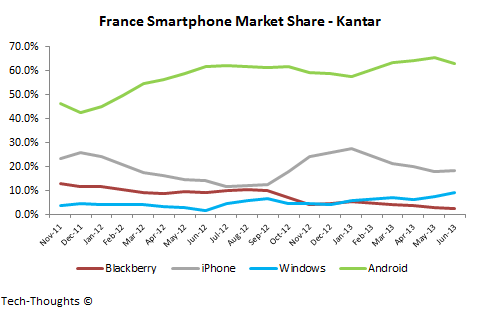 Windows phone profits are more or less a rounding error in Microsoft's results today, but if volumes continue to grow to somewhere north of 100 million devices annually the phone will start to make a measurable contribution to Microsoft results.
Office 365
Microsoft is making Office 365 a subscription service rather than packaged software, taking advantage of its presence in the Cloud. Office 365 is already making up about 25% of MS Office purchases in the U.S. market and no doubt represents a similar amount abroad. Priced at about $100 for an annual subscription, Office 365 sales will tend to produce lower Microsoft revenues initially as consumers pay only the $100 rather than buying a variant of the Office Suite for considerably more. Over time, however, the subscription revenue will catch up and become "stickier" as MS Office users realize the benefits of having not only online access to the Office Suite of programs but also SkyDrive based Cloud storage of their files and automatic upgrades over the internet.
Microsoft Azure
Microsoft Azure has been gaining ground in the competitive arena of the Cloud, in part because Microsoft is continually rolling out new features such as the recent release of SQL Server AlwaysOn Availability. A must for disaster recovery, this feature provides multiple database fail over, replicas and configuration fail over policies.
Microsoft Dynamics
There are a large and growing number of corporations and government agencies that are using Microsoft Dynamics for ERP, project management, CRM, retail management and a host of other business activities. Microsoft Business Division has grown organically and through acquisitions since Microsoft entered the space in 2001 with the acquisition of Great Plains software including Great Plains Dynamics and Solomon, followed by the acquisition of Navision. In the 12 years since, Microsoft has integrated these accounting and resource planning platforms into a unified and powerful suite of products serving hundreds of thousands of customers with millions of users with broad functionality. Microsoft competes with Oracle (NASDAQ:ORCL), SAP, IBM (NYSE:IBM) and salesforce.com (NYSE:CRM) in this division.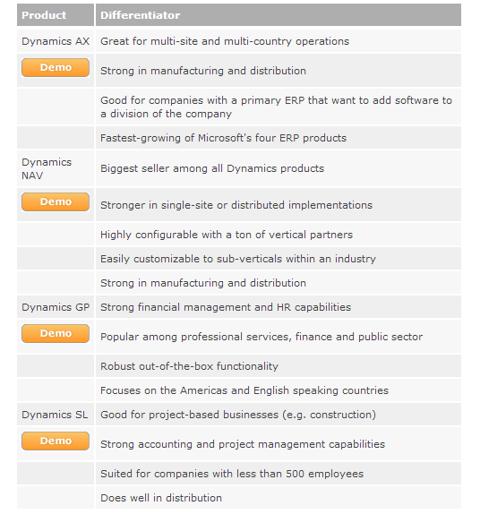 Click to enlarge
(Click to enlarge)
Devices
Microsoft's first successful entry into devices is the Xbox product line, which has expanded from simply game consoles to become a virtual distribution system for digital content. Over 78 million units of the gaming console have been sold worldwide, making it one of the world's most popular game consoles. With the addition of Xbox Live it became a connected experience allowing gamers to meet online, play over the internet, exchange messages and keep lists of friends. The addition of Xbox SmartGlass made the Xbox a distribution system for music, videos, movies and all forms of digital content on mobile devices as well as through the Xbox console itself. An Xbox music pass allows the user streaming access to the entire library of music available for a flat monthly fee, making it likely to emerge as a meaningful competitor to other digital content distributors such as the iTunes store.
Microsoft's attempted entry into the tablet space has had mixed success. While reviews of the Surface tablet have been generally positive, the device has not gained wide acceptance selling only a few million units since its release and causing Microsoft to take a $900 inventory write down last quarter. I have a Surface RT and a Surface Pro and my take is that both are excellent devices. The lack of high volume sales likely reflects the relatively high price and intense competition in tablets from Android devices and the iPad. Longer term I expect Microsoft will enjoy more success with this type of product simply because, in my opinion, the device is powerful, functional and fun and will only get better with the new Intel (NASDAQ:INTC) processors being introduced and the proposed improvements to Windows 8 expected before year end. Sales of 4 to 5 million devices are in the ballpark of sensibility and, in any event, it is unlikely Microsoft will repeat the mistake of overbuilding leading to an inventory write down.
Microsoft has announced a September 23, 2013 event at which it will very likely launch new Surface tablets with not only different form factors but also the Intel Haswell processor in the Surface Pro version and perhaps a Silvermont processor in a smaller form factor, either 7 inch or 8 inch screen. The Haswell processor will set aside previous concerns about battery life in the Surface Pro and I believe it is likely to come with more RAM and more storage. A 7" or 8" tablet with full Windows 8 will be welcomed by the market in my view, and I suspect Microsoft's pricing of the new devices will be more aggressive than previously.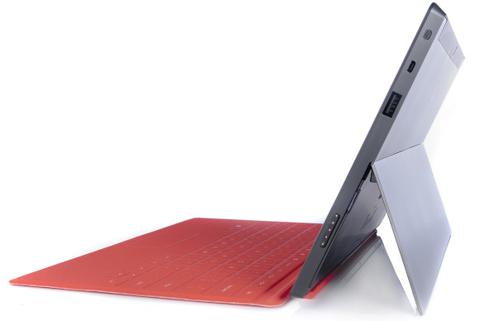 Click to enlarge
(Click to enlarge)
The new Surface Pro versions will likely ship with Windows 8.1 and may have a keyboard cover with a second battery and the design is rumored to have a more flexible kickstand.
Sales progress in the Christmas season will give investors a good feel as to just how successful Microsoft will be with the new devices.
Outlook for 2014
I expect 2014 to be a solid year for Microsoft for several reasons:
The new Intel Haswell and Silvermont processors and their successors are in my opinion likely to prompt an upgrade cycle once the revised Windows 8 operating system is released and slow or even reverse the pace of decline in conventional personal computers ("PCs");
Windows phone is gaining traction and I expect will reach volumes that start to have an impact on Microsoft's earnings;
Microsoft will continue to grow in its Servers & Tools and Microsoft Business Divisions, likely at respective rates of 7% and 3% in terms of revenues;
Office 365 should add materially to its subscriber base given the momentum it has already developed spurred by the recent upgrade to SkyDrive storage now at 25GB;
The Surface RT and Surface Pro tablets may surprise to the upside as new variants are introduced with longer battery lives and more powerful processors;
Losses in the online division are declining and may be less of a drag on earnings;
The recently released new Xbox and the introduction of Xbox SmartGlass will see the Entertainment and Games unit grow at a 6% rate, and,
A new CEO will be in place bringing a fresh set of eyes to the challenges Microsoft faces.
Putting numbers on these assumptions, I foresee an earnings statement for Microsoft in its fiscal 2014 with $83 billion in revenue and $3.09 in earnings per share, as set out in the table below:
| | | | |
| --- | --- | --- | --- |
| Division | Fiscal 2013 | Fiscal 2014 | Change |
| Revenue | | | |
| Windows | $19,239 | $20,778 | 8% |
| Servers & Tools | $20,281 | $21,701 | 7% |
| Online services | $3,201 | $3,681 | 15% |
| Microsoft Business | $24,724 | $25,466 | 3% |
| Entertainment and Games | $10,165 | $10,775 | 6% |
| Unallocated and other | $239 | 240 | - |
| TOTAL | $77,249 | $82,641 | 7% |
| | | | |
| Operating Income | | | |
| Windows | $9,504 | $13,048 | 37% |
| Servers &Tools | $8,164 | $8,735 | 7% |
| Online services | ($1,201) | ($800) | - |
| Microsoft Business | $16,194 | $16,680 | 3% |
| Entertainment and Games | $848 | $900 | 6% |
| Unallocated and other | ($6,665) | ($6,700) | 1% |
| TOTAL | $26,764 | $31,863 | 19% |
| Earnings Per Share | $2.61 | $3.09 | 19% |
As the market begins to appreciate that Microsoft is more than Windows and is growing, I expect it will be afforded a price to earnings multiple of 13 times to 15 times, giving it a stock price range of $40 to $47 per share. I am long the stock.
Disclosure: I am long MSFT. I wrote this article myself, and it expresses my own opinions. I am not receiving compensation for it (other than from Seeking Alpha). I have no business relationship with any company whose stock is mentioned in this article. I hold calls on 12,000 MSFT expiring January 2015