Occasionally, in some of our past articles, we've covered stocks which offer multiple dividends, due to a combo of common and preferred shares. This week's stock, which is listed in the Consumer Staples section of our High Dividend Stocks By Sector Tables, has 2 classes of common shares - "B" shares, which have voting rights, and are thinly traded, and "A" shares, which have a lower dividend yield, and are more liquid. Both shares go ex-dividend on 9/18/13. Neither class of shares have had significant price gains over the past 52 weeks:

Founded in 1877, Greif, Inc. (GEF) (GEF.B) manufactures and sells industrial packaging products worldwide, to a very diverse customer base. Greif operates in 4 segments, with its Rigid Industrial Packaging and Services accounting for 71% of its sales as of 4/30/13. In addition to its Flexible Products and Paper Packaging segments, Greif also owns valuable timberland in the southeastern US and Canada: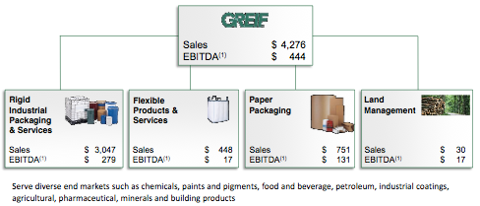 Greif is a leader in many of its product categories, and also enjoys geographic diversity: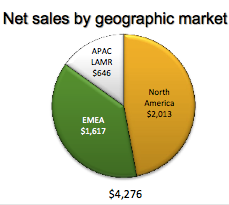 Dividends: Greif has grown its dividends by 12.50% over the past 5 years, increasing its quarterly payout on the GEF shares from $.28 in 2008, to $.42 in 2013. The GEF.B shares have grown from $.42 to $.63 during the same period.

Options: The GEF shares have options available, but they're thinly traded. However, that may provide an opportunity, as there's a large Bid-Ask spread for both its put and call options.
This April 2014 covered call trade has a $1.35 bid that will more than match the amount of GEF's next 3 dividends, ($1.26), and offers a breakeven of $47.61. However, the current Ask price is $2.15, so you may be able to sell this $55 call for a higher price, and further increase your yield. You can find more details on this trade and over 30 others in our free Covered Calls Table:

We've listed below the 3 main scenarios for this call trade, based on selling a covered call at the $1.35 bid price:

PUTS: GEF's April 2014 $50.00 put pays a bid price of $4.00, which is a better payout and yield than the covered call trade. The ask price is $4.80, so again, you may be able to sell at a higher price.
You can find more details on this trade and over 30 others in our free Cash Secured Puts Table.

Earnings and Valuations: With average analysts' EPS growth estimates of 31.80% for 2013 and 25.87% for 2014, Greif looks undervalued on a PEG basis for both fiscal years. (Greif's fiscal year ends on October 31st.) Its trailing P/E of 19.68 is toward the high end of its 5-year P/E range, But its forward P/E of 13.99 is considerably lower. It currently has a higher price-to-book than industry averages, which can often be the case with industry leaders.


Financials: Greif has a much higher ROE and Operating Margin than its Industry's averages. It does carry a higher debt load than average, but it has an Interest Coverage ratio of 3.58. The company also has a Compounded Annual Growth Rate of 29% for its Free Cash Flow.


Technical: Both GEF and GEF.B look oversold on a long-term Stochastic chart as of 9/13/13 intraday: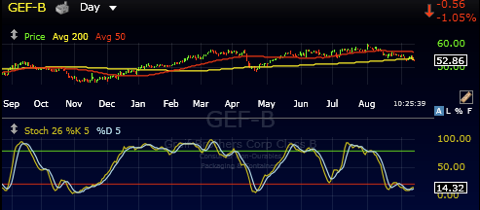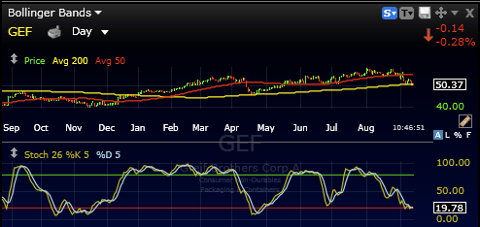 Disclosure: Author was long GEF.B shares at the time of this writing.
Disclaimer: This article was written for informational purposes only. Author not responsible for any actions taken by third parties as a result of reading this article.
Disclosure: I am long GEF.B. I wrote this article myself, and it expresses my own opinions. I am not receiving compensation for it (other than from Seeking Alpha). I have no business relationship with any company whose stock is mentioned in this article.