At the surface, today's retail sales report for August was weaker than expected. As shown below, on both the headline as well as ex Autos and ex Autos and Gas, the actual readings were 0.2% to 0.3% weaker than expected. What these numbers don't take into account, however, was that July's levels were revised higher by 0.2%, so after taking that into account it is basically a wash.

In the table below, we broke out this month's retail sales based on the growth (or decline) in each sector on a month/month basis. As shown below, eight of the thirteen sectors saw growth during the month, while five declined. Sectors that saw the strongest growth were Miscellaneous, Furniture, Autos, and Electronics and Appliances Retailers. On the downside, Building Materials and Clothing saw the largest declines. These numbers shouldn't be surprising given the performance of stocks in each sector over the last several weeks. Anyone watching the market has seen strength in the stocks of car companies and electronics retailers like Best Buy (NYSE:BBY). At the same time, retailers with pretty much any connection to apparel have been slaughtered over the last several weeks.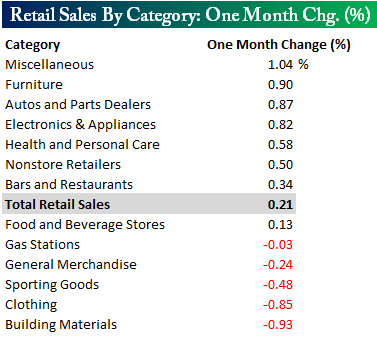 As we have done numerous times in the past, we also wanted to provide readers with an update on the ongoing shift from 'bricks to clicks' in the retail sector. The charts below show the percentage of total retail sales that is derived from online retailers (right), general merchandisers, and electronics and appliance retailers.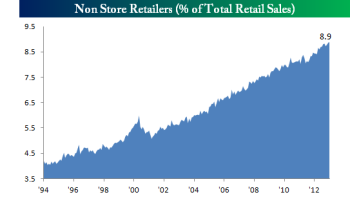 For non store retailers, the growth in total share of retail sales has been practically nonstop over the last decade as it seems that the sector's share increases every month. At a current level of 8.9%, the sector's total share of retail sales is at a record high.
While business is booming for online merchants, traditional retailers in the general merchandise and electronics and appliance sectors have been struggling. In the case of general merchandisers, their total share of sales has declined from nearly 15% in 2008 down to 12.8% today. For electronics and appliance retailers, the total share of sales has declined by more than 20% in the last decade.

Click to enlarge