Equinix (NASDAQ:EQIX) is a global provider of network-neutral data centers and Internet exchange services for enterprises and network providers. But a slowdown in the buildout of data centers, high debt, and the company's conversion to a REIT structure have taken EPS estimates down considerably in the past month since its second-quarter report.
Through its 90+ International Business Exchange, or IBX, data centers across 31 strategic markets in the U.S., Europe, Middle East and Africa, and the Asia-Pacific, Equinix customers can directly interconnect critical traffic exchange requirements. The company is integral to global communications and has the billing addresses to prove it.
The Client List
While some customers -- such as AOL (NYSE:AOL), Google (NASDAQ:GOOG), AT&T (NYSE:T), and MSN -- may build and operate their own data centers for their large infrastructure deployments, these customers still rely on Equinix IBX centers for their critical inter-connection relationships. British Telecom, Cable and Wireless, Comcast (NASDAQ:CMCSA), Level 3 (NASDAQ:LVLT), NTT (NYSE:NTT), Qwest (NYSE:CTU), SingTel, Sprint (NYSE:S), and Verizon (NYSE:VZ) are other large customers. With this kind of global enterprise business, it's easy to see how Equinix grew quarterly revenues from $213 million in the June quarter of 2009 to $525 million recently.
The Earnings Drop
It may not be as easy to see how the company supported a 50x multiple with the stock was trading above $200 on forward estimates of $4.65. But you know what happens when those estimates get taken down. And that's part of what took the stock down since July to trade in the $170s.
Below is a look at the Zacks EPS tables for EQIX which show the big hit estimates have taken since the company's late July report. Notice that this year was chopped in half: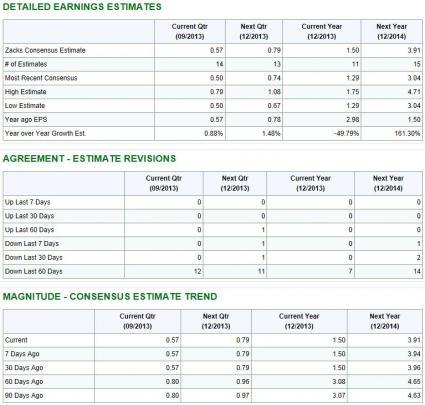 The Segments
Equinix's business is based on a recurring revenue model comprising Co-location, Interconnection, and Managed IT Infrastructure Services. These services are considered to be recurring, as customers are billed at fixed rates on a regular basis through the life of the respective contracts, which generally run for one to three years. Approximately half of Equinix's existing customers order new services in any given quarter. Recurring revenues accounted for 95% of total 2012 revenues. But despite a Q2 earnings and revenue beat, analysts have been greatly concerned about the rest of the year, especially with AT&T offering more competition than new business.
The Headwinds
The telecommunications industry is currently undergoing consolidation. As customers integrate businesses, they may require less co-location space, and there may be fewer networks available to choose from. In addition, increased utilization of existing co-location space could reduce the attractive expansion opportunities available to Equinix.
Equinix offerings have long sales cycles that may have a negative impact on the business, financial condition, and results of operations. A customer's decision to license cabinet space in one of its IBX centers and to purchase additional services typically involves a significant commitment of resources. Some analysts believe the current imbalances will take one to two years to settle and should eventually lead to a more consolidated industry.
The Outlook
According to Oppenheimer analysts, "We are in the early stages of mobile data driving cloud computing, whereby lower latency and improved up-time are critical. Further, bandwidth, storage and processing are now cheap enough to enable massive big data analytics. For dynamic and unpredictable workloads that are end-user facing and thrive in a community environment, retail facilities will continue to be the best solution. While we think EQIX faces challenges, given this backdrop, we believe the company is well-positioned long term."
Market dynamics along with rising rates have created uncertainty, causing datacenters to underperform, especially where there is European exposure. Analysts expect this will continue for another one to two quarters. Additionally, EQIX is being impacted by uncertainty surrounding its REIT conversion. When these headwinds are clear, the company's longer-term growth trajectory should resume. Until then, use the Zacks Rank as your first guide to tell you when the EPS estimates are reversing their big slide.
Comcast: Free Stock Analysis Report (email registration required)
Equinix: Free Stock Analysis Report (email registration required)
Google: Free Stock Analysis Report (email registration required)
AT&T: Free Stock Analysis Report (email registration required)
Verizon: Free Stock Analysis Report (email registration required)