There have been a spate of articles written recently suggesting that shares of Bank Of America (NYSE:BAC) offer a very attractive entry point for investors to buy the stock. While I had been a former bull on BAC, I have become quite bearish about this stock.
First let me say that I originally purchased BAC at $5.13/share back on 11/21/2011. I followed that up with this article of 12/21/20111, offering my opinion that shares should double or triple within 12-18 months:
BAC is cheap enough right now for a risk basket, in my opinion. Using about 2-5% of cash reserves above the core holdings and separate, BAC could be a double or triple in 12-18 months.
As it turned out, my prediction had surprisingly become very accurate when in July of 2012, the stock reached $15.03/share. That being said, I had already sold my position after it had more than doubled to over $10.60/share by December 21st 2012. I left roughly 40% on the table, but I will take a double any day, and I outlined my reasons in the article noted:
My thesis on this fact is that banking will need to find another way to grow revenues and earnings to continue growing at the pace that they have been. Specifically, Bank of America.

As BAC had the time to get rid of toxic assets, and reshape its business model, the room for recovery from the lows, to growth, was not as difficult as investors thought. When you're all the way down there is no way to go but up. That being said, there is just so much juice to be squeezed out of even the ripest of oranges. The time has come for BAC to begin lending again. The company needs to expand its mortgage loans and take on some additional risks in my opinion, in order to have some serious growth from here. That is the problem though.
I was quickly scolded for selling, especially after the stock continued to rise. My belief is that taking a solid profit never hurts anyone, no matter what the stock does after the fact.
Today, the shares are selling in the $14.50 range, and it is my opinion that there are fewer catalysts to move this stock significantly higher than that of some the other blue chip banks, like Wells Fargo (NYSE:WFC) and Bank of New York Mellon (NYSE:BK).
Looking At Some Basic Facts
For long term investors, this chart says as much as anything, especially when it comes to dividends paid by each of these banks.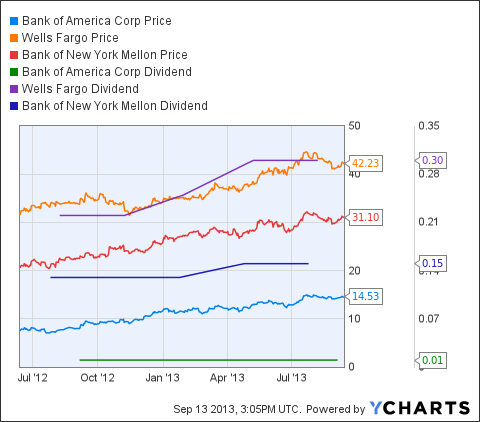 The key takeaways from this very basic chart are as follows:
The share price of BAC has risen from roughly $10.00/share to $14.50/share. A 45% increase. Investors have been paid $.04/share to hold the stock for the past year (a current yield of under 0.29%).
The share price of WFC has risen from roughly $30.00/share to $42.20/share. A drop over 40%. Investors were paid roughly $1.00/share to hold the stock for the past year (a yield of about 3% right now).
The share price of BK has risen from about $20.00/share to $31.00/share. A 51% increase. Investors have also been paid about $.50/share to hold the stock for the past year (a yield of 2% right now).
While the share price performance of each of these stocks has been stellar, there is no doubt in any dividend income seeking investors mind, that owning shares of either WFC or BK (or both of course) would have put significantly more money in their pockets, while also increasing the total value of the investment by the same percentage, if both stocks were held with an equal allocation.
As of now, the pivotal moment will be which of these three banks would be the better long term investment, in just about any account, but especially dividend growth investors' portfolios.
Stay Away From BAC And Buy WFC And/or BK
Let me bullet point my reasons for having this opinion:
The Fed will taper QE and interest rates will increase further than they already have. That will put BAC at a disadvantage because they will not be able to turn over their more toxic Countrywide mortgage loans, as easily as they had been able to. The re-fi market has dropped in the last quarter, and has continued to drop through the summer, as interest rates have risen more than a full point.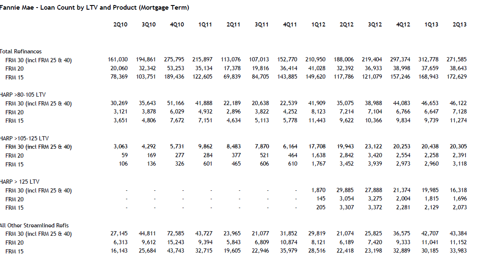 As you can see in the far top left, re-fi activity dropped by about 20%, and that was just through June of this year. While HARP stayed slightly up, even those numbers have dropped. For a bank like BAC, lower interest rates meant that they were able to slowly turn over the "bad" loans, into "better" ones. Now that is much less likely.
At the same time, actual mortgage applications for new home sales have dropped rather sharply:
According to MBA's monthly Builder Application Survey (NYSE:BAS), loan applications for the purchase of new homes fell 14 percent month-over-month in August. The survey tracks application volume from mortgage subsidiaries home builders around the country.
While still not alarming, BAC reduced the mortgage staff by more than 2,000 jobs as noted in this Seeking Alpha Market Current of 9/9/2013:
BofA to close more mortgage offices, cut more jobs


The bank is set to close 16 mortgage offices and slash 2.1K jobs as refinancing hits a wall, reports Bloomberg. (Earlier: JPMorgan says refis are off 60% from May, and Wells Fargo said to expect continuing declines in Q3).
In late August, shuttered another office and cut 1K jobs thanks not just to slowing refis, but improving credit trends meaning less manpower needed to service delinquent loans. Servicing costs are falling off a cliff.
This was followed up by this comment also noted in an SA Market Current, on 9/11/2013:
Bank of America presents at Barclays


"Our balance sheet remains asset sensitive," says Bank of America (BAC -0.1%) CFO Bruce Thompson, presenting (webcast) (presentation slides) at the Barclays conference. Like other bank managements, Thompson is making the case for higher profits as interest rates rise. According to the bank's models, a 100 bp steepening of the yield curve would add $1B to net interest income over the next year (NII was $10.4B in Q2). A 100 bp parallel rise in rates would add $3.3B.
The bank is ahead of plan (previously tipped) on reducing legacy mortgage servicing costs, expecting LAS expense excluding litigation to fall below $2B by Q4, below $1B in 2014Q1. The target is a $500M run rate by mid-2015.
Thompson was attempting to make the case for increased profits as interest rates rise, but that opinion could be quite far from accurate since the opportunities appear to be drying up, as noted above.
Just the day before, BAC was removed from the Dow Jones components, which might be considered a black-eye to many investors. It was removed along with other less than stellar performers, as noted in this SA Market Current:
Alcoa, BofA, and H-P dropped from DJIA


Alcoa (NYSE:AA), Bank of America , and Hewlett-Packard (NYSE:HPQ) are being removed from the Dow Jones Industrial Average. They will be replaced with Goldman Sachs (NYSE:GS), Nike (NYSE:NKE), and Visa (NYSE:V).
The changes will be made effective with the open of trade on September 23.
AA -1.4%, BAC +0.2%, HPQ -1.4%, GS +2.6%, NKE +2.7%, V +2.5% premarket.
Perhaps it is nothing more than a status symbol these days, but given the choice, I am certain BAC would have preferred being one of the elite 30 stocks.
While all of this negative news was swirling around BAC, both BK and WFC have continued to perform in stellar fashion. Even though WFC trimmed its own mortgage department, the bank is much less reliant on re-fi business than BAC is. WFC also is the largest mortgage lender of any big bank and will be able to roll with the rate "punches" with much less impact on the bottom line.
The bank not only has the same small bank appeal that BAC has developed, but its overall loan business is enormous and diversified: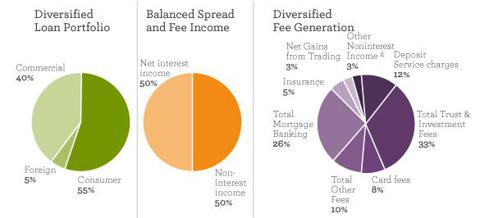 With $1.4 trillion in assets as of the end of June 2013, they are in a great financial position as well. Not only that, but these fast facts cannot be overlooked:
WFC has a dividend yield of almost 3% and has raised its amount 3 times in less than 2 years.
Has a low payout ratio of 27%.
Is selling at 1.50 times book value, about twice that of BAC, but it appears that the massive buy backs announced by BAC has not moved the share price, since the price to book has barely budged, while investors are being rewarded by WFC with dividend increases, or cash in the pockets.
My other selection, BK, also has some unique advantages. One that I found very compelling came from this article from Fidelity:
This old-line Wall Street denizen can trace its lineage back to Alexander Hamilton. But it's unlikely the Founding Father would recognize much of the business today. A bank in name, the financial-services firm garners more than 70% of revenues from fee-based income - much more predictable than the old-fashioned business of making loans. Executives have gotten serious in recent years about securing higher fees for its services, from global custody services to asset management. Markets have taken a dim view of the troubles low interest rates have created for the firm's money market funds, but supporters note that the stock's $30.12 price allows little to no premium above the company's book value (assets minus liabilities) of $29.83 per share. At that price, and with the company repurchasing more than $1 billion worth of stock last year, "we think it's a terrific value," says Victor Cunningham, a manager of the Third Avenue Value Fund.
One BILLION shares repurchased and the price to book is virtually flat. Not to mention these other fast facts that should be considered:
A current dividend yield of 2% which has been increased 2 consecutive years.
A payout ratio of just 34%.
YOY increase in earnings of 81%.
YOY increase in revenues of 11%.
Operating margins close to 30% (without too much lending risks either).
83% of outstanding shares are held by institutions, which is more that the 77% of WFC, and only 58% of BAC.
I would say once again, there are simply no solid reasons for long term investors to buy shares of BAC right now, when both WFC and BK offer significantly more shareholder value, especially for dividend income portfolios.
Disclaimer: The opinions of the author is not a recommendation to either buy or sell any security. Please remember to do your own research prior to making any investment decisions.
Disclosure: I am long WFC. I wrote this article myself, and it expresses my own opinions. I am not receiving compensation for it (other than from Seeking Alpha). I have no business relationship with any company whose stock is mentioned in this article.